Getty Images
Congo's deadly Ebola outbreak has reached a populous city, health officials warned Wednesday, sparking fears the virus could spread explosively within its new urban environment.
Congo health minister Oly Ilunga Kalenga said the outbreak had entered a "new phase," after the virus was confirmed in the northwestern city of Mbandaka, home to some 1.2 million people.
He said epidemiologists are scrambling to identify and track people who may have come into contact with suspected cases, ramping up population tracing through routes out of the city. Congo is also stepping up screening of people leaving the country, while 13 other nations have introduced similar border measures.
The outbreak, which has claimed 23 lives so far, was first detected earlier this month in a region 93 miles from Mbandaka.
Until now, all of the suspected cases have occurred in rural areas, where it's easier to isolate people who have come into contact with the virus. Ebola's presence in a bustling city presents an entirely new challenge for authorities, who fear the city's location on the Congo River — a busy trade route — ­means it could easily be transmitted elsewhere, including to the capital Kinshasa, a city of more than 9 million people, or to neighboring countries.
"The arrival of Ebola in an urban area is very concerning and [the World Health Organization] and partners are working together to rapidly scale up the search for all contacts of the confirmed case in the Mbandaka area," said Matshidiso Moeti, the body's regional director for Africa. His organization has sent 30 experts to Mbandaka to conduct surveillance in the city.
Health authorities will be using an unlicensed, experimental vaccine to try to contain the outbreak. The first batch of 4,000 doses arrived in Kinshasa Wednesday, with another batch to follow shortly afterwards.
The vaccine, which the WHO says has proven effective against the virus and safe for humans during limited clinical trials, will be given as a priority to people in Mbandaka who had been in contact with suspected carriers. But, in a country with a poor electricity supply, even keeping the vaccine refrigerated at the correct temperature is a logistical challenge.
Ebola can cause internal and external bleeding in patients, and about half of people who contract the virus die. It is rapidly transmitted through bodily fluids, and is often passed from animals to humans through contaminated bushmeat.
The world's deadliest outbreak of Ebola occurred in West Africa from 2014 to 2016, killing 11,300 people in Guinea, Sierra Leone, and Liberia. The current outbreak is the third in Congo since the 2014-16 epidemic.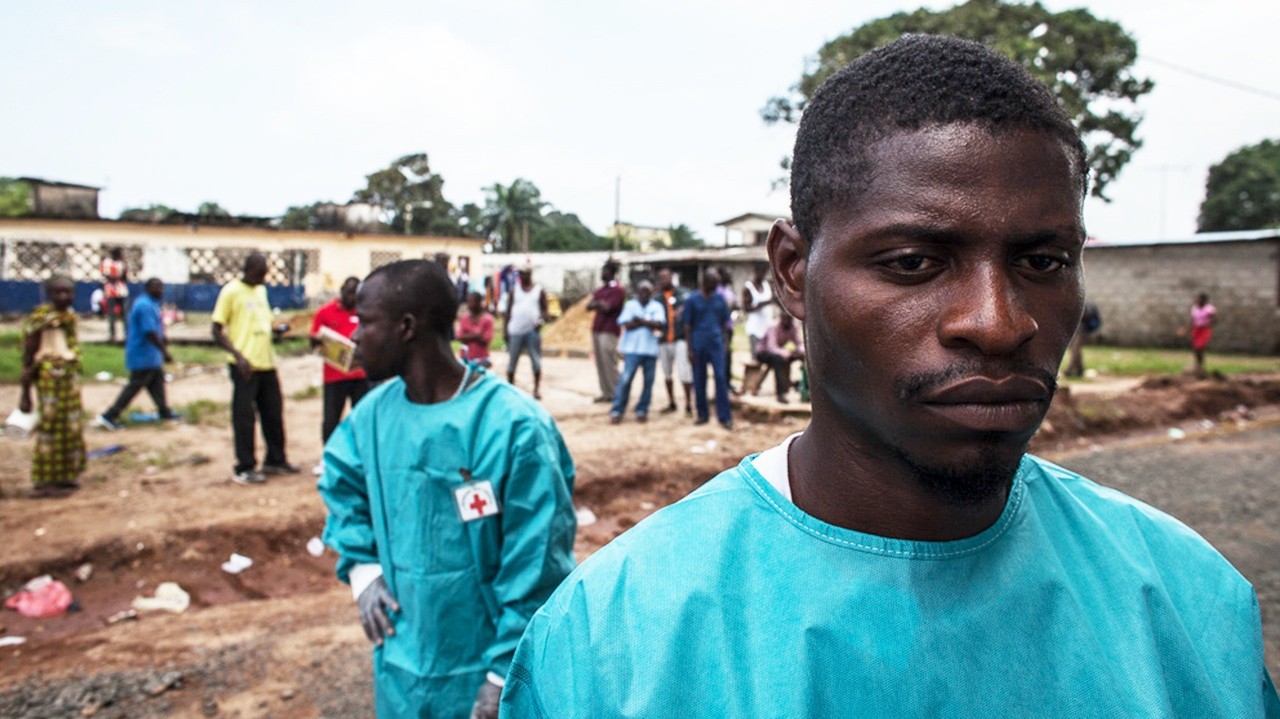 Cover image: Red cross workers, wearing protective suits, carry the body of a person who died from Ebola during a burial for victims of the virus, in Monrovia, on January 5, 2015. (ZOOM DOSSO/AFP/Getty Images)