Members of a security detachtment at the pro-Trump Freedom Rally at Terry Schrunk plaza in downtown Portland on June 4, 2017. Photo by Diego Diaz/Icon Sportswire via AP
This article was published in partnership with the Trace.
Energized by Donald Trump's coarsely confrontational nationalism, the armed right-wing fringe is doing more than stepping out of the shadows in 2017. Detachments of armed men in fatigues have become fixtures at liberal protests, forming the vanguard of what's become known in some quarters as the "counter-resistance."
Now, in a smattering of states with histories of right-wing extremism, chapters of groups like the Oath Keepers and Three Percenters may be emerging as even more direct political players, providing security for local pro-Trump politicians and Republican organizations. In one case, a Three Percenter was found to be employed on a state lawmaker's staff.
When self-designated patriot groups first emerged during the early 90s, they identified as enemies of the "New World Order" heralded by George H.W. Bush, and tended to oppose the government, regardless of which party was in power. But experts say that the recent activity of some militia members could be evidence of a greater shift in political allegiances.
"You can't be anti-government if your guy has the top job," said Mark Pitcavage, who researches far-right extremism for the Anti-Defamation League.
With right-wing extremists who venerate the president looking for new enemies, some state and local politicians who are remaking partisanship in Trump's image may see militias as a way to tighten their grip on power. The brash political style and "America First" agenda ushered into the Republican Party by Trump appeals to people in the militia movement, drawing them toward the political mainstream, said Amy Cooter, a sociologist at Vanderbilt University. Just as important, Cooter said, groups like the Three Percenters are eager for confrontation with anti-Trump liberals, who are themselves taking to the streets. "On the local level, some Republicans appear to be tapping into that agenda."
The Trace has identified at least five occasions, spread across three states, where gun-carrying anti-establishment protesters provided security, demonstrated in support of, or worked for conservative local elected officials or Republican Party functionaries.
---
Check out our documentary on women of color arming themselves in Texas: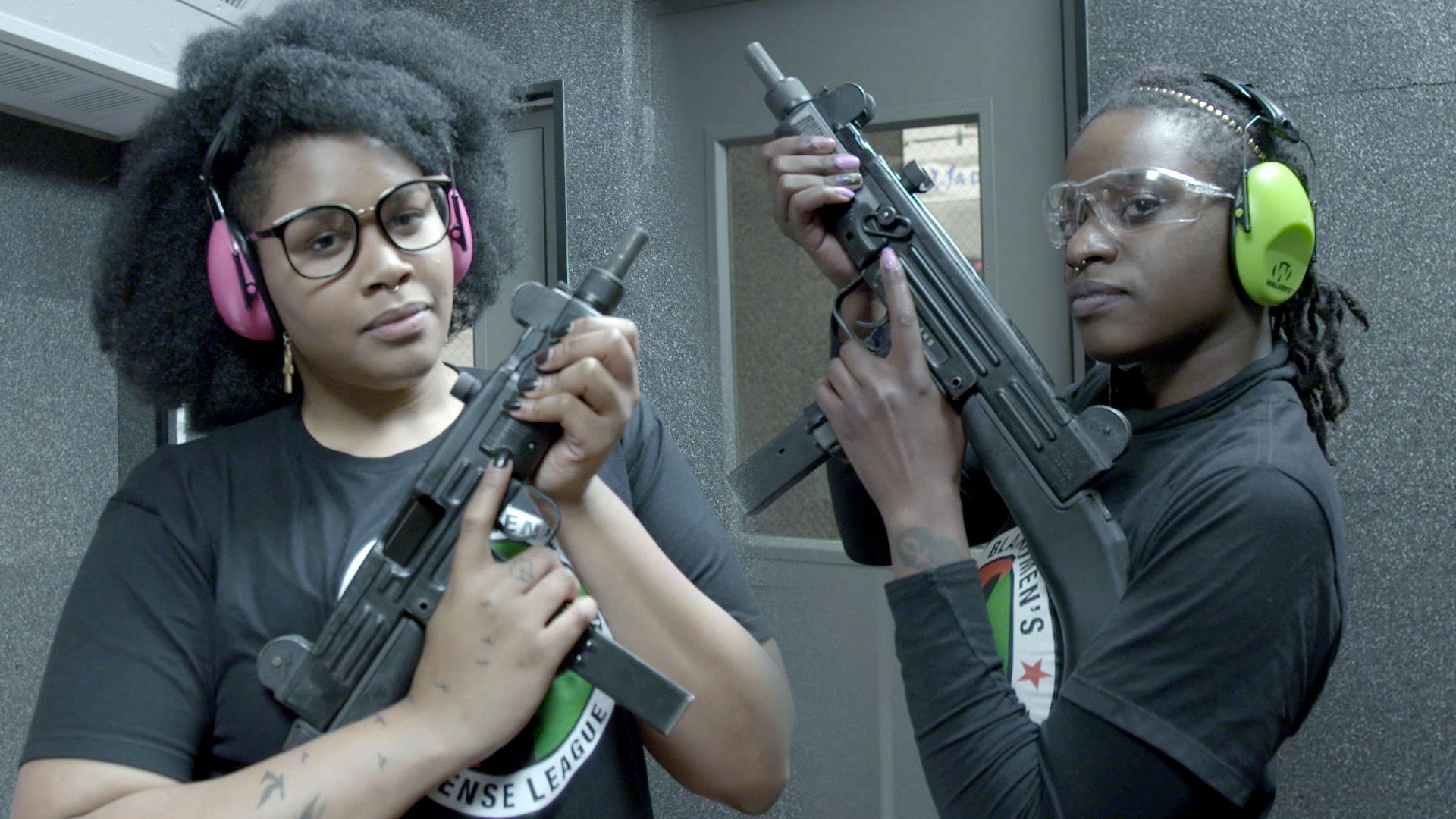 ---
In late July, a legislative aide to Republican state representative Mike Nearman served four days in jail after she lent a gun to a Three Percenter named Matthew Heagy, who was prohibited from possessing firearms because of a felony record. The aide, Angela Roman, is also a Three Percenter, according to her attorney.
The Three Percenters are an offshoot of the Oath Keepers, an organization for right-wing veterans and former law enforcement officials. According to Cooter, they are a newer group, best known for a heavy internet presence, though in the Trump era they are transforming into a movement that can turn people out to rallies.
In March, Roman and Heagy attended a pro-Trump rally in Salem as anti-Trump protesters assembled nearby, which soon led to clashes. Heagy used pepper spray amid the chaos, injuring a police officer. When he was arrested, police found he was illegally in possession of a gun that he had received from Roman.
Nearman defended his aide in a newspaper column after her initial arrest, though notably made no mention of her extremist politics. "I took a risk on hiring this young lady, and I'm pleased to announce that my bet paid off," Nearman wrote. His office did not immediately respond to requests for comment on whether Roman is still employed by Nearman.
Roman's brief incarceration followed a June resolution by the Republican Party of Multnomah County, which includes Portland, to hire Oath Keepers and Three Percenters for security at future events. James Buchal, the local party chairman, mentioned the plan and specifically named those groups in a fundraising letter that month. He'd been spotted recruiting new party members at pro-Trump counter-protests attended by Oath Keepers.
The Republican Party has a natural ally in these groups, Buchal explained in February. Trump's "enemies are my enemies and his enemies are all our enemies," he said at a meeting of the Multnomah County Republican Central Committee. "We are really in a life-or-death battle for the future of our society."
---
This summer, the town president of the northern Michigan village of Kalkaska has made himself into a cause célebrè for militia members in a state that's long been home to the movement. Jeff Sieting, 55, owns a hotel on Kalkaska's main street. Months after the November election, he still hangs a Trump banner from the balcony. His Facebook profile, on which he describes himself as a "White Christian Conservative American," is awash in conspiracy posts, including warnings about the debunked Pizzagate theory.
When a Facebook post shared by Sieting calling for the death of Muslims came to light, the discovery provoked liberals to organize demonstrations. Sieting, who did not respond to a request for comment, asked people to show up and support him. "This is a big fight my friends," he wrote in a subsequent post reported by the Detroit News but later deleted. On June 24, as people outraged by his racists posts rallied downtown, 150 pro-Sieting conservatives, many openly carrying guns, gathered across the street on the steps of his hotel for a counter-protest billed as a Second Amendment celebration.
A month later, about 20 armed members of the Great Lakes Three Percenters and other local militias stood watch outside a tense town council meeting protested by Redneck Revolt, an armed left-wing group. Representatives of the conservative groups told reporters they were there only to there keep the peace. "We're not here to intimidate anybody from either side," said Mike Jenkins, the leader of the Great Lakes Three Percenters. Later, though, Jenkins confirmed to local media that his group had coordinated with Sieting.
A witness said militia members noted license plate numbers of anti-Sieting attendees. Jenkins blamed people from outside the town for stirring up dissent. His group is based in Muskegon, an approximately two-hour drive from Kalkaska.
---
Protesters outraged by Governor Greg Abbott of Texas' anti-immigration stance were doubly shocked when they showed up at a July 16 rally in the border city of McAllen to see armed members of the Texas State Militia chatting up campaign staff.
The group, an independent volunteer organization with chapters throughout the state, has expressed solidarity with the Bundy family, Nevada ranchers who have led two armed standoffs with federal agents. Abbott's staff has rebutted claims that it had hired the militia or coordinated its members' appearance at the event in McAllen.
Militias and patriot groups grew more active in Texas after 2015, when rumors swirled that a military exercise called Jade Helm being held in the state by the Army, Navy, and Air Force was actually a covert attempt by then-president Barack Obama to impose martial law. Abbott stoked the hysteria when he called on the Texas State Guard, a state-government-run group analogous to the National Guard, to monitor the military's activities.
Records obtained by Gawker showed that the attention Abbott brought to Jade Helm resulted in a spike in recruitment for the Texas State Guard. However, some recruiters were unsettled by applicants' paranoia surrounding the military operation, and their eagerness to be armed. "I am getting a lot of calls," one recruiter wrote in an email. "They want to join [the Texas State Guard] simply because they think they can carry weapons."
A version of this article was originally published by the Trace, a nonprofit news organization covering guns in America.Sign up for the newsletter, or follow the Trace on Facebook or
Twitter.