After trekking nearly 1,000 miles across three countries, a group of around 150 asylum seekers who fled violence in Central America has arrived at the U.S. border to find the equivalent of a "not welcome" sign posted by the Trump administration.
Customs and Border Protection officials said the San Ysidro port of entry near San Diego had "reached capacity," and that any "persons traveling without appropriate entry documentation" would be temporarily blocked from entering. The group arrived Sunday, and as of Thursday morning, according to reports from the border, a total of 88 people in the group had been allowed to enter. Eleven of them face criminal charges for entering the country illegally. The rest are still stuck sleeping on the ground in a tent city on the Tijuana side of the border.
Each member of the group faces a long, uphill battle to win the right to stay in the country. There's alreadly a backlog of 311,000 pending asylum cases, according to U.S. Citizenship and Immigration Services (USCIS), and the average wait for a date in immigration court is more than 700 days. It can take four or more years for cases to be resolved. The Trump administration has taken steps it says are intended to speed up the process, but attorneys who represent asylum seekers say the measures have only exacerbated the situation and made it harder for people to win their claims.
Immigration court judges are making more asylum decisions under Trump — 30,179 cases in the 2017 fiscal year compared to 22,312 in Obama's last year in office — but it's getting more difficult to receive asylum. Judges rejected nearly 62 percent of the claims they heard last year, versus a denial rate of 44 percent five years ago, according to data compiled by Syracuse University. The rejection rate stands to increase even further under a policy change being considered by Attorney General Jeff Sessions, which could block asylum for victims of domestic abuse and gang violence.
Read: Volunteers are offering blankets, food, and legal advice to the stranded migrant "caravan"
A majority of the border caravan members are Hondurans, and while some have said they were forced to flee political unrest in the country, many are women and children who claim to be seeking refuge from domestic violence and gangs.
"A whole big wasted procedure"
The caravan, organized by the refugee and migrant rights group Pueblo Sin Fronteras, attracted international attention following a series of tweets by President Trump, who criticized Mexico for failing to stop the procession and called for tougher treatment of asylum seekers to prevent fraud and abuse of the system.
"As ridiculous as it sounds, the laws of our country do not easily allow us to send those crossing our Southern Border back where they came from," Trump said in one tweet. "A whole big wasted procedure must take place."
"Many applicants must wait due to the filing of frivolous, fraudulent, or non-meritorious asylum applications by individuals seeking to game the system"
There are two paths to asylum in the United States. One is "affirmative" asylum, where a foreigner who is already in the country tells the government they're afraid of returning home. The other is "defensive" asylum, which is the route that members of the caravan are taking.
Those members of the caravan who have been allowed to enter and express a fear of being sent back where they came from are detained and interviewed by an officer from USCIS, who judges whether their claim is credible. If they pass that interview, an immigration judge ultimately decides whether they get to stay. In the meantime, they must wait — and under new Trump administration policies, it's possible they could spend that time locked up and separated from their children.
In years past, asylum seekers who passed their "credible fear" interview with USCIS were typically released ahead of their court date. They were also given permission to work legally while their case worked its way through the system. Trump has complained about this "catch and release" policy, and the White House is reportedly crafting legislation to make it harder to gain asylum easier to detain people at the border, including children and families.
Already, the administration has separated more than 700 children from asylum-seeking parents, according to data obtained by the New York Times, a practice that has led to a class-action lawsuit. Another lawsuit by the ACLU and Human Rights First alleges that more than 1,000 asylum seekers last year were arbitrarily denied parole and detained after passing their credible fear interviews.
The asylum case backlog has grown by more than 1,750 percent over the last five years, and the rate of new asylum applications has more than tripled, according to USCIS. To expedite the process, the Trump administration has introduced a number of new policies. Most notably, in January the administration began prioritizing the processing of new "affirmative" asylum cases over old ones.
USCIS spokesman Michael Bars said the change was a return to scheduling priorities that were in place from 1995 to 2014, intended to "deter individuals from exploiting the backlog to obtain employment authorization by filing frivolous or fraudulent asylum applications."
"While USCIS reforms have been able to curb the backlog's growth, in reality many applicants must wait due to the filing of frivolous, fraudulent or non-meritorious asylum applications by individuals seeking to game the system, exploit asylum loopholes, and undermine credible asylum seekers," Bars said.
"A lot of people have cases that have been pending for three years or more who don't have any idea at this point when they can plead their case"
Attorneys who work with asylum seekers said false claims are extremely rare, and the result of the new policy is that people who have just arrived are moving more quickly through the system, but people who have already been waiting for years now keep getting pushed to the back of the line.
"A lot of people have cases that have been pending for three years or more who don't have any idea at this point when they can plead their case," said Robert Painter, director of pro bono programs at American Gateways, which provides legal services for asylum seekers in Texas. "Their evidence gets stale. It's very unfair for them."
Asked about the situation in San Diego, a CBP spokesperson said processing times for asylum seekers vary on a number of factors, including the complexity of the cases and the availability of detention space, but the agency expects that it "will be a temporary situation."
On the defensive asylum side, the administration has tried pulling judges away from immigration courts around the country and sending them closer to the border. That tactic was first used last year, and Attorney General Jeff Sessions dispatched another 35 assistant U.S. attorneys and 18 immigration judges to the border Wednesday.
The problem with that approach, according to Lindsay Harris, co-director of the Immigration and Human Rights Clinic at the University of District Columbia Law School, is that many asylum seekers and other immigrants facing deportation end up having their cases heard in jurisdictions far away from the border. Deploying judges to the border last year caused more than 22,600 hearings to be postponed in some of the most backlogged immigration courts, according to Justice Department data provided to the National Immigrant Justice Center in response to a Freedom of Information Act Request.
"You'd have a judge from Baltimore sent down to Harlingen in Texas," Harris said. "They'd be abandoning their docket, rescheduling cases that had been waiting for years to be heard, then arriving at the border without having anything to do."
In early April, the Justice Department sent a memo to immigration judges across the country stating they'll be required to clear at least 700 cases a year in order to receive a "satisfactory" rating on their annual performance evaluations. Harris said the quota is problematic for asylum cases, which require lengthy presentations of evidence to the court.
"Usually there are three-plus hours of testimony from doctors, psychologists, the asylum seeker giving a detailed account," Harris said. "Rushing through these cases is a concern when you're talking about trauma survivors and life-or-death situations."
Harris added that while the Trump administration appears to be making it harder for people to win asylum cases, groups like the caravan will keep coming regardless.
"I'm not sure if they're hoping they'll give up and go away, but they've come this far," she said. "What this administration has failed to recognize time and time again is these are people fleeing for their lives, and what they're fleeing is worse than whatever they face here."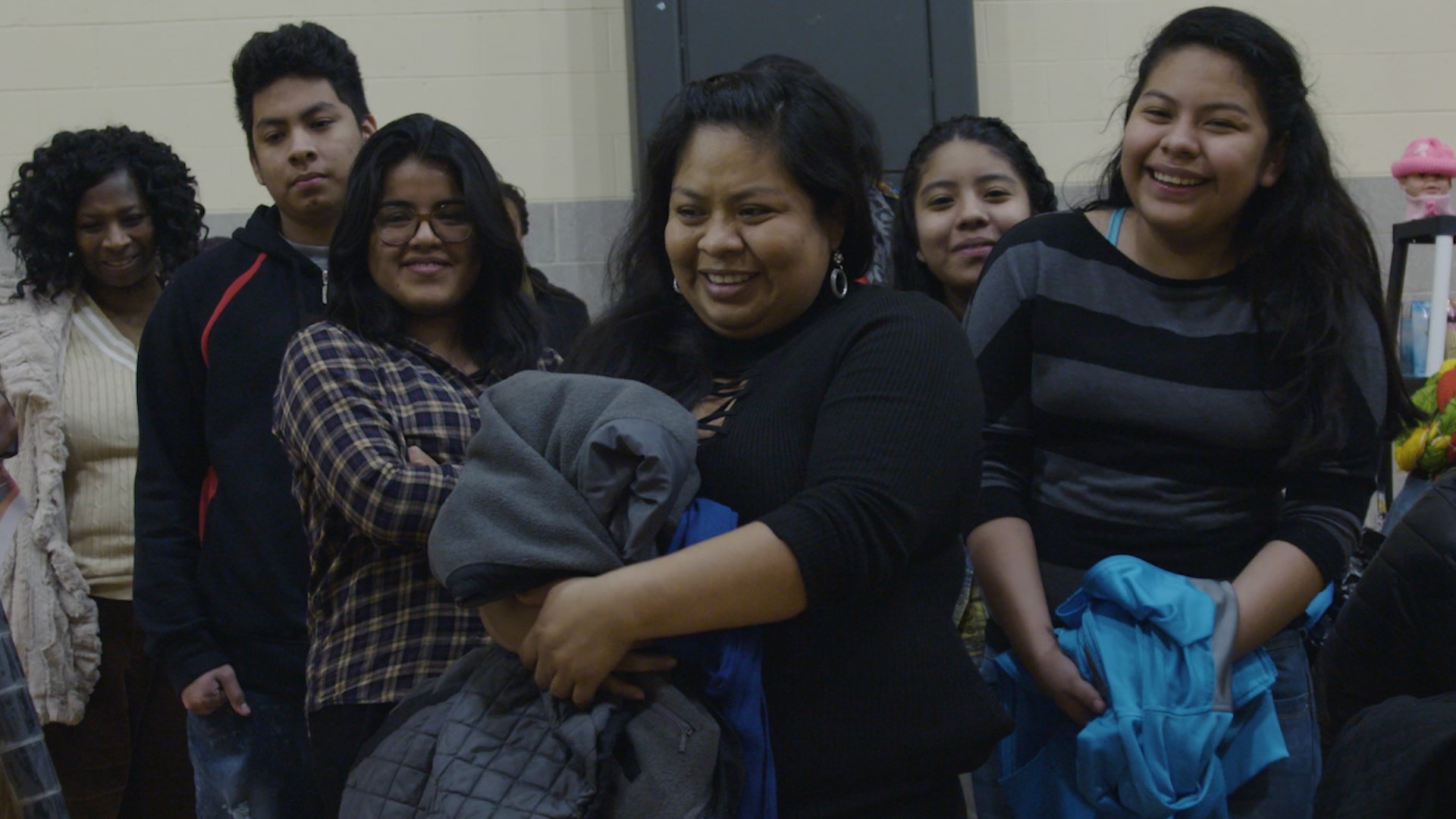 Cover image: Members of a caravan of Central Americans who spent weeks traveling across Mexico walk from Mexico to the U.S. side of the border to ask authorities for asylum on April 29, 2018 in Tijuana, Baja California Norte, Mexico. (Photo by David McNew/Getty Images)