The Sacramento Police Department couldn't explain why two of its officers muted their body cameras after shooting and killing 22-year-old Stephon Clark in his own backyard last month. Now, the department wants every officer to verbalize their reasons before even touching the button.
In a memo sent to officers on April 4, first obtained by the Sacramento Bee on Tuesday, the Sacramento Police Department wrote that muting body-worn cameras is considered de-activation — the same as completely shutting them off.
"Once their BWC [born-worn camera] is activated, employees shall not deactivate or mute their BWCs until the investigative or enforcement activity involving a member of the public has concluded," stated the memo, also obtained by VICE News. "If enforcement or investigative activity resumes, the employee shall re-activate the BWC and continue recording."
The rule, however, has some exceptions: discussions with medical professionals, to conserve battery life, investigations with "sensitive circumstances," or a witness or citizen requesting that the officer turn their camera off or mute it, the Bee reported. If officers do mute their audio for one of those reasons, the department now requires they verbally explain why.
READ: Sacramento police can't explain why officers muted their body cameras after shooting and killing unarmed black man
Chandler told the Associated Press that the policy was in the works before the two officers shot Clark in the back seven times and killed him. His death and the resulting protests, however, prompted the department to speed up their process.
Initially, the officers said they thought Clark had a gun when they confronted him in his backyard after a 911 caller reported someone breaking into cars in the area. The department later clarified that he was carrying a "tool bar." But body camera footage later released confirmed Clark was only carrying a cell phone.
The footage also revealed that about six minutes after the officers shot and killed Clark and backup arrived, one of the officers said, "Hey, mute," and the audio ends. The video, however, continues for about two more minutes, and the officers can be seen speaking to one another and to at least one civilian before the footage ends.
While the department released some body camera footage and other video just days after the shooting, it has until April 17 to release all the remaining recordings.
When asked why the officers muted their audio, the Sacramento Police Department couldn't point to a reason. The department had previously told its officers during training that they could mute their body cameras in certain scenarios, Sgt. Vance Chandler previously told VICE News, and had a written policy about deactivating body cameras. But the memo is the first time officers have received any written direction about muting their audio, specifically.
Editor's note 4/12 12:48 p.m. ET: This story has been updated to reflect the text of memo provided to VICE News by the Sacramento Police Department.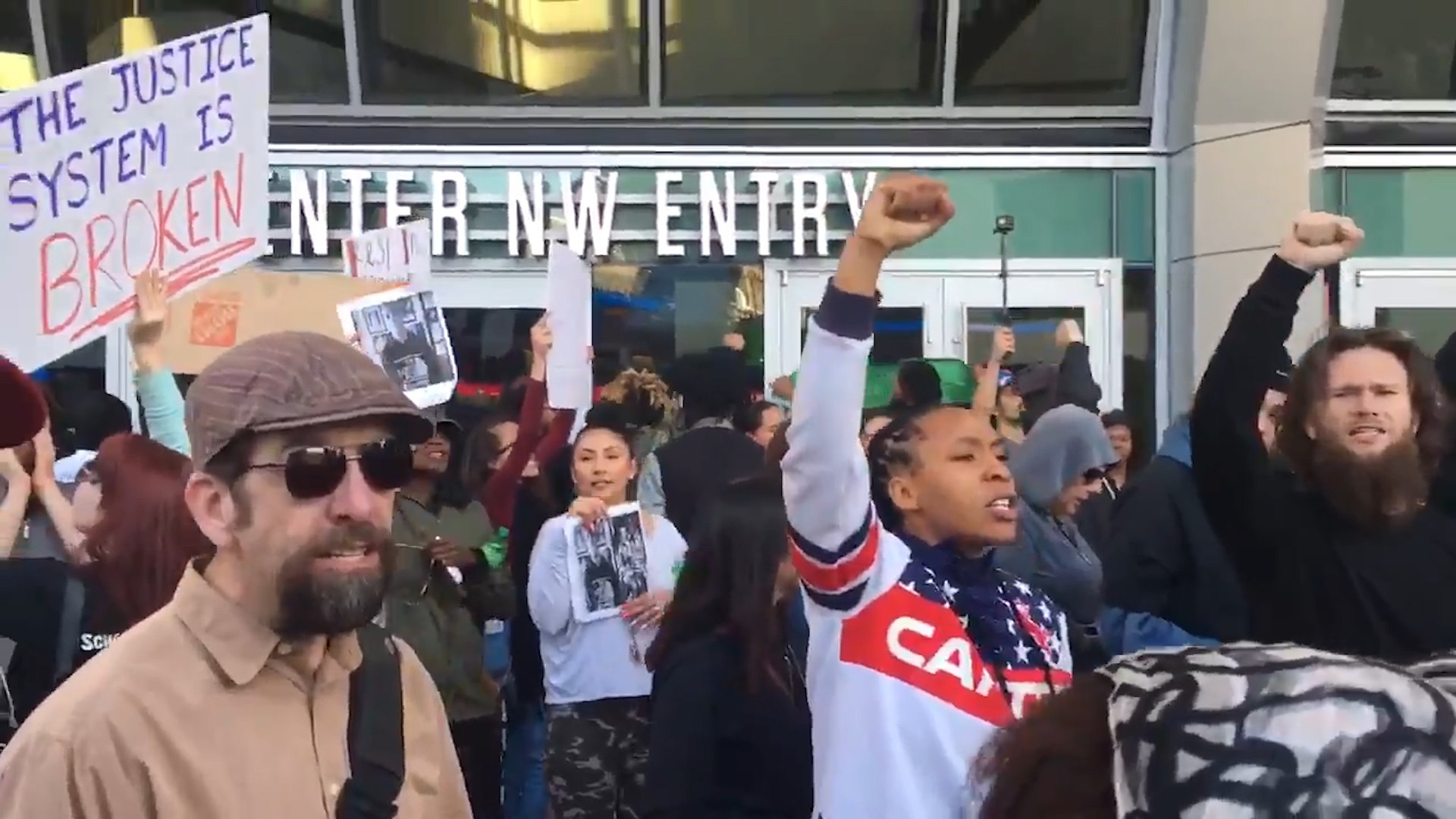 Cover image: Stevante Clark, the brother of Stephon Clark, who was shot and killed by Sacramento police, talks with Sacramento Police Chief Daniel Hahn before a meeting of the Sacramento City Council, Tuesday, April 10, 2018, in Sacramento, Calif. (AP Photo/Rich Pedroncelli)