If you're hung over in Los Angeles, you'd be making a good call by taking your suffering ass to brunch at Native, a new restaurant by chef, restaurateur, and Top Chef alum Nyesha Arrington. Not only is the sunny enclosed patio a pleasant place to recover, but there are dishes on the menu intended to ease the pain left in alcohol's wake. One such dish: Hangover Soup.
"In the Hangover Soup there's a little bit of puffed hominy," Arrington explains to me, pointing out the star ingredients in a coal-black ceramic bowl. "We have a sort of spicy tomato base with notes of lime and watermelon radish with some scallion curls. It has cannelloni beans and a little bit of carrot, onion, and celery. Then we finish that with beautiful market radishes."
The soup is vibrant and healthful, served with a slice of lime for a final garnish of Vitamin C and brightness. There's plenty of acid and salt, both keys to curing a hangover, according to Arrington. The variety of texture is a well-calculated delight.
"I'm such a texture girl. I'm always in pursuit of interesting textures and interesting mouthfeels," Arrington explains. "I think about what I want to eat and work backwards from there."
While the Hangover Soup is just what the doctor ordered, your brunch order at Native isn't complete with soup alone.
"Say you partied the night before, you should have the soup and the braised bacon because it's salty and it's thick and delicious," Arrington says. "It's not like any other bacon that you're ever going to find pretty much anywhere. I braise the whole bacon slab and I cook it for three hours."
The tender slab gets pressed overnight, then cut and seared so it's crispy on the outside but soft on the inside. Arrington also recommends an order of the kimchi latkes to round out the meal with some carbs.
"Pretty much you could conquer the world after that," she says of the meal.
If you're not in LA or the idea of driving to Santa Monica for brunch is too daunting for your post-drinking morning, tackle a Hangover Soup of your own at home.
READ MORE: This Birria-Ramen Mashup Is Here for Your Hangover
"It's really simple. It comes in stages," Arrington says of making a DIY version.
The chef recommends getting ahead of your hangover by making a broth whenever you have some downtime. "If you have some carrots and onion and celery, you can roast that off, add some water, bring that to a boil, let that cook for forty five minutes," she says. "Strain out the vegetables and freeze that. Then you have vegetable stock always on hand."
---
WATCH: The Ultimate Breakfast Sandwich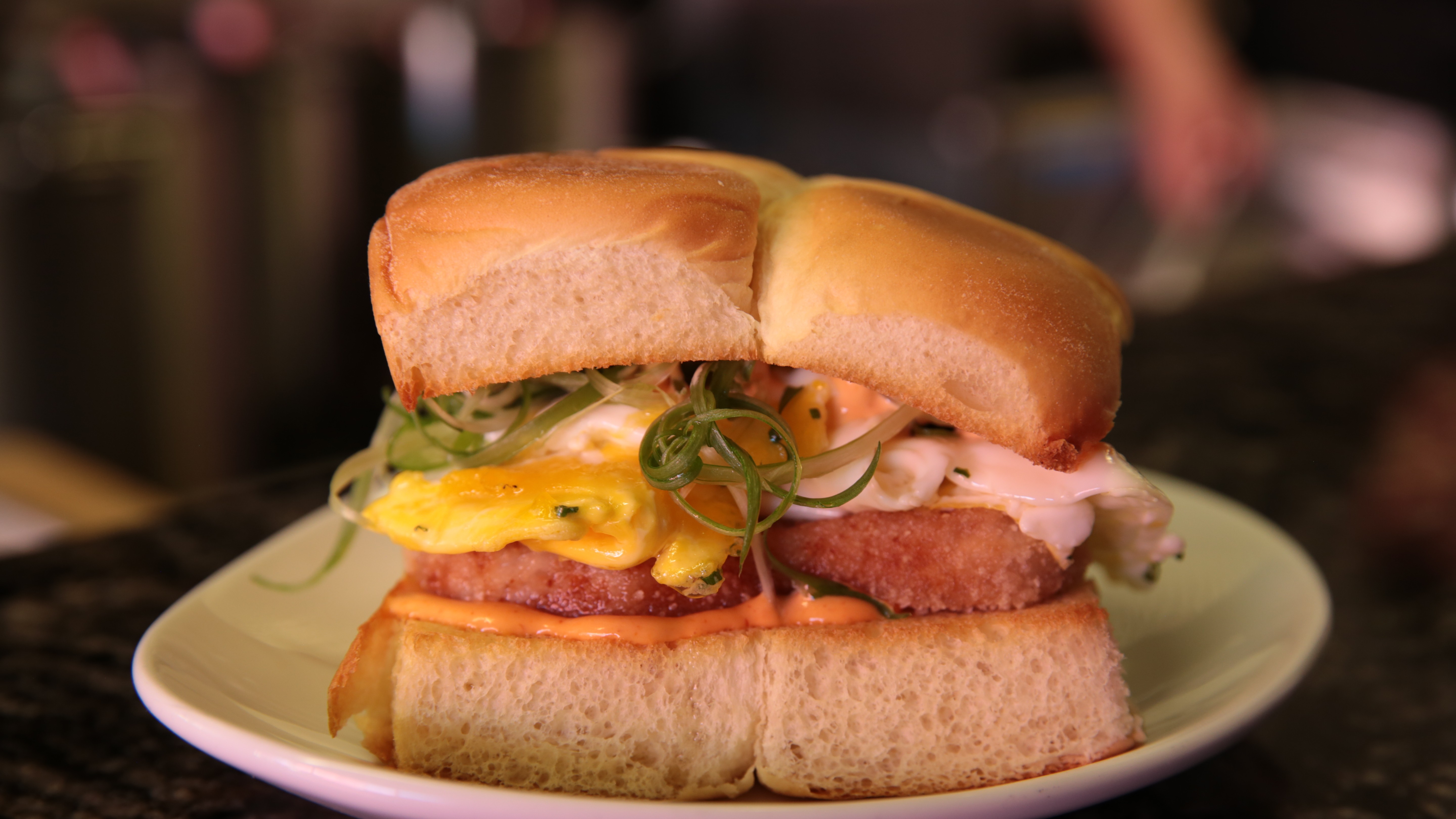 ---
Once the hangover hits, call on that broth. Just make sure you have some tomato paste on hand, too.
"With our situation, we take tomato paste and we cook that down. The key to using tomato paste is you always have to cook it first. It's imperative. A lot people don't do that, but that's what gives the soup that richness and color," Arrington says. "I'll take a really slow sauté pan and add blended oil, then add the tomato paste to that and cook it to bring out the natural sugars and caramelize it until the oil gets very, very red. Then you add the vegetable stock to that and go from there, you can add whatever you want."