Swanthula Boulet (left) and Dracmorda Boulet (right), in a portrait by Nathan Noyes
For more than 15 years, the Boulet Brothers—a duo of veteran drag artists, event promoters, and media wunderqueens—have been putting a spotlight on drag's wildest, most challenging impulses in a way the queer world too rarely sees. In Los Angeles, they're a queer nightlife powerhouse, responsible for events like Queen Kong, a weekly lineup of often boundary-pushing drag and queer performance, and Dragula, a formerly monthly "celebration of drag, filth, leather and glamour," where queens were known to mud wrestle and attendees once walked out "covered in blood, fish guts and confetti," as the Brothers told LA Weekly.
An event like that was always too awesome to happen solely once a month, and the Boulets have always been too prolific to stay under the radar forever. So it makes sense that they've evolved Dragula from an event to a web series, where demonic, hell-born queens compete to become "The World's Next Drag Supermonster" weekly. The second season, whose finale premiered Tuesday, has included paintball duels and physical thunderdome battles, and contestants have faced off in challenges where they're made to stand in buckets of ice and get terrible tattoos. Not that this season's queens weren't warned: "This competition is not safe" was one of the first things Dracmorda Boulet told them in this season's premiere.
I think what the show and the Boulets are doing is vital for the queer community for exactly that reason: Nothing they do is safe. Sometimes literally, but always figuratively. Their movement is the opposite of bland, anesthetized, complacent queer culture, the kind that's been toned down and made safe for the consumption of straight people. It's unabashed and raw, and in a world where our rights are imperiled and queer people are dying, one where we need loud, unashamed queer visibility more than ever, the Boulet Brothers are doing something that feels incredible—both to people like me in the audience and to the queens they champion on the show.
"Queer culture has always been looked down upon and made to feel lesser than," said Meatball, a Los Angeles–based drag queen and "fan favorite" winner on Dragula's first season. "But our culture feels stronger and more visible than ever thank to people like the Boulets. They taught me that sometimes, just going out and supporting queer art is a form of protest. Walking down the street in a dress with my hairy chest out is a form of protest. Staying visible and saying 'we aren't going anywhere' is a form of protest. The Boulets have made queer culture stronger because they want everyone to express themselves however they see fit—they care about individuality and showcasing people and styles you can't see anywhere else."
---
Watch Trixie and Katya discuss the dos and don'ts of dying: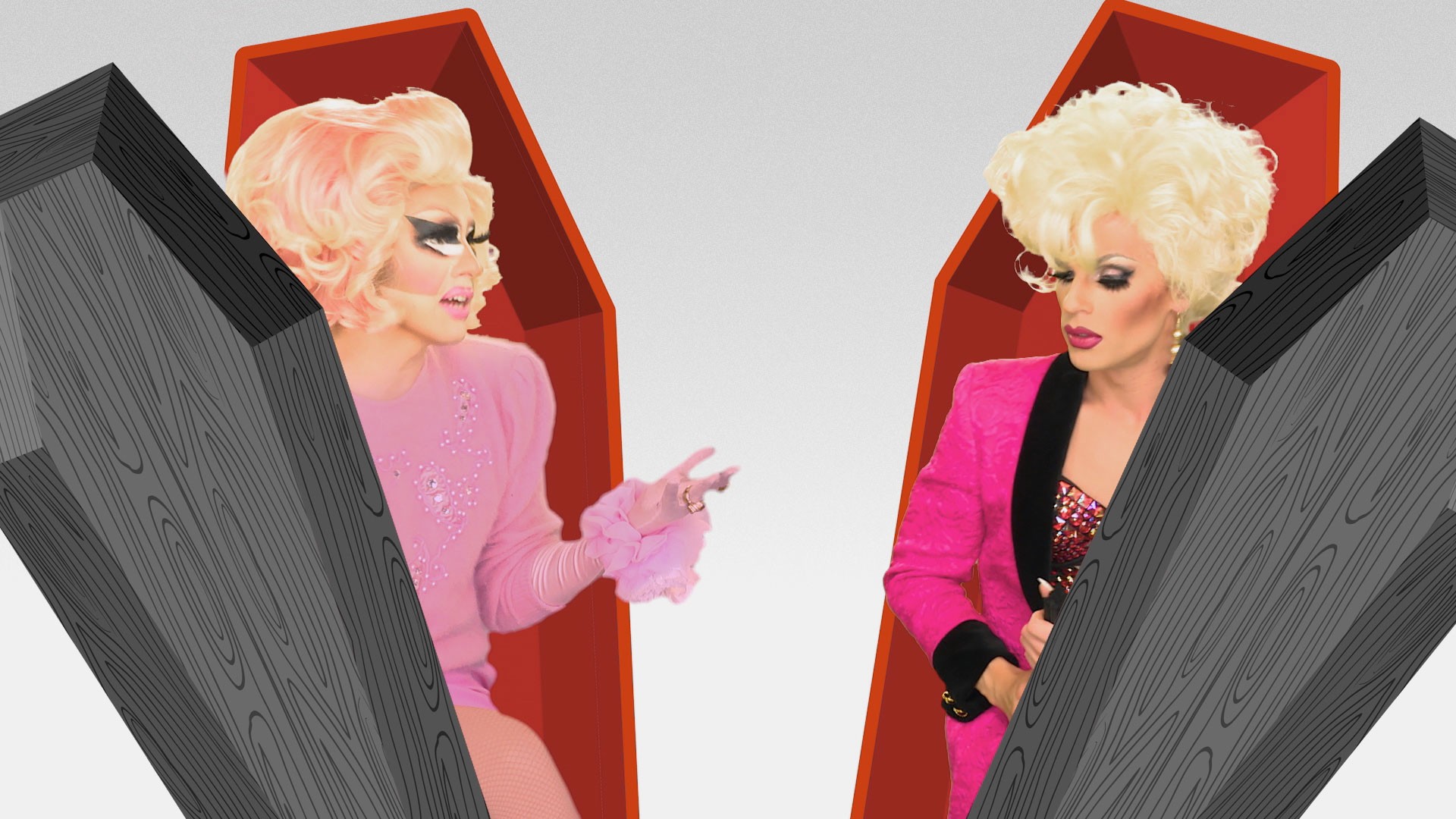 ---
"Dragula has changed the landscape of queer entertainment simply by being a platform where the weird, the unusual and the often-unheard of is held in the highest regard," said Vander Von Odd, winner of Dragula's first season. "It screams out to the weirdos and the outsiders of the world that they're seen and they're valuable, and there's a family of freaks out here waiting for them. During a Trump presidency, with what feels like constant attacks on minorities of all kinds, visibility and representation are the strongest tools we have to fight back. We owe it to each other to be seen."
That ethos was baked into Dragula from the very beginning, when it was a monthly party at an LA gay bar called Faultline. It was as unfiltered as the show, and the Boulets aimed to make it "primal and refreshing," as Swanthlua Boulet told me. "We felt deeply outcast growing up, so being able to provide a place like this for other disenfranchised gays put a smile on our faces," added Dracmorda
That's what I remember from those events, even years ago—those parties had a way of making everyone in the room feel like no matter who you were or how you dressed, as long as you were queer as fuck (and that includes straight people, too), you were the most special thing in the whole world.
And that's really what we need more of as a queer community—more solidarity and communion, especially with the most marginalized among us. Hate crimes in America are on the rise among virtually every minority, including against LGBTQ people. Anti-trans violence and murders have continued their chilling increase year after year. There's no doubt that some of that is motivated by the divisiveness and tribalism seeded in our society by Donald Trump and his acolytes. And that divisiveness trickles down into every corner of our society; the amount of infighting that plays out among queer activists and communities is sometimes hard to watch, made more toxic by the fact that if that energy were turned toward realizing our collective goals, we'd be that much stronger as a community in combating the forces of hate and intolerance that have overtaken our country.
What's important these days is that we're visible. Each and every queer person and our allies must stand together and be unified as a community if we want to combat hate and political injustice. Especially if you're among the most visible and privileged members of our community. Because it's those of us who don't fear for our lives or face marginalization in the ways that our queer family of color, our trans, gender nonconforming and femme siblings and other members of our community imperiled for their identity do who must stand tallest. All of us need to be loud, queer as fuck, and united in our commitment to this community and its future.
"We don't believe that there's a universal definition of the word 'queer,'" Swanthlua told me. "Being queer is different everywhere. But to us, to be queer is to reject mainstream approval and the idea that anyone has authority over how we live. We are who we are, we don't need anyone else's recognition, and fuck anyone who places themselves above us in the first place. We're all equal and nobody has authority over anyone else."
That sentiment is exactly the kind of political energy we need to fight those who hate us. It's a way to channel the energy and sentiment that's propelled queer politics and activism for decades, one that rejects our differences and encourages solidarity in the face of those who hate us. And don't think that Dragula is just a show about drag queens who love grotesque, hardcore queer performance art. In its own way, it's encouraging us to stand united, whether you're a supermonster or not.
Follow
Jeff Leavell
on
Instagram
.