Estonia's Defense Minister was worried about the threat Russia poses to its relatively tiny Baltic neighbor long before Donald Trump became America's president-elect. But Trump's surprise win hasn't helped calm those fears. Estonia relies on NATO for protection, and the president-elect has not been so enthusiastic in his support for the longstanding military pact.
"What we would like to hear [from the U.S] is that as we continue our policy as a very strong ally of NATO, that also the United States policy will continue," Estonia Defense Minister Margus Tsahkna said in his first international interview since taking office in November.
Tsahkna is hardly alone in his concern. Russia's aggressive behavior in recent years, including the annexation of Crimea from Ukraine in 2014, has intensified fears in the tiny former Soviet states of Estonia, Latvia, and Lithuania that their giant neighbor to the east may focus on them next. And the prospect of the incoming president pursuing a thaw in relations with the Kremlin has only added to anxiety in the Baltics.
This segment originally aired Dec. 13, 2016, on VICE News Tonight on HBO.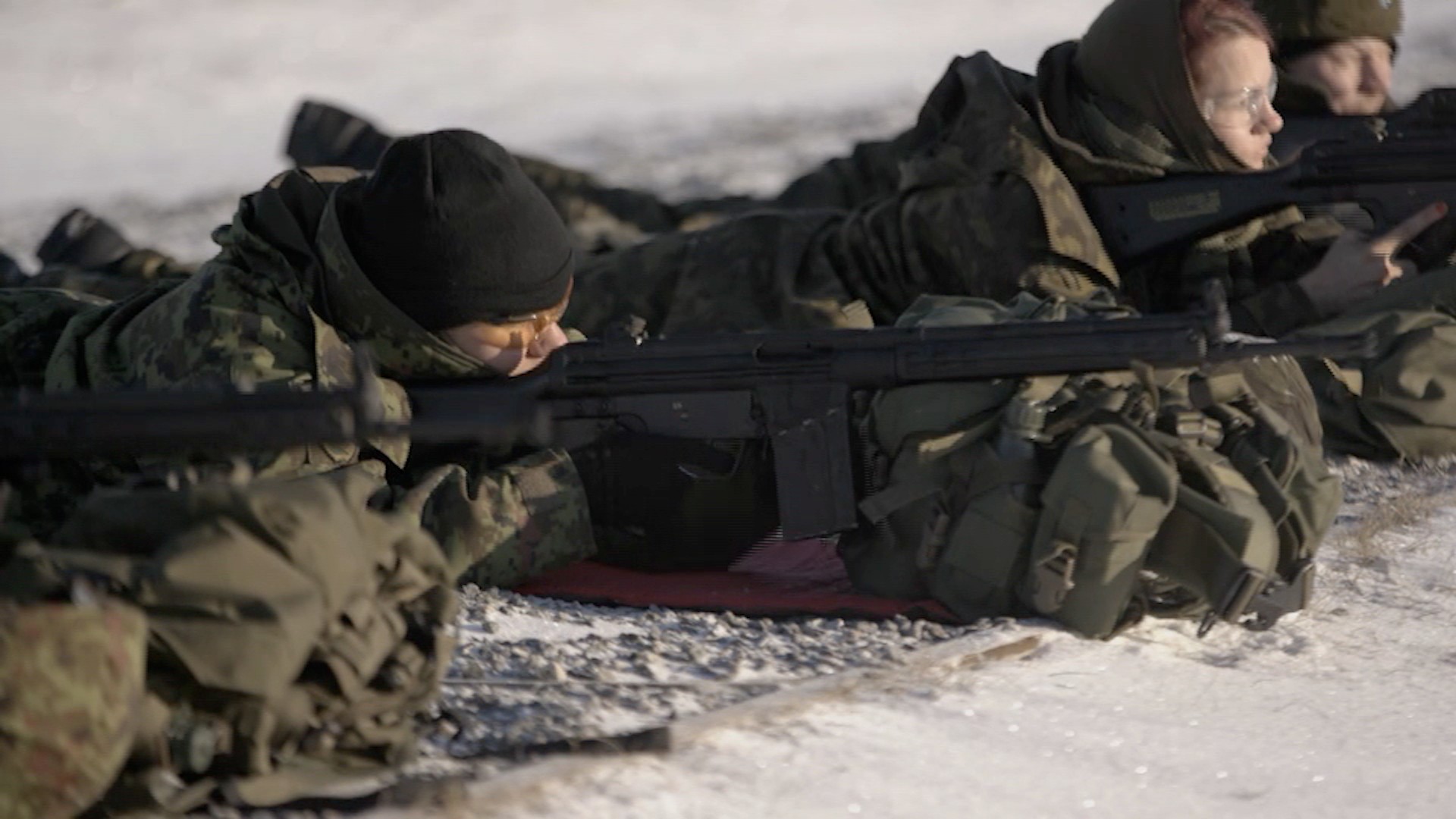 The NATO agreement commits its 28 members to a policy of collective defense; an attack on one member is treated as an attack on all. The pact has underpinned peace and security in post-war Europe for more than 60 years.
But Trump appeared to cast doubt on his commitment to honor America's pledge in July, when he suggested to the New York Times that U.S. involvement in any hypothetical defense of the Baltic states could depend on whether they had met the NATO target of spending 2 percent of gross domestic product on defense.
"I'm saying, right now there are many countries that have not fulfilled their obligations to us," he said, though he refused to say explicitly how he would respond to an attack on a treaty partner that had not paid its dues.
Estonia is one of just five NATO member states meeting the recommended threshold; Latvia and Lithuania don't come close. Estonia plans to increase its military spending to 2.2 percent of GDP next year, in a boost Tsahkna described as sending a "clear message."
The increased military expenditure in Estonia is just one sign of growing militarization in the region, where relations between Russia and the Baltics have been tense since the latter joined NATO and the European Union in 2004. Tensions reached new levels when the crisis in Ukraine broke out; Russia is accused of arming separatists in the east of Ukraine, which has a large Russian population.
In Estonia and Latvia, about a quarter of the population is of Russian descent.
In Estonia this spring, 800 British troops, along with drones and tanks, will take part in NATO's biggest deployment to the region since the Cold War. Latvia already staged a major military exercise in October with troops from NATO countries, and also held a national civil defense drill. Meanwhile, Lithuania has reintroduced conscription and issued citizens a manual advising what to do in the event of a Russian invasion.
Tsahkna told VICE News that the moves are a direct response to a perceived threat from an increasingly assertive Russia, which has long viewed NATO's eastward expansion as a hostile act.
"We must be ready for anything," Tsahkna said. "Russia's active behavior in Ukraine, in Georgia, in Syria — it shows us something. Because of our geographical position, because of our history, and also because we definitely know what Russia is planning and is doing, we have to be ready to defend our country."
Few analysts expect to see Russian tanks rolling across the border any time soon, but that doesn't mean the fear in the Baltics is irrational.
"There are understandable fears from history and geography, but also more tangible occurrences which add to these psychological fears," said James Nixey, head of the Russia and Eurasia Programme at London-based international affairs think tank Chatham House.
Lower-level incursions by Moscow have already been taking place, Nixey said. In 2007, Estonia blamed Moscow for a series of cyber-attacks amid a dispute over the relocation of a Soviet-era war memorial.
In 2014, a Cold War–style drama played out when an Estonian intelligence officer was captured by the Russians. Tallinn and the E.U. said he was abducted at gunpoint in Estonian territory, a claim Moscow disputes. The agent was sentenced to 15 years in prison before being freed under a spy-swap deal on a bridge connecting the countries last year.
And this past October, Putin deployed nuclear missiles to its westernmost territory — the exclave of Kaliningrad, which borders NATO members Poland and Lithuania.
Nixey said he did not believe Russia would invade or otherwise make incursions in a way that would trigger NATO's collective defense clause. "The level of tumult it would cause is more than the Russians think they can handle," he said. But, he added, Russia could pursue cyber-attacks, bribery of officials, and other covert strategies.
Fears of Russian aggression since its incursion into Ukraine have prompted thousands of ordinary people to join the Estonian Defense League, a volunteer militia. VICE News visited the militia on its final weekend of military exercises this year. Graduates are given a gun to bring home, potentially allowing them to form an irregular home guard in the case of a Russian invasion.
Barbel Salumae is one of an increasing number of women and young people to have joined the group.
"We don't know what's going to happen," the 29-year-old mother of two said. "I have to protect my children."
The force's commander, Brigadier General Meelis Kiili, said that he did not believe a Russian invasion was imminent.
Still, he said, "it's better to be prepared than to be surprised and sorry."