Photo by Albert Sanchez
Margaret Cho has been loud, angry, and pissed off for a while. In 2015, the stand-up comedian released a single called "I Wanna Kill My Rapist," accompanied by a video in which she and a gang of girls chase down a man and batter his head in. She called out Tilda Swinton last year over whitewashing the role of the Ancient One in last year's Doctor Strange. Last March, she even laid into her own audience for walking out during a chaotic Stress Factory comedy show because her set discussed rape.
"My rage is really keeping me alive, my rage is my art," she told the Washington Post in 2015. "We're always told by therapists and clergy and mentors that you need to forgive and heal, and I'm not there, and I don't plan on going there."
Today, however, she's relaxed, happy, and even hopeful. Cho is in London for a short UK tour, Fresh Off the Bloat, named partly as homage to her friend Eddie Huang's television comedy, Fresh Off the Boat, and partly based on something her grandmother said to her: "You look bloated, as if you've been found dead in a lake after several days of searching."
"Every day there's a new person who's gone down," Cho says. "And it's like, Oh my god, this is great. How far is this going to go? People are like, 'Oh, the backlash is coming.' I'm like, 'Is it?' I'm not sure. I'm actually thinking this world might be better."
---
Watch: Margaret Cho on Power Bottoms and Surviving Bullshit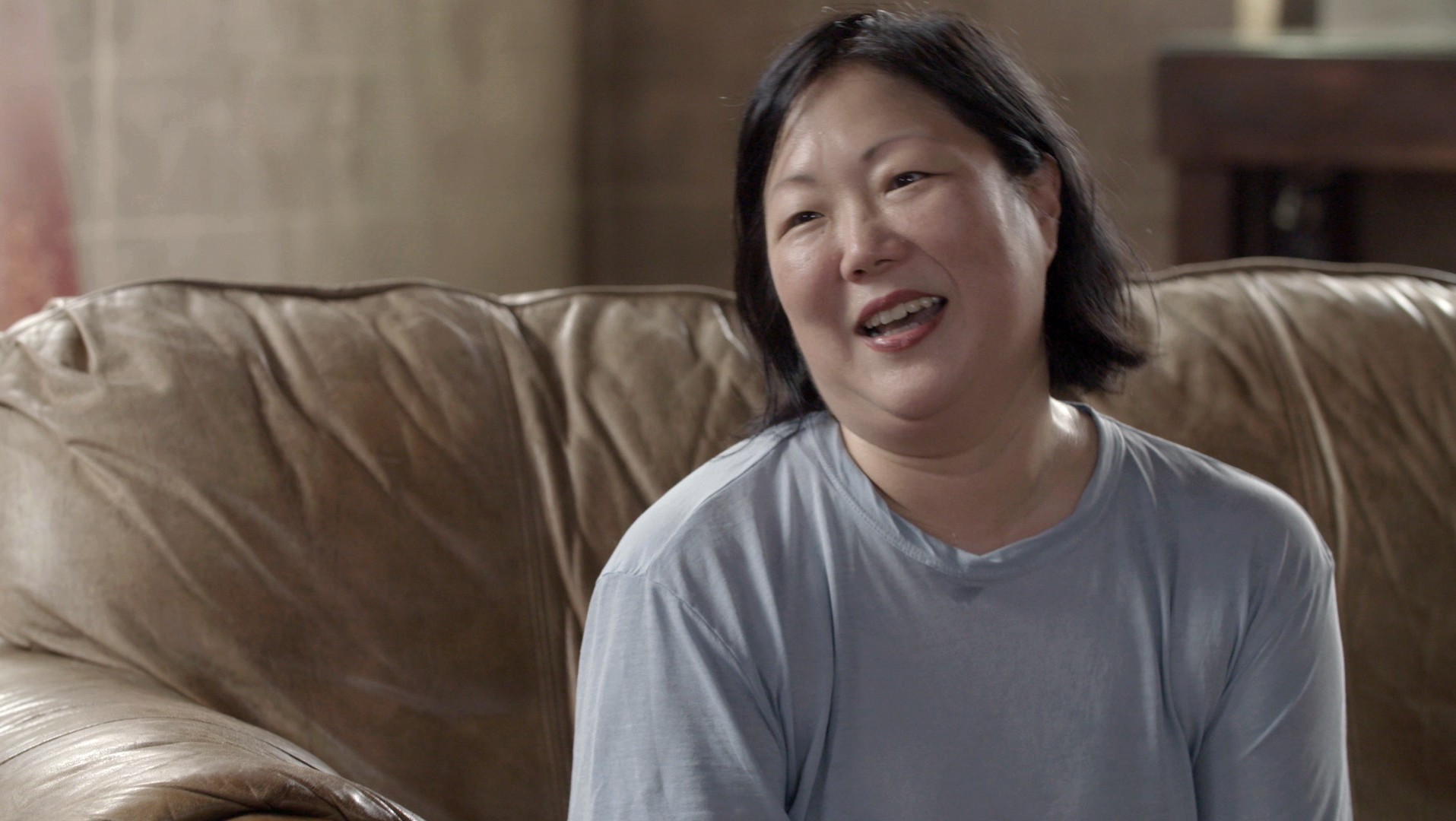 ---
Cho is talking about Harvey Weinstein, of course, and the avalanche of sexual harassment and abuse reports that have poured out of Hollywood since the Miramax head was outed as an alleged serial predator. Cho has decades of experience in show business—in 1994, she starred in the first TV sitcom featuring an Asian-American family, All-American Girl. She was nominated for an Emmy and a Grammy; the former for her guest spot as Kim Jong-Ill for 30 Rock, and the latter for her 2010 comedy album Cho Dependent.
And Fresh Off the Bloat doesn't pull any punches about her industry. In fact, she opens her set with the words "fuck Harvey Weinstein."
Read more: Trans Comedians Are Coming Out, and Into the Limelight
"Oh yeah," she laughs. She says that she has experienced sexual harassment in Hollywood, but "not as disgusting as some of the James Toback stuff." Over 200 women have come forward to accuse the director of dry-humping them or masturbating in front of them in the course of auditions and business meetings.
"People in my generation, we were just so used to it happening that we just forgot," Cho explains. "You file those experiences away and it never occurred to you that you could actually come out and talk about it."
Cho, however, has never shied away from talking about difficult issues. "If you can find a way to laugh about it, that's really freeing," she says. She was repeatedly raped by an uncle from the age of five to twelve, and Fresh Off the Bloat discusses everything from addiction to rape and mental health. "I have been talking about sexual abuse and molestation and these topics for a while," she says. "Finally now, it's just coming out. People are feeling brave enough to do something."
"With all the stuff about Harvey Weinstein and Louis CK—and what I talk about in my show now, too—is how we have a chance to do whatever we want now. Feminism has really just started to work. Like, oh my god, it's actually happening." Her voice drops down to a whisper. "We're actually taking down the patriarchy." She laughs. "I'm newly inspired."
Cho wasn't always this political—at least, not openly. At the start of her career, she felt the pressure to be, in her words, "secular"; to steer clear of issues like racism, queerness, or feminism. "Comedy in the 80s was really about observational comedy," she explains, "which wasn't really observational. It was from the perspective of a white person. That was what was considered observational. And I aspired to it."
"It wasn't the right thing," she says now.
In fact, all of Cho's greatest gags—and she has many—are jokes about her Korean-American family and her sexual identity that tread the nail-bitingly thin line between crude and comedy. In one clip from her 2015 Showtime special, PSYCHO, she says of Asian women who date white men: "Sometimes you'll see a really beautiful Asian woman and she's with the most fucked-up-face looking, busted white man, and I'll be like… Bitch, are your eyes that small?" Joan Rivers wasn't Cho's comedy mentor for nothing.
"The power is in our hands, finally ."
Cho grew up in San Francisco in the 70s and 80s, the misfit kid whose Korean parents ran a gay bookstore on Polk Street, best known for providing the backdrop for Armistead Maupin's Tales of the City. When other Asian-American kids were ace-ing school, she was barely scraping by. In some ways, this proved pretty useful. "That just immediately disqualified me from any of the educational opportunities or even wanting to continue at school," she says. "I was able to get out from under that model minority thing and just do what I wanted."
She didn't feel proud to be Asian-American until the 80s, when she joined the protests against Miss Saigon actress Jonathan Pryce donning yellowface—including eye prosthetics and bronzer—to play the role of a nightclub pimp. Cho joined a group of Asian-American actors who campaigned against the casting. "I didn't get proud to be Asian until something like that was threatened. That was a major change," she says.
Standup, she says, has changed since she first started out in the 80s and 90s. "People are more interested in voices for change and making a better world. There's gotta be something to it, there's gotta be some conscience, and I love that."
Part of the reason Cho's standup has always been breathtakingly funny, of course, was that it had a conscience and political dimension. As a teenager, I remember buying her DVDs and marveling at the sight of a proudly bisexual, Asian woman standing up on stage and cracking jokes about her vagina. She blazed a trail for other comedians to follow: There wouldn't be an Ali Wong without Margaret Cho; and there certainly wouldn't be a Fresh off the Boat.
Comedy has come a long way since the days of All-American Girl, which was canceled after only a season. "Nobody even thought about diversity then. The idea was completely laughable and kind of… cute? It wasn't this important and necessary thing."
Now, Cho says, the tide is turning. And though she is despairing about Trump (she campaigned for Hillary), she is optimistic that—this time, at least—political change is coming, and it's going to stick around.
"What is good is that everybody is coming forward and we're seeing that people have so much more power," she says. "The power is in our hands, finally. It always was; it always has been."
Fresh Off the Bloat is touring the UK right now. For more information, click here.