Whenever New Hampshire's medical examiners suspect someone died of a drug overdose, they autopsy the body. Or at least, they used to.
Thanks to the nation's out-of-control opioid epidemic, the state's Office of the Chief Medical Examiner can't completely autopsy every body anymore. It's been getting too many.
Now, if the medical examiners aren't sure if drugs were involved or if the case could go to trial, they perform a full autopsy. Otherwise, they send samples for a toxicology report — and cross their fingers that the tests come back positive for drugs. But there are no second chances; the body will have likely been buried or cremated by the time they get the results. Thankfully, the tests have come back positive for drugs every time. So far.
"We're not entirely comfortable with this. We are left with this reality," said Thomas Andrew, who recently retired as New Hampshire's former chief medical examiner but has had to keep working because he had too many open cases to leave outright. "We haven't been burned by anything yet, but that doesn't mean it couldn't happen today."
With more than 64,000 fatal overdoses expected in the United States this year, New Hampshire is far from the only state where medical examiners are scrambling to keep up with a surge of bodies. When they perform too many autopsies, they risk making mistakes and even losing their accreditation, which can imperil their credibility. Yet they also need to do their jobs. Without an autopsy, prosecutors can have a harder time proving cause of death in criminal cases, and states may miss crucial public health information, especially during a crisis of unprecedented proportion.
"This is kind of a perfect storm for us," said Andrew Baker, the chief medical examiner for Minnesota's Hennepin County, which saw a 60 percent spike in opioid-related deaths from 2015 to 2016. "We just don't produce enough new medical examiners each year to serve the country."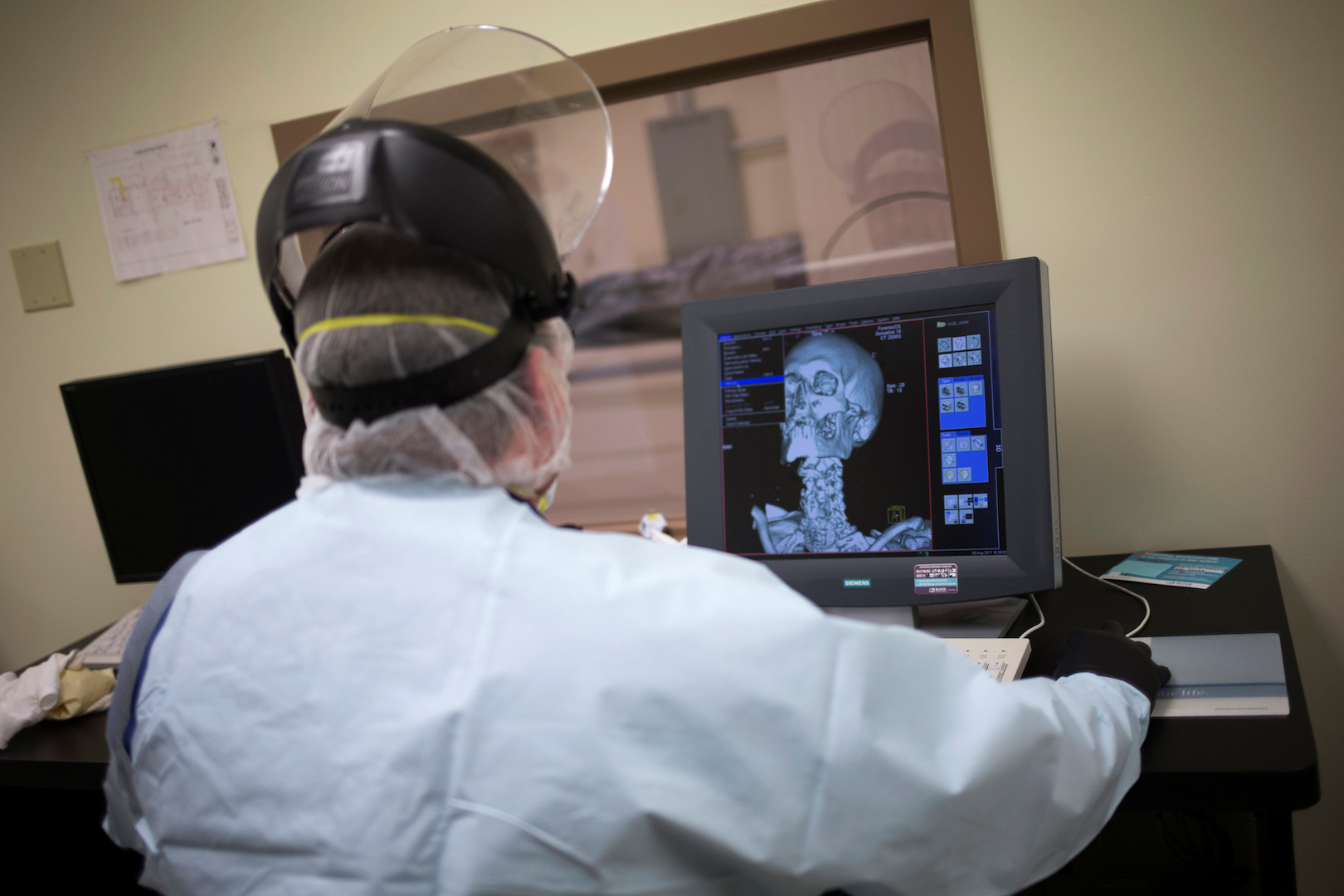 That storm starts with offices' struggle to hold onto their accreditation from the National Association of Medical Examiners. To ensure that each body undergoes a full scientific investigation, the association mandates that every medical examiner in the roughly 70 accredited offices around the country perform no more than 250 autopsies a year. If too many medical examiners go over that limit too many times, their office is placed on provisional accreditation until they get their numbers back down.
"If you go over that line, you're more likely to make mistakes, take inappropriate shortcuts, et cetera," explained Brian Peterson, the National Association of Medical Examiners' leader and chief medical examiner for Milwaukee County in Wisconsin. "If you're under that line, you're more likely to do a thorough job." Even Peterson's office, he said, is in danger of losing its accreditation.
Read: A Nation in Recovery
Overdose deaths have skyrocketed across the country over the last four years, largely thanks to synthetic opioids like fentanyl — which is roughly 50 times stronger than heroin — and carfentanil, which is 100 times more potent than even fentanyl. In the winter of 2013, New Hampshire saw its first case of fatal overdose by heroin and fentanyl; that was when Andrew knew: "There was something really bad coming."
Andrew's prediction turned out to be correct. In 2012, less than 200 people fatally overdosed on drugs in New Hampshire. By the end of 2016, 486 people died in New Hampshire of drug overdoses — far more than New Hampshire's Office of the Medical Examiner, which until recently employed just two medical examiners, could handle. To keep its accreditation, Andrew's office was forced to stop autopsying every known or suspected drug overdose death.
While losing accreditation doesn't mean an office will shut down — some offices even forgo the voluntary process entirely — medical examiners in accredited offices told VICE News that the status proves to the public that they're meeting their profession's minimum standards. Plus, if an office loses the accreditation it once had, that could look even worse in court than never having it at all, Peterson explained.
"'Oh, you lost that? Gosh, how overworked were you? Did you actually pay attention?'" Peterson said, mimicking a defense attorney using a loss of accreditation to attack his findings.
Read: Ultra-potent synthetic heroin is spreading across America
In 2017, Connecticut's Office of the Chief Medical Examiner did lose its full accreditation and was placed on provisional status. The state's Chief Medical Examiner James Gill attributes the loss to the opioid epidemic having tripled the number of drug overdose deaths his office sees.
"We are at increased risk for making mistakes, and that can affect our credibility with families, with jurors, with attorneys, with judges," Gill said. "They may start to question some of our determinations and put us under more scrutiny and possibly raise a reasonable doubt."
There's an obvious solution to medical examiners being overwhelmed with bodies: hiring more of them. But medical examiners in many jurisdictions said they can't get the money. Gill has to wait on the Connecticut Legislature to finalize a budget before he finds out if he'll be able to hire just two more forensic pathologists, which he said are essential. But in the past, Gill said, "They haven't been willing to fund us to the level we need."
And even if Gill gets his funding, he's not sure he'll be able to find people qualified to fill those positions. Just 35 people graduated from U.S. and Canadian medical schools and became forensic pathology residents in the 2015-2016 school year, according to the Association of American Medical Colleges.
"It's a tough sell to get people to go into forensic pathology," admitted Baker, noting that medical examiners must often grapple with crippling medical school debt on a government employee salary. "We produce so few new people in our training … You almost resort to poaching people from other people's offices."
"It's like drinking from a firehose. It's just coming too fast."
Despite the already astounding number of opioid-related overdose deaths, studies suggest some medical examiners and coroners might even be drastically underestimating the problem due to inaccuracies on death certificates. While the Centers for Disease Control is leading a campaign to improve death certificates' specificity, few outside of the field seem to understand just how essential medical examiners and coroners are for improving public health — and thus don't pay or vote to give them more government assistance.
"I don't think our profession does a good enough job educating why we need to do what we do," said Kent Harshbarger, a forensic pathologist who serves as coroner for Ohio's Montgomery County. His county has been nicknamed the "overdose capital of America" and saw more than 300 accidental drug overdose deaths last year, a number it may be on track to double in 2017.
Because Harshbarger's office performs autopsies for other jurisdictions, who pay his office for their work, he's been able to hire six part-time forensic pathologists to keep up with demand. But if he has to find another one, he doesn't know where he'll look.
"Most of us went [to] and are in this field because we can handle [it] emotionally. But what's changed is, it's just non-stop," Harshbarger went on. "It's like drinking from a firehose. It's just coming too fast."