Police have identified the gunman responsible for killing at least 59 people and injuring at least 527 more in a shooting late Sunday night in Las Vegas as Stephen Paddock, a 64-year-old man from Mesquite, Nevada. The shooting is the deadliest mass killing in modern U.S. history.
Paddock opened fire from the 32nd floor of the Mandalay Bay Resort and Casino on a country music festival taking place across the street on the Vegas Strip. He was found dead from a self-inflicted gunshot when police stormed into his hotel room.
Read more: At least 59 dead in "beyond horrific" Las Vegas massacre
Authorities are still gathering information about Paddock and working to determine his motive, but here's what we know so far.
Paddock's motive is still unknown. "Right now, we believe it's a sole actor, a lone-wolf-type actor," Lombardo, the sheriff, told reporters on Monday. "As far as his history and background, we haven't completed that part of the investigation yet. We have no idea what his belief system was."
"We have no idea what his belief system was."
The Islamic State group issued a statement claiming responsibility for the attack and calling Paddock one of its "soldiers," but there's currently no evidence that he had any connection to the terrorist organization.
"As this event unfolds, we have determined to this point no connection with an international terrorist group," FBI special agent Aaron Rause said Monday.
Where did he get his guns?
Paddock was armed with at least 23 firearms, including a number of long rifles, according to Clark County Sheriff Joseph Lombardo. An unnamed law enforcement official told the Wall Street Journal that investigators found "18 to 20 firearms, some fully automatic" in Paddock's hotel room, along with "a large cache of ammunition." The weapons reportedly included "AR-15-style and AK-47-style rifles."
Authorities say they found an additional 18 guns, thousands of rounds of ammunition and explosives at Paddock's home and ammonium nitrate in his car.
Paddock purchased at least some of his weapons from Guns & Guitars, a shop in Mesquite, Nevada. The New York Times reported that Paddock bought a handgun and two rifles from the store within the last year. Chris Sullivan, the store's general manager, confirmed to VICE News that Paddock was a customer and said the sales were legal.
"We mourn for this tragedy and our thoughts and prayers are with the families of the lost and injured," Sullivan said. "Mr. Paddock was a customer and purchased firearms from our store; however, all necessary background checks and procedures were followed, as required by local, state, and federal law. He never gave any indication or reason to believe he was unstable or unfit at any time. We are currently cooperating with the ongoing investigation by local and federal law enforcement in any way we can."
Witnesses reported hearing gunfire from an automatic weapon, but some experts have suggested that Paddock may have used a trigger crank, a cheap and legal device that can modify a semi-automatic weapon to fire up to 700 rounds per minute. Sullivan declined to comment on whether Paddock may have modified his rifles to make them fully automatic, but said his store doesn't sell automatic weapons, "so he either purchased them legally or modified them."
A spokesman for the Bureau of Alcohol, Tobacco, Firearms, and Explosives said investigators from the agency's San Francisco field office are on the scene working with local authorities.
Did he act alone?
All indications are that Paddock was a lone gunman. Police initially identified his longtime girlfriend, 62-year-old Marilou Danley, as a person of interest, but Lombardo said she was interviewed and cleared of any involvement.
Clark County Commission Chair Steve Sisolak said Paddock rented two hotel rooms at Mandalay Bay, one facing north and one facing east, according to the Nevada Independent. The festival venue was located northeast of the casino, across the Las Vegas Strip. Sisolak said Paddock was using Danley's slot machine card at the casino, but she was in the Philippines when the shooting occurred.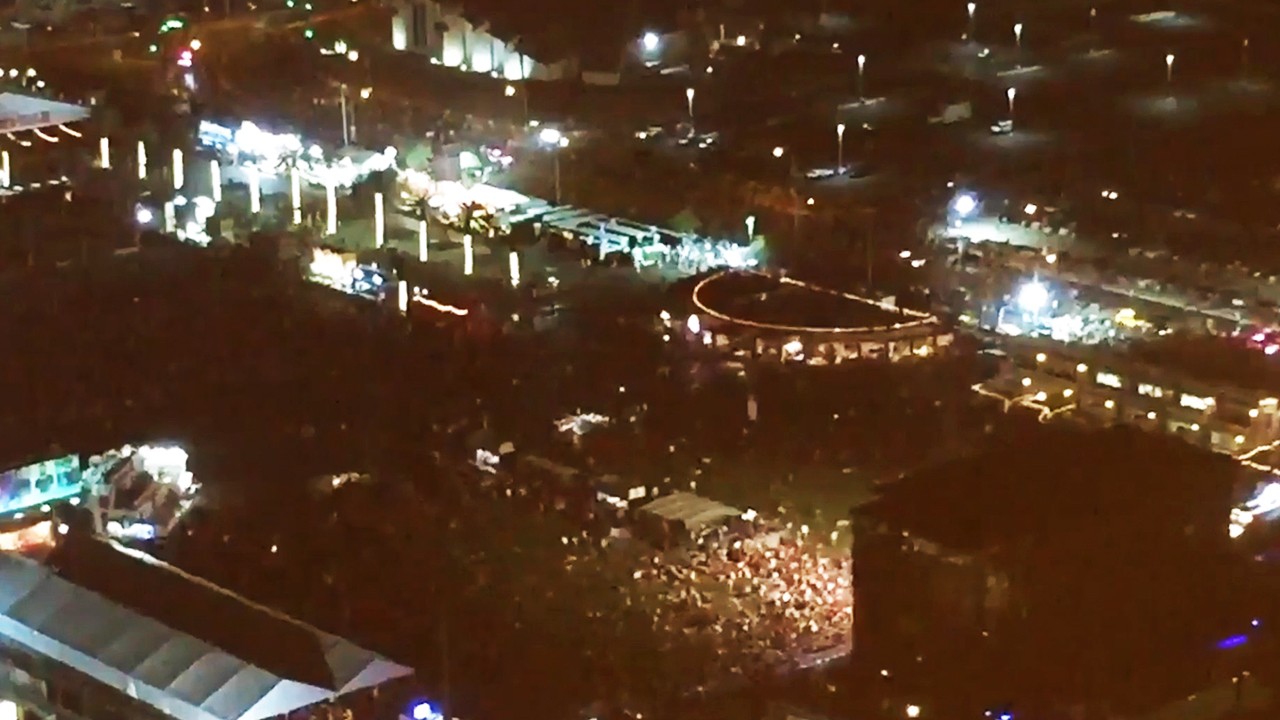 The Department of Homeland Security released a statement that said there's "no information to indicate a specific credible threat involving other public venues in the country," but "security in and around public places and events may be experienced as officials take additional precautions."
Where was he from?
Paddock had lived since 2013 in Mesquite, a town about an hour northeast of Vegas. According to USA Today, he lived in Sun City Mesquite, a retirement community with about 1,400 homes, an 18-hole golf course, and other amenities. Residents must be older than 55, and no children are allowed.
Officers from the Mesquite Police Department raided Paddock's home Monday morning. Department spokesman Quinn Averett said it was "nice clean home" and there was "nothing out of the ordinary." Averett said some weapons and ammunition were found, but he did not offer specifics. He said local police had no previous contact with Paddock.
"He lived by gambling. He was very open about that,"
Paddock previously owned a home in Florida, about 120 miles north of West Palm Beach. The Palm Beach Post reports that Paddock owned property on Heritage Isle, a retirement community for people over 55 in Brevard County. Neighbors told the website Florida Today that Paddock only came to the home about five times in the two years he owned it.
"He seemed normal, other than that he lived by gambling. He was very open about that," neighbor Sharon Judy said. "First time we ever met him, he handed us the key to the house and said, 'Hey, would you keep an eye on the house? We're only going to be here every now and then.'"
What did he do for a living?
Public records indicate that Paddock was a licensed pilot in Nevada and California between 2001 and 2010. He previously owned property in in Clark County, Nevada; Los Angeles and San Bernardino counties in California; and in Mesquite, Texas. Public records show he owned two planes. He also had a hunting license in Alaska.
Paddock was previously employed as an apartment complex manager in Mesquite, according to employment records. He also apparently worked as an internal auditor for the aeronautics giant Lockheed Martin in the 1980s.
"Stephen Paddock worked for a predecessor company of Lockheed Martin from 1985 until 1988," said company spokesman Bill Phelps. "We're cooperating with authorities to answer questions they may have about Mr. Paddock and his time with the company."
Unnamed law enforcement sources told NBC News that Paddock had made "several large gambling transactions in recent weeks." The transactions were reportedly worth tens of thousands of dollars, but NBC's sources couldn't say whether Paddock was winning or losing money.
John Katsilometes, a reporter for the Las Vegas Review Journal, cited anonymous sources as saying Paddock was "a well-known VIP gambler at Mandalay Bay," who "played high-limit video poker, $125 per hand."
Did anyone see this coming?
There's no evidence of this yet. Paddock's brother Eric told the Orlando Sentinel: "We are completely dumbfounded. We can't understand what happened." He did not immediately respond to a message left by VICE News.
Eric Paddock also told the Daily Mail that there was "absolutely no indication he could do something like this," and said his brother had no religious or political affiliation. "He was just a guy," he said. "Something happened, he snapped or something; he was just a guy."
Family members said Paddock spent much of his time gambling in Las Vegas. He liked to listen to country music and attend concerts at Vegas hotels, according to the Washington Post.
A couple of years ago, Paddock hired Wade Hughes, the co-owner of a contracting company in Mesquite, to build a fence around his house. He wanted it to be made out of solid metal, so that no one could see in, but local regulations wouldn't allow that. The fence was eventually made out of wire mesh.
"He got upset that he had to change it," Hughes told VICE News. "He seemed like he was kind of an angry guy."
But like many others who crossed paths with Paddock, Hughes also said there didn't appear to be anything too unusual about him.
"He was different — a real character," Hughes said. "But you've got to realize we deal with a lot of different people out here — people with some different ideas. So if I was to go back and say, do I remember anything he said that was really off? Well, you get used to people saying weird stuff."
Hughes added that neighbors around Paddock's house often noted that he never seemed to be home, and he understood he'd been mostly living in Las Vegas lately.
Clarification: An earlier version of this story quoted Jason Shaw, an employee of the Smokin Gun Club in Littlefield, Arizona, who told VICE News he'd seen Paddock come in a few times over the years. But when VICE News followed up, Shaw said he was no longer sure Paddock was the customer he had in mind.
This is a developing story. Please check back for updates.