YouTube
You might remember, one month ago, when President Trump gave his first-quarter salary to the National Park Service (NPS). How could you miss it? There was a giant check for $78,333 and everything.
The gesture seemed hypocritical considering that Trump had just proposed a $1.5 billion funding cut to the Interior Department, which oversees the NPS. The agency's battlefield preservation program, where Trump's donation will ultimately go, is currently $229 million behind in deferred maintenance costs, according to Interior Secretary Ryan Zinke.
Last month, we asked for financial records related to Trump's donation through a Freedom of Information Act request. The NPS publicly released those documents today on its website; a result of so many people requesting similar records. They include Treasury Department statements, appropriation suggestions, and email correspondences.
What they reveal is how meaningless Trump's donation was when compared to his proposed budget cuts. For a personal donation, $78,333 is a lot of money, but for an agency that manages 80 million acres of land in 27 states plus two US territories, it doesn't go a long way.
Trump had apparently specified that only historic battlefields were to receive his donation. But according to an emailed list of potential projects "in the ballpark of $100K," the president's check wasn't nearly enough.
At Georgia and Tennessee's Chickamauga and Chattanooga National Military Park, the cleaning, painting, and replacement of cannon carriages would cost an estimated $85,100. To restore the monuments at Mississippi's Vicksburg National Military Park, the agency would need to pay $95,500. Other projects, all of which involved the preservation of military monuments—general upkeep the NPS has neglected due to a prolonged lack of funding—were each over $120,000.
A Trump appointee at the Interior Department, Virginia Johnson, who was hired in January as "Special Assistant to the Secretary," appeared desperate to make this work.
"Can we identify a specific, discrete project that could be accomplished with this donation—and in the near future—at Chickamauga and Chattanooga National Military Park? Ideally an infrastructure project such as roads and/or trails," Johnson wrote in an email to NPS staff.
Two ideas were returned to her: the rehabilitation of 86 feet of trail, and the repair of "rustic architecture" at the Ochs Museum, both in Chickamauga and Chattanooga National Military Park. It's unclear whether either of these options are viable.
It also appears that NPS accounting staff had trouble locating the check the day after Trump made his donation. It seemed the White House had used an outdated address on its ceremonial check, even though it was allegedly handed off to Zinke or another agency staff.
"The POTUS check today was mailed to NPS POB 7800 in Reston—can we confirm that's out at AOC and the correct mailing address," asked an employee in the NPS Office of the CFO. Staff were so in the dark, that one person only learned of the check's contents after seeing a high-resolution version in a New York Times story. The address, it seemed, belonged to an old Accounting Operations Center from 17 years ago.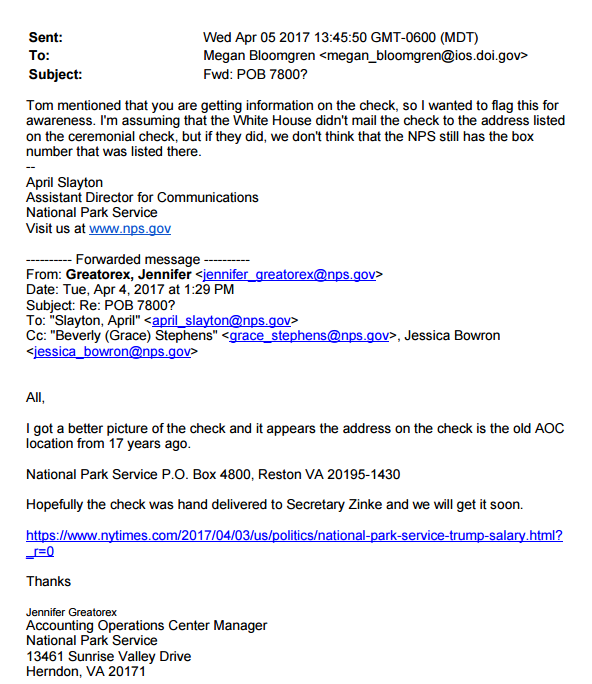 "The President's check may not have been mailed (the Secretary had it in hand during the press conference), but the screen shot of the check, which is on social media, gave that address, so I'm concerned that others may use that PO Box to send their own donations," wrote the agency's Assistant Director for Communications.
The real check, as it turned out, was sent to the NPS Office of Budget Execution by Sheri Dillon, the Trump family's tax lawyer who drafted the president's trust documents in early January. It was deposited on April 14, 2017.
A spokesperson for the agency told me today that a specific project has not yet been selected.