Sitting six floors up, looking down on London's rooftops and the City workers leaving the high rises nearby, I sip a coffee and puff a joint of Moroccan hash, bought over the counter five minutes ago.
I'm in one of the many clandestine Amsterdam-style coffee shops to have popped up across the UK over the past few years – places that all have their own motivations and character, whether they're open-doored and profit-driven or more private and community-based, but which all share one key characteristic: you can smoke – and sometimes buy – weed on the premises. This is just one of six venues that I know of in this part of London, and beyond the capital similar set-ups exist all the way from Peterborough to Newcastle.
These under-the-radar smoking spots have been around for years – famously, cannabis legalisation campaigner Colin Davies was arrested in 2001 after opening The Dutch Experience cafe in Stockport, Greater Manchester – but there's evidence that there's been a jump in numbers recently. Granted, that evidence is entirely anecdotal, but considering these places aren't exactly going to be clamouring to register with their local councils, it's about the best kind of evidence we have.
The Teesside Cannabis Club – a local chapter of the UK Cannabis Social Clubs – has been operating as a hub for the local weed-smoking community for many years, but early in 2017 members decided to find and open a permanent venue for social cannabis consumption. Unlike some of the more low-key set-ups, absolutely nothing illegal is sold here. The club provides the coffee shop experience, selling soft drinks and snacks, but has a strict bring-your-own policy when it comes to the cannabis itself. There's also a ban on any alcohol and hard drugs.
"We currently have just under 100 members, but we have new people contacting us every month," says Michael Fisher, cannabis activist and founder of the club. "Some people come from up to 50 miles to come here and spend an evening." Attendees range from 20 to 70 years old, he says, and some of the "older members are actually starting to bring their friends".
The address of the venue itself isn't publicly available, but like many other UK cannabis clubs the Teesside branch maintains a website and Facebook page, with Michael's face up there for everyone to see. Being such a public venture, what do the locals make of it, and is there not a worry that police are going to come charging through the door at any point?
"We really get on with the locals – we chat to everyone, we don't cause problems," says Michael, highlighting the fact that getting on with the locals has meant no one's reported them, which means a lack of police attention. "It's probably the world's worst kept secret where we are, and we just bought a new 6ft sign to put up outside. The police don't need to raid the club – they can see everything we do on social media, and if there are any problems they have my mobile number; they know where I live."
The Teesside club falls under the jurisdiction of Durham Police Force – the first in the UK to publicly relax its stance on cannabis policing, with Commissioner Ron Hogg saying in 2015 that users will only be targeted if they're growing plants for commercial gain or smoking weed in a "blatant" way. The fact that all consumption takes place behind closed doors undoubtedly acts in the Teesside club's favour, but perhaps its main saving grace is its strict no-drugs-for-sale policy.
---
WATCH: High Society, Weed in the UK – Meeting Granny Growers, Drone Dealers and Pot-Friendly Politicians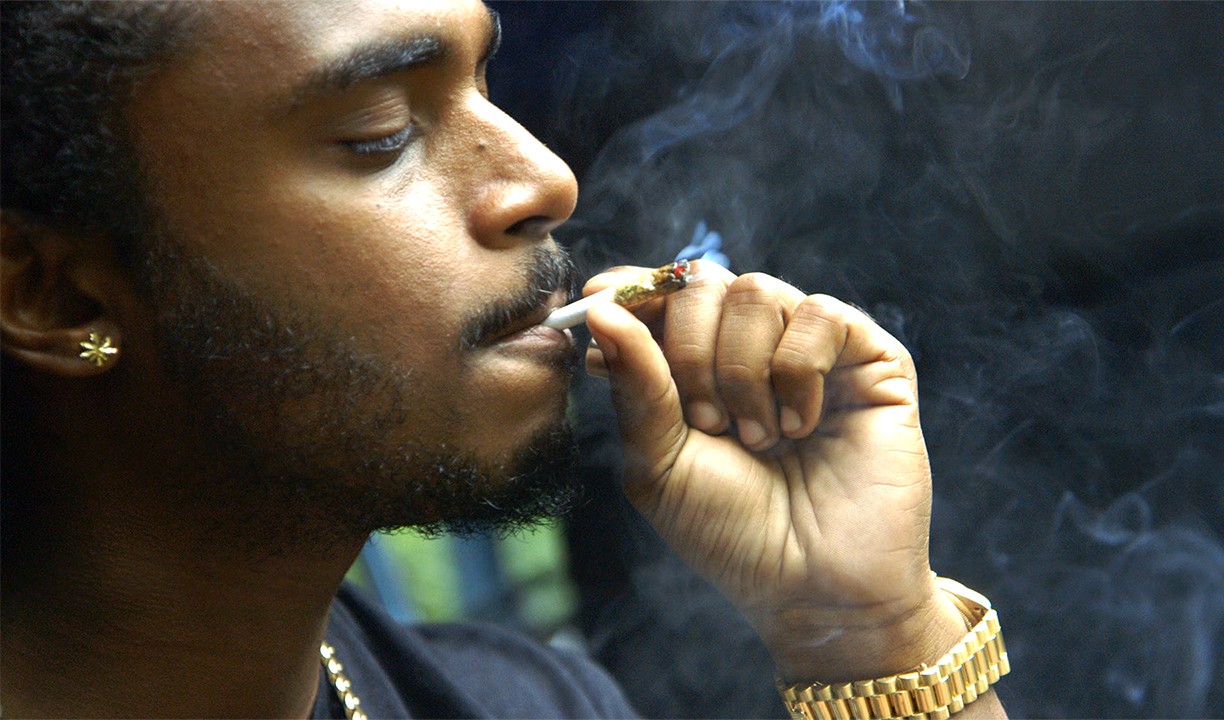 ---
Other coffee shops – i.e, the ones that sell cannabis products over the counter – don't have this kind of luxury; if the police were aware of them, they would likely swoop in to close them down. However, these places also provide something you won't find anywhere else in the UK: a menu to choose from, and time to inspect the product before buying, without the pressure and potential rip-off of a rushed street corner deal.
I visit one such coffee shop in Nottingham, which – for obvious reasons – doesn't want to give out any real names and identifying details, but clientele-wise is full of students, and surprisingly, mainly international students. The owner, "Chris", tells me the idea of a raid doesn't bother him much: "I don't care about that," he says. "It's all good. There's a lot worse stuff going on [in this area]. We never have any problems with police."
Mind you, that apparent apathy doesn't stop one member of staff from staring intently at a screen showing different CCTV angles of the building for the entire two hours I'm here.
Away from the counter, patrons are giggling, chatting and smoking – and I hear at least four different languages being spoken. "I prefer students coming here, especially foreign ones," says Chris. "They cause no trouble and they spend a lot of money. If many locals found out about this place, it would probably cause me hassle."
The coffee shop space has opened up the social lives of some regulars. The guy I'm sitting next to, Ahmed, tells me, "This spot always puts on big football games, so we come every time to watch them. I'm Muslim, so I prefer being somewhere I can smoke up instead of drinking beer." His friend chips in: "Yeah, some people like going to the pub on Fridays. That's not me. You'll find me here every Friday."
This relaxed nature is, of course, slightly misleading. Buying and smoking weed in the same way you would a pint, it all feels incredibly normal and legal. But it's not: the reality is that this place is an illegal business that could be raided at any point. In 2010, for instance, three men were jailed for conspiring to sell drugs at a "cannabis cafe" in Lancing, West Sussex – but only after police had smashed their way into the premises multiple times, earning the business the nickname "the hole-in-the-wall cafe", and eventually built up enough evidence to convict.
Back in London, I visit another coffee shop with weed for sale, whose owner isn't keen to speak, but does allow me to take a few photos of the menu.
A regular here, Ash, tells me: "I come here because I'm a medical user who only benefits from specific indica strains, and my local dealer doesn't give a shit – gives me stuff with random names, which makes it hard to find out if it will bring me the relief I need or not."
The menu here consists of the widest variety of strains I've ever seen in the UK; many are lab-tested medical grade cannabis from the United States. However, it's not cheap, with a solitary gram regularly going for £30 to £50, as opposed to the £10 to £20 average you'll find on the street.
"I pay a lot more for my weed here, but I like the menu," explains one customer. "I'm obsessed with trying different flavours of dro, to be honest. Being able to come here, it's like Disneyland."
Another says, "I come here to smoke Cali weed. I love Cali weed."
I overhear a load of chat about the cannabis industry and the latest cannabis strains – all pretty "for the heads" stuff, but this place is ostensibly marketed towards the general public. Other spots, such as The Dog House Smoking Club in Leicester, are geared much more towards the hardcore enthusiasts – the kind of people who know how to make butane hash oil at home without accidentally exploding all of their belongings.
This place is much smaller than the others – a converted shed, essentially – and there are only two other people there when I visit. The owner – who asks to go by "Dog" – tells me, "Here, we have an invite-only policy. The public can't come and go, but people can bring their friends over. I like to keep it controlled and get to know everyone. I do this for my passion for bud more than anything – it's a place for friends to socialise, where we can smoke the best bud possible."
Dog tells me that he dreams of cannabis being legal so he can open a place with the same philosophy, but where anyone over the age of 18 is able to walk in. The arguments for legalisation are numerous, spanning a range of potential economic and social benefits, and these coffee shops play into that: they provide an environment in which advice can be offered and quality is assured; they stop children from smoking; they answer any worries people might have around people consuming weed in parks or on the street; and, importantly, provide easy access for medical users looking for specific strains.
One of the largest gatherings of cannabis consumers is the London Smoking Club (LSC). However, unlike the other clubs, the LSC does not function within a permanent venue. It also doesn't sell any cannabis products, operating under the same bring-your-own policy as the Teesside club. Instead, they hold pop-up events and socials at pre-existing venues, with members attending to socialise with other likeminded people and build connections in the cannabis community – whether for medical or recreational reasons.
"For some people, this is their Friday night; for some people, they come to just try and find nice flowers; some people come down to get recommendations for growing equipment, etc," says "Drekanots", one of the team behind the club. "It's just generally a safe space for people who have anything to do with cannabis."
Drekanots goes on to argue that such a space is needed when the law is the way it is, and when the public is so judgmental of the community. "If a member of the public looked down on us, I'd want to ask them why – find out how and where they built up that view," he says. "At the end of the day, this is our hobby, our passion… just like a car club or a golf club – each to their own."
Although the club is primarily social, they also have political motivations. "We've held plenty of events for charity, raising money for cancer charities and the like," says Drekanots. "We feel it's important to do things like this to show that smokers are just as much a part of society as anyone else. We are currently planning some more campaigns to do this year."
The LSC is also trying to facilitate the lab-testing of cannabis products – something that's much needed in the UK – but setting up a testing lab is difficult under the current laws.
Just like the other coffee shops and clubs I visit, the LSC has never had any problems with the police. When I ask the Met Police and the The National Police Chiefs Council to comment on the issue of both cannabis social clubs and venues that actually sell weed over the counter, both decline. This could be down to two extremes: either the authorities are fairly clueless on the issue, due to a lack of resources in the face of government cuts; or they just don't have the motivation to act. Since Durham Police announced that they won't be going after low-level cannabis offenders, multiple other forces have followed – and it stands to reason that police would prefer to see weed users congregate in private than in public.
Of course, that's just speculation. But what's certain is that while the government continues to ignore the evidence pointing to the benefits of legalisation and a regulated network of coffee shops, as opposed to all the covert ones currently operating on Britain's streets, they will continue to miss out on millions of pounds in lovely taxable weed money.
More on VICE:
People Talk About the Experience That Made Them Stop Smoking Weed
WATCH: How to Make a Carrot Chillum