Following the laws of marketing and as per the commercial decisions of record label overlords, it was determined that one of the most popular British acts to emerge this year would be Rag'n'Bone Man. At the tail end of 2016 he was named as the winner of the Brits Critics' Choice Award – placing him among such luminaries as Adele and the easily forgotten Tom Odell. And a few weeks ago, it was announced that he had the "Biggest Selling Number 1 Male Debut Album" of the decade, shifting 117,000 copies of the thing in its first week of release. The only thing is: who likes him?
For the past few weeks I've searched long and hard to find someone who enjoys the music of this young man. I've put out Facebook requests. I've asked strangers on the street. I've put in kinds words across the Noisey desk, hoping someone here would be able to help me on my quest. But – aside from a few people who claim they've been a fan of the ol' Rag'n'Bones since his early days putting out damp music through High Focus Records – I haven't found anyone willing to admit their love. So, I turned where all people turn: toward the wisdom of those older and more lived than I.
I'd always assumed that my nan – fan of music and good conversation and perhaps one of the best people to have set foot on the earth – would be into Rag'n'Bone Man. She is, after all, part of the demographic who Rag'n'Bone Man has been marketed toward. She's also something of a critical expert, having spoken to Noisey before about the most popular rap music of 2013. Last week I gave her a call to put her knowledge to the test – and she somehow still managed to par Rag'n'Bone Man along the way. Let's get into it.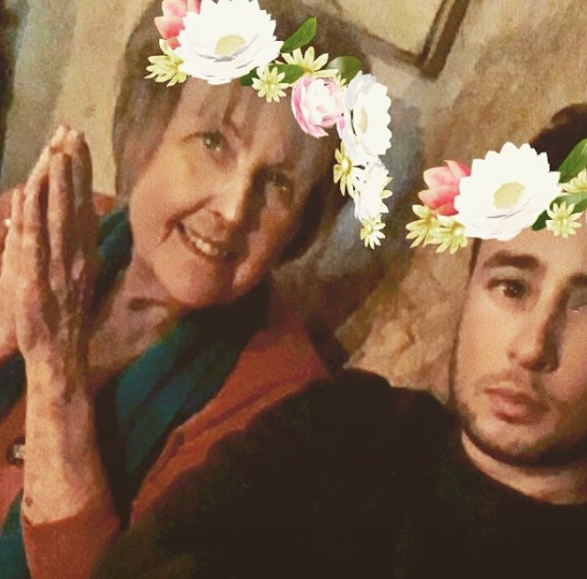 Noisey: What do you know about Rag'n'Bone Man then?
Ryan's nan: I gather he has been around. Well, he's been around for a long time but he wasn't famous. He's now down in Brighton, isn't he?
How do you know that?
I was talking to someone about him and they told me. In fact, I told my sister you were going to interview me about Rag'n'Bone Man and she said: "What? Steptoe and Son?"
What's that?
Ah, now I can tell you something, because I'm an old person. Many years ago a very famous TV program was called Steptoe and Son. It was all around London with a rag-and-bone man. From what I gather, that's where he got his name.
What's the TV show about?
It was so funny. It was a wizened old man and his son who used to go out onto the streets picking up rubbish to sell. It was such a famous programme, if you asked anybody of years ago.
I see. Do you know any other fun facts about Rag'n'Bone Man? How old is he?
I don't know. He looks like he's in his thirties?
I feel like he's quite young but I guess his beard makes him look older?
Yes, I was going to say. I would describe him as very rounded – round face. He's got that beard that I don't really like. I like when your dad had a beard. That was nice. But I'm not so keen on this one. I imagine it's to make him look like more of a popstar.
Are you saying the secret to Rag'n'Bone Man's success is facial hair?
I would think so. I imagine that's one of the reasons. I didn't like all of his tattoos. I don't know why [young people] have so many. David Beckham has got them.
I might get one soon. 
Well if you do only get a little one, don't get something massive.
OK. Do you think Rag'n'Bone Man would be as popular if he didn't have a beard?
No, he probably wouldn't be. I think [his beard] is what makes people think, 'Gosh, he looks different'. I think that's what it is: he looks different, he sings different – he's got a lovely voice.
What else do you like about him?
He's got a nice, deep voice. You can hear what he's singing about. Unlike the [rap] music you showed me before, you can understand what he says and that appeals to more people – or at least people from my generation. All of my friends love him. They were very, very impressed.
Where do you and your friends come across him?
Is it Heart radio? He's on every day. It's brilliant.
Is there anything bad about Rag'n'Bone Man?
I saw him at the Brit Awards and when they spoke to him he seemed a bit shy. It's all happened so quick for him and I think he needs to learn how to have more confidence. He was very quiet and didn't come across as dynamic as he does when he sings. Some people are like that. They can sing and they're brilliant but when you talk to them, they clam up.
That's some good A&R/management advice. I can send it across to him.
Can you?
Well it's going online, so I'll make sure to put this in there and hope he reads it.
Great!
Lots of people are upset because Rag'n'Bone Man has won awards while some of Britain's rap artists haven't been given as much mainstream attention. Have you come across much rap music recently?
Someone was interviewed on TV this morning. He's achieved something or other. Oh god – what kind of music does he do again?
Grime?
I don't know, I've forgotten his name. What was it? Smoothie?
Was it Stormzy?
Smoothie?
No, Stormzy.
Who?
Like a storm.
Oh that's it. Storm.
That's the one. But with a "z". Do you think Rag'n'Bone Man is similar to any other musical legends? Will he become an icon?
In the past you've had Adele. You've had Sam Smith.
And…?
I would say Rag'n'Bone Man is definitely as good as Sam Smith.
But not Adele?
I don't think so.
Now that's a quote. "Rag'n'Bone Man: not as good as Adele, but definitely as good as Sam Smith". Thank you. 
You can find Ryan on Twitter.
(Image via YouTube)