Through an ill-fated combination of being delivered unto this world in 1990 and my family not connecting to the internet until around the year 2000, I often feel I missed out on huge swathes of culturally significant internet culture.
But today I saw the dancing baby for the first time ever and I made peace with myself.
Once you've got over your outrage at how and why I work at Motherboard, Web 2.0's leading cultural technology news site, relax, and let me tell you about my wholesome day spent visiting 64 Bits, 'An Exhibition of the Web's Lost Past', now on at London's Here East.
The creation of "Digital Archaeologist" Jim Boulton, a digital director at creative firm Aesop Agency, 64 Bits is a journey from 1991's very first website all the way to the death of Web 1.0 in around 2005, with all the weird shit in between.
Housed inside authentic machines dating from throughout the 90s, exhibits chart the bizarre and wonderful online happenings of the early web. Believe it or not, I had never before seen Deirdre LaCarte's 1990 viral hit 'The Hampster Dance' (later released as a music single, which I definitely had heard).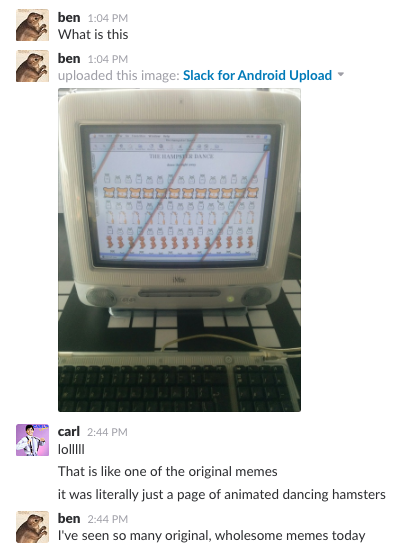 Aside from showcasing some incredible early web projects, including a city creator built in 2002, years before Minecraft came along, the machines themselves are a spectacle too. Safe to say I had not even seen many of them in real life before.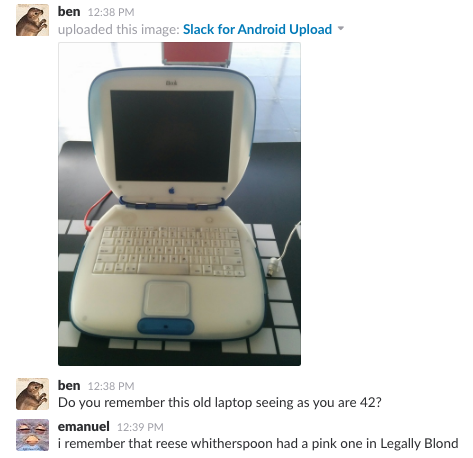 Dr Fun, the first web cartoon. The Blue Dot, one of the web's first online art galleries. A freaky website created especially for the release of 2000's Requiem for a Dream. One amazingly anachronistic selfie machine, in the form of an ancient webcam hooked up to a dot matrix printer, will print off your very own ASCII portrait. It's all here, if you remember the web before it started going downhill, anyway.
It's all very strange really. Usually you'd expect some kind of physical and historical detachment when visiting museum exhibits, but with 64 Bits, everything feels so uncanny, but aged. Boulton told Motherboard that when his ideas for 64 Bits first started forming in 2010, it was way too early for people to care about the history of the web in this way. "You could buy an old Mac for $5, too," he said. Seven years later, it's a different story. "The web is vanishing," he said.
In a week when the United Nations is pushing governments to preserve software from around the world, and after a year of seeing what a loathsome, awful, horrid place the web can truly be, 64 Bits is a pure, wholesome hark back to the early days. 64 Bits is free to attend and will run until April 21.