We are no strangers to Moment Factory here at The Creators Project and neither is Nine Inch Nails. The two creative forces started working together in 2008 on the NIN's Lights In The Sky tour and again on Trent Reznor and wife Mariqueen Maandig's How To Destroy Angel's tour earlier this year.
Moment Factory's most recent installation from the current NIN tour 
This summer the Montreal-based studio has collaborated once again with Reznor, lighting designer Roy Bennett, and art director Rob Sheridan to create yet another cutting-edge visual show for NIN's summer and festival tours.
Moment Factory's light show from the How To Destroy Angel's tour
For this newest project, Moment Factory are utilizing 3D-camera technology to produce an interactive light show to "allow Trent and his band to appear and disappear as silhouettes hidden in a field of pixels." The pre-made and instantaneous visuals will dance across the moving screens as the band plays, creating a sea of pixels.
Image via
Just like on the previous tours, Moment Factory are using technology to help create a riveting and innovative stage performance—on NIN's Lights In The Sky tour Reznor put his trust in Moment Factory to "make the stage an instrument." The result was an interactive light show where the band's movements controlled the visuals using specially designed programs. This current collaboration will continue to push these programs even further.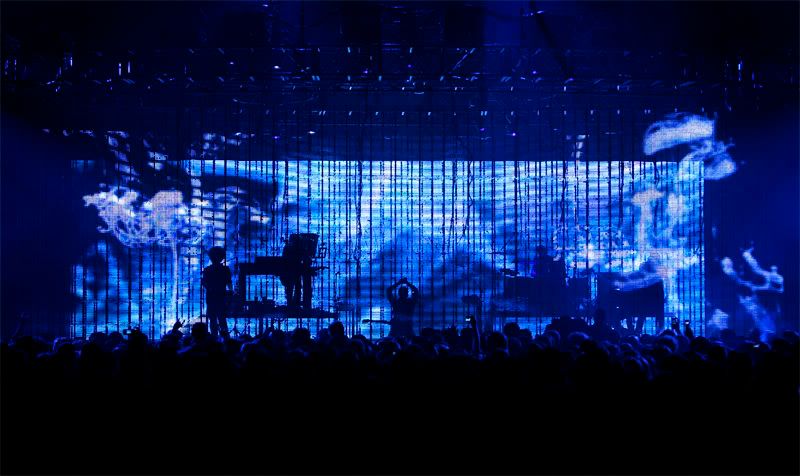 Image via
The festival tour started in Japan on July 26th and will feed into the Tension 2013 tour that will go through this coming November. Check out tour dates here.
And for more, you can watch a behind the scenes video from their Lights In The Sky collaboration below.
[via Moment Factory]