Minsu Kim's Living Food
Technology is constantly changing the way we live, from the smartphones in our pockets to the way goods are manufactured and bought. And that also includes the way we eat.
Just as creative minds are pushing the boundaries in other disciplines, so too are innovative individuals and companies experimenting in the culinary arts, looking at how the food we eat might change in line with new technologies and our adapting lifestyles.
Below we take a look at five "foods of the future", from morsels that still move on your plate to QR code sushi and 3D printed space eats. So move over Dippin Dots, with foods like these, who knows what our dinner table will look like in 100 years?
WikiPearls Make Their Debut At WikiBar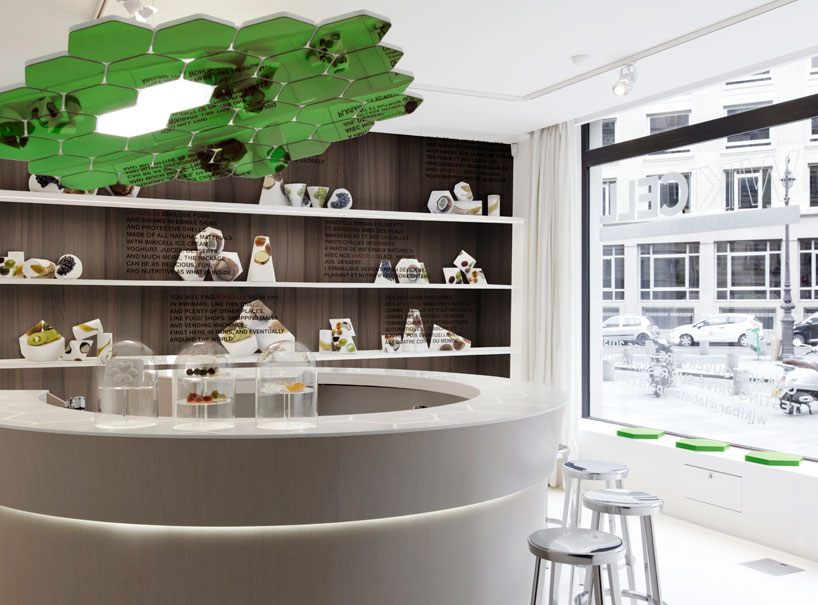 Image via Designboom
WikiBar, which opened last week in Paris, France, is the first of many cafés set to open that exclusively sell WikiPearls—the innovative, new food with edible-packaging. These grape-like treats are the brain-child of Harvard professor and founder of ArtScience Labs, David Edwards, and french designer François Azambourg.
So, what are WikiPearls? According to its website they take "inspiration from the magic of grape skins to eliminate plastic from foods and beverages. Revolutionary and delicious, WikiPearls is triply good—good for the plant, good for you, and just plain good."
Image by Wikipearl
Each WikiCell has an edible skin and a food or beverage-based center. Currently the store only sells ice cream that "doesn't melt in your hand," but soon it will also include yogurt that doesn't require a spoon, cheese without a need for foil, and coffee sans a cup.
WikiBar, which was designed by Mathieu Lehanneur, is located in Paris as part of Le Laboratoire.
Lehanneur designed the store to match the scientific nature of the food. With hexagonal surfaces everywhere, the café references the molecular structures of the WikiPearls.
Image by Wikipearl
According to the design team's project description, we can expect more WikiBars to pop up in the near future.
The next one is slated to open up will be in Cambridge, MA, where these treats originated. This forthcoming location, Lab Cambridge will be initiated by Edwards and designed by Lehanneur.
[via Designboom]
Minsu Kim Creates Living Gastronomy
Ever wanted to make your food come alive? Recent graduate of the Royal College of Art Minsu Kim has done just that.
Minsu's recent project Living Food takes a cue from synthetic biology to create a new culinary experience. Institutions like Harvard University, Caltech, and the University of Southern Denmark have recently made huge strides in producing artificial life.
The designer cites those projects, such as a synthetic jellyfish made of heart cells, as the inspiration behind hers.
Kim aims to make living food "not merely a fantasy." The dishes, presented at the RAC's graduate art show, featured food that wiggles on the plate, food with tentacles that move back and forth, as well food that puffs up—all before the diner has even sat down.
Images courtesy of Minsu Kim
[via Dezeen]
Edible QR Codes Inform Diners About Their Sushi 
Image by National Geographic
California's Harney Sushi restaurants just changed the sushi-making game. Chef Robert Ruiz has adorned his raw fish delights with QR codes to inform diners about their food.
Ruiz printed the QR codes on rice wafers with edible ink. According to PSFK, when the code is scanned into a visitor's phone they can learn information about the dish they are about to eat, including where the ingredients come from.
Image by Earth911
In an interview with Ubergizmo, the chef explained his reasoning behind the codes:
"It's proven in the food world in general that when your customers know about the products you're giving them they will pay more for them and come back more often. The technology and the information's here, so why don't we do the right thing and make money while we're doing it?"
Harney Sushi has two locations in San Diego and Oceanside, California.
[via PSFK]
Taiwanese Coffee Shop Takes Latte Art To A Whole New Level 
Let's Café's video outlining their latte art initiative.
These days every coffee shop is trying to have the best latte art, but Taiwanese vending kiosk chain Let's Café just blew everyone out of the water. In its aim to compete with more established chains, the company created a machine that lets customers customize their latte art.
It works like this: Customers waiting in line can send photos from their phones to the coffee machine. The machine then creates the image on top of the customer's drink using foam and brown powder. Additionally, customers also have the option to add text to the latte art.
And voila, latte art for the technology age. The chain's initiative drew in tons of customers and quickly became viral on social media sites.
Images courtesy of Design Taxi
[via Design Taxi]
3D Printed Food Aims To Feed The Growing Population
Contractor and his team based their prototype on this low-cast RepRap 3D printer. 
Say goodbye to the chalky astronaut food of the past and say hello to 3D printed food. NASA recently gave mechanical engineer Anjan Contractor and his company Systems & Materials Research Corporation (SMRC) a $125,000 grant to develop a 3D food printer.
You might be wondering why NASA wants 3D printed food. For starters, the powder that the food is made from has a shelf life of up to 30 years. Additionally, because the printer uses cartridges, astronauts can customize their meals based upon the nutrients, proteins, and sugars that they need—so the astronaut food of yesteryear just got an upgrade.
Contractor plans to feed more than just astronauts with his food though, he wants to feed the masses.
Schematic for SMRC's 3D printer
Many of the attributes that make 3D printed food ideal for space travel also make it ideal for producing efficient food.
With a world population quickly rising to 12 billion and resources becoming more scarce, we might need to rethink how we eat. 3D printed food offers a possible solution.
According to Quartz, "Contractor's vision would mean the end of food waste, because the powder his system will use is shelf-stable for up to 30 years, so that each cartridge, whether it contains sugars, complex carbohydrates, protein or some other basic building block, would be fully exhausted before being returned to the store."
A video from TNO Research explaining how 3D food printers work.
To add to the possibilities, because dishes are powder-based more "alternative ingredients" can be used, as proposed by Dutch holding company TNO Research. Instead of relying on meat for protein, people could "print" their food using ingredients like insects, duckweed, algae, grass, lupine seeds, and beet leafs.
While these are definitely unconventional options, the mechanical engineer's printer might be a great and efficient solution to help feed those in need. Making printers like these more readily available to charity organizations can make a single dollar go a lot further to help provide a nutritious meal to those who might not otherwise be able to have one.
Images courtesy of Quartz
[via Quartz]