Left, Alberta Premier Rachel Notley who announced Thursday that she would suspend talks with BC Premiere John Horgan, right. | Image sources: CP
These days, not much is quiet on the western front. Canada's only two NDP governments are set to start a trade war against each other over the future of the Trans Mountain pipeline. BC isn't budging and Alberta is yelling about defending Canada's honour. Meanwhile, Prime Minister Justin Trudeau spent a week dancing around questions about how, exactly, he was going to handle his unruly provincial children. It's the most exciting intergovernmental drama since Saskatchewan and Alberta fought a civil war over license plates.
Last week, the British Columbia government introduced new environmental regulations governing the transportation of diluted bitumen—a heavy, molasses-like petroleum tar diluted with lighter crude oil or condensed gas for ease of transport—along the province's coasts. Part of these regulations include a science advisory panel to assess the province's capacity to clean up bitumen spills, because there is not enough information yet to assess how a dilbit spill would impact marine ecosystems. In practice, this would mean an indefinite hiatus on expanding the province's capacity to transport bitumen through its ports until the consultations are complete.
Roughly 300,000 barrels of bitumen are moved through BC's ports per day. The Trans Mountain pipeline, which has already been approved for construction by the federal government, is expected to move an additional 590,000 barrels per day from Northern Alberta to the BC coast. The BC government's sudden decision to convene a science advisory panel (and hold public consultations) has been interpreted by Alberta Premier Rachel Notley as a veto on the pipeline by another means.
Notley's position is a little conspiratorial, but it's not an outrageous idea. BC Premier John Horgan campaigned on a pledge to kill Trans Mountain in the 2017 election and now heads a minority NDP government supported by the Greens. Invoking the spectre of Stephen Harper, Notley and her allies have suggested that Horgan is running an unstable coalition government beholden to the 'radical' Green party. An outright veto on Trans Mountain would be difficult (even impossible) to defend politically, but allowing the project to die by delay and deferral would be a reasonable backdoor if that was the policy agenda. It would also allow everyone involved on the B.C. end to wash their hands of the final decision, regardless of outcome.
But Rachel Notley is having none of it. Not only is this latest delay an attack on Alberta's constitutionally-guaranteed freedom of trade, but—because interprovincial infrastructure projects fall under federal jurisdiction—British Columbia is striking at the foundation of Confederation itself. This line of reasoning has been taken for granted by much of the national press.
The federal government, meanwhile, has been emphatic about its commitment to completing the pipeline. While he was in Edmonton as part of his cross-country Town Hall Tour, Trudeau told CHED talk radio that the pipeline is in the national interest and that his government will make sure it gets built. Sure, the provinces have these little spats, but that's what the federal government is for: to ultimately put any unruly provincial children in their place. Daddy Canada indeed.
Trudeau also wondered about BC's intention with the panel, as the National Energy Board already did an environmental assessment of Trans Mountain before its own approval. But as (occasional VICE writer and a pal of mine) James Wilt notes in DeSmog, that review contained a number of shortcomings—particularly when it came to its analysis of spill cleanup capacity and a bitumen spill's impact on the marine environment.
Later, speaking to a town hall in Nanaimo, BC, Trudeau went further and said that the Trans Mountain pipeline was actually part of a planet-friendly package deal. No bitumen pipeline? No Ocean Protection Plan, no carbon price, no way for Canada to meet Paris' emissions targets. The prime minister did not explain how these are connected, nor did he specify in either case what his government would actually do to get the pipeline built.
Federal natural resources minister Jim Carr was similarly circumspect about what the federal government might do if BC pulls the brakes on bitumen shipping, but much more cavalier than the prime minister. After all, prior to its own approval, the federal government had undertaken its own round of consultations, so as far as Carr is concerned there is no reason to assume outright malice from the B.C. government. But Carr reiterated to Global News that Ottawa would accept no delays on the Trans Mountain file, although, like Trudeau, he did not provide any real details.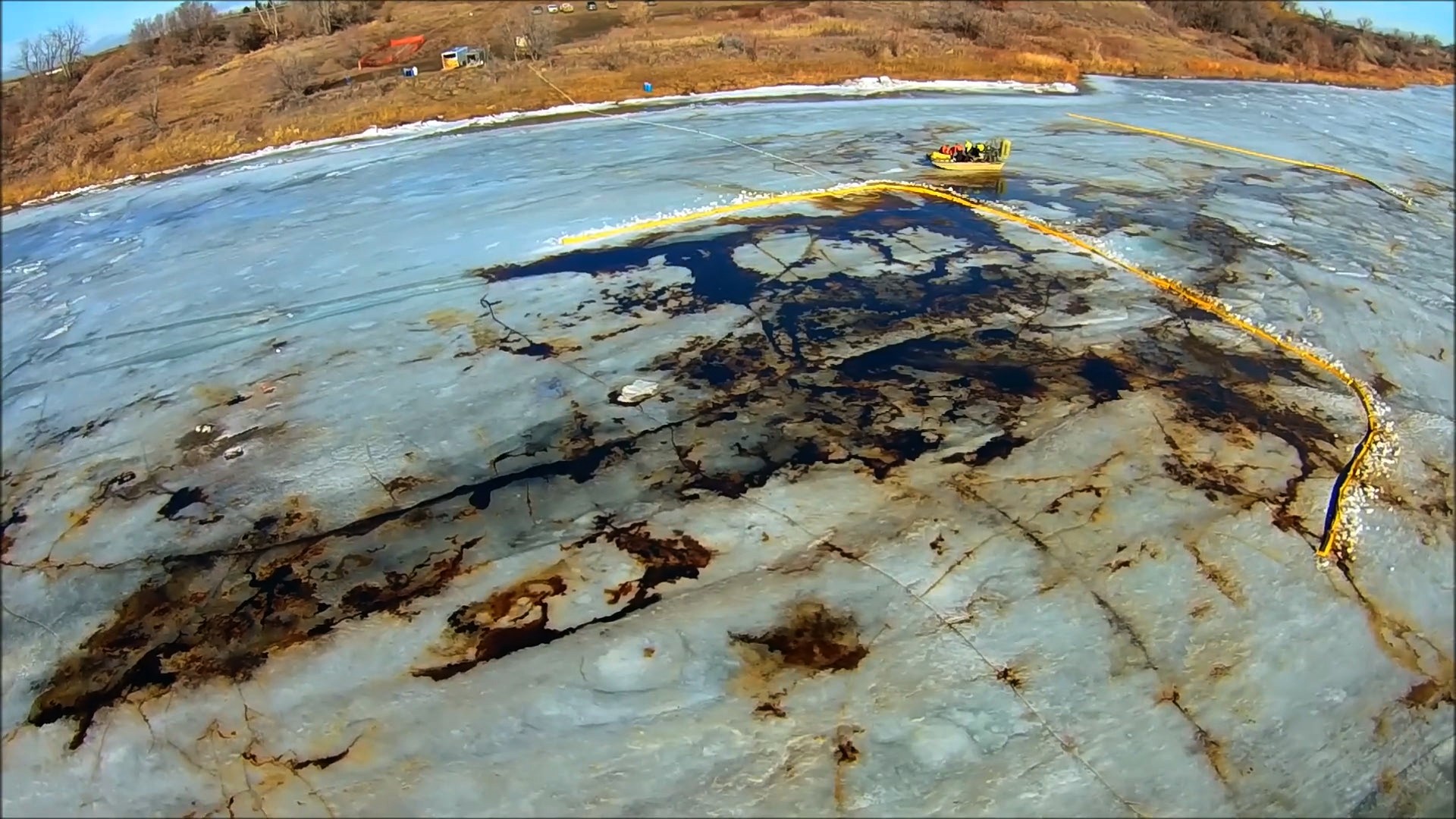 As it stands, this is turning into quick-draw duel where no one involved has any bullets. Alberta has suspended talks with BC over purchasing up to $500 million in electricity, but it's not clear what else Notley can really do. Putting any part of this dispute up for resolution in a courtroom would all but ensure that the Trans Mountain pipeline dies before it starts. Plus, most of the traditional weapons of an interprovincial trade war are no longer at the state's disposal: it would be difficult for Alberta to directly boycott/tax BC goods or shut off oil shipments to the coast, because both would violate the New West Partnership Agreement and could end up in a courtroom.
Similarly, despite Ottawa's reassurances, direct federal involvement here is rather limited. Unless the BC NDP backs down on its own—which is unlikely given Horgan's domestic political situation—the feds will likely be limited to waiting out the results of the advisory panel. Unless they want to take their cues from Notley and launch a court challenge to defend their constitutional authority over the 'national interest', in which case they would likely lose and kill the project through delays anyway. (It is worth noting that a number of BC First Nations are already challenging Kinder Morgan and the federal government in court over shortcomings in the National Energy Board approval process. The Northern Gateway pipeline was killed that way and it's possible—or probable—that Trans Mountain is already DOA.
Alternatively, the federal government may decide that it is in their best interest to stay aloof and let the chips fall where they may. Best case scenario is that everything turns out fine. Worst case scenario for them, the pipeline doesn't get built through no fault of their own due to an interprovincial squabble in a part of the country where Liberal support is tepid at best. They get to placate (or at least not enrage) East Coast environmentalists and Indigenous activists, while plausibly denying having any direct hand in killing the project. Sowing discord within the federal NDP by encouraging Canada's only two Dipper governments to wage an ideological/trade war against each other probably doesn't hurt, either.
Another failed pipeline before the 2019 provincial election would also all but doom the Alberta NDP government. A United Conservative Alberta under Premier Jason Kenney is also guaranteed to be a thorn in Justin Trudeau's side on any number of progressive causes, particularly the environment. But if the federal Liberals already expect an inevitable Tory restoration in Alberta (which is not unreasonable), then they're damned whatever happens with Kinder Morgan.
That's Daddy Canada for you, baby. This isn't the paternalistic federalism of Poppy Pierre where dad's going to come out screaming to put the fear of Jesus into you if you're caught staying up past your bedroom or picking on your little brother. Justin Trudeau is the young cool dad who knows the kids will be easier to put down at bedtime if he just lets them beat the shit out of each other in the backyard all day while he drinks beer on the deck with the b'ys.
Ah, the joys of modern parenting.
Follow Drew Brown on Twitter.