Doug Ford is the new leader of the Ontario Progressive Conservatives. THE CANADIAN PRESS/Chris Young
Weeks of batshit craziness amongst Ontario's Progressive Conservatives—which started with sexual misconduct allegations against former leader Patrick Brown—have fittingly ended with Doug Ford being elected as Brown's replacement.
As head of the province's official opposition, Ford is now in the running to become Ontario's new premier. Considering the Liberals have been in power for 15 years, and have undoubtedly become a source of resentment for many Ontarians, Ford probably has a pretty decent shot at taking down Premier Kathleen Wynne in the June election.
Ford, a former Toronto city councillor and failed mayoral candidate, is well-known for being the mouthpiece of his brother Rob, who served as Canada's most infamous mayor. Rob Ford was endlessly embroiled in scandals, whether it was his substance abuse problems, his affiliation with criminals, or his alleged bullying of players on the high school football team he once coached.
When it comes to appealing to social conservatives and embracing populism, Doug Ford is just as brash and anti-politically correct as his late brother. Here are a few areas in which Ford would be a nightmare for people with progressive ideals:
Ford said he would repeal Ontario's sex-ed curriculum, which was updated in 2015 and has been a source of contention for parents who take issue with their kids learning about concepts like same-sex couples, gender identity, and the potential consequences of sexting.
Despite the hysteria, the curriculum does not teach kids to engage in anal sex or watch porn. But lots of parents still protested outside of Wynne's office when it was unveiled.
Ford said as premier he would unroll sex-ed curriculum with the consultation of parents. While on the campaign trail, he said, "Sex-ed curriculum should be about facts, not teaching Liberal ideology."
While Ford said Monday the abortion issue is "not on the top of my priority list" he has already stated that he takes issue with the fact that parents aren't required to give consent for minors to have an abortion.
"I think we've got to consult parents, and that's what we have to do," he told CBC, noting that "kids can't even get their tonsils out without the approval of their parents."
Ford also said he wouldn't shut down members of the party from proposing legislation that appealed to their personal beliefs.
Under Ontario law, if a child has the mental capacity to consent to treatment, as determined by doctors, the parents' permission is not needed.
While it would be unlikely that Ford would be able to limit access to abortion, some, including losing PC leadership candidate Christine Elliott have suggested his remarks are more about attracting votes.
"I think right now what Doug is doing is trying to get more votes," she told CBC.
During his time as mayor, Rob Ford was known for regularly snubbing Toronto's Pride Parade, a position his brother Doug defended. When Rob Ford opted not to stand and clap in council at the announcement that Toronto's hosting of World Pride in 2014 had been a success, Doug Ford told reporters that openly cheering for it would have been hypocritical.
"If you aren't going to go to the gay pride parade, like two thirds of the council didn't, I think it's a little bit of hypocrisy if you decide to stand up," he told the Toronto Star. He also tried to use the fact that Rob Ford had a gay campaign worker on his mayoral re-election campaign as proof that the former mayor wasn't homophobic. In reference to Rob Ford's decision to vote down a motion to help gay homeless youth find housing, Doug said his brother was "spendaphobic not a homophobic."
Ford also victim-blamed gay protesters who showed up at his family's annual Ford Fest barbecue in 2014 and were subsequently called gay slurs including "faggot."
"The guy came in screaming and shouting. He was calling people homophobic and other things I don't want to get into," Doug Ford said at the time. "I apologize to him for what happened but you can't go into any event, a sporting event even, taunting people…numerous people said he was looking for trouble."
In 2014, Ford, then a councillor for Etobicoke, backed his constituents who complained about the opening of a home for children with autism in their neighbourhood.
According to media reports from the time, Ford told staff of Griffin Centre that the facility "ruined the community." He said the issue is that children with "violent behaviour" would be able to leave the home without supervision.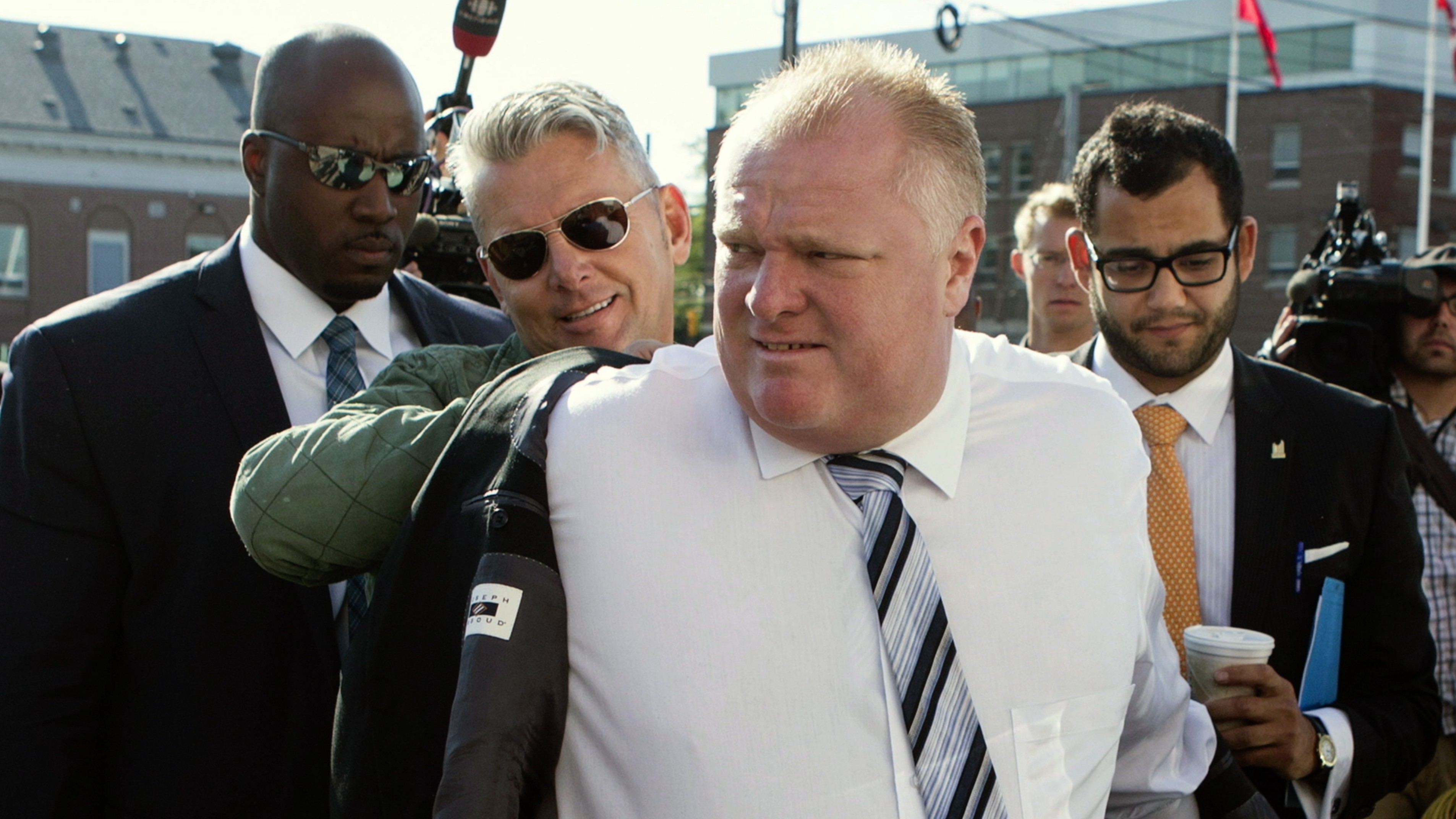 "My heart goes out to kids with autism. But no one told me they'd be leaving the house. If it comes down to it, I'll buy the house myself and resell it," he said. He also said to anyone who was critical of that point of view, "I'd be more than happy to take their address and we'll put the house right next door to them and see how they like it."
The comments were widely panned as offensive and ignorant. In reality, people with autism—a developmental disorder—are more likely to be victims of violence or hate crimes than to perpetrate it.
Under Wynne, Ontario increased its minimum wage to $14 this January, which will go up again to $15 at the beginning of next year.
But Ford has described the hike as a government "tax grab."
"The only people that are benefitting off this pay hike is the government that are making 30 percent more money," he said during a leadership debate.
"My heart breaks for people making $12, $13 an hour. I support them 100 percent. I would give them a zero tax, put more money back into their pocket. It makes the companies more competitive."
He didn't specify how the government would be able to afford outright cutting income taxes for minimum wage workers. The Liberals have already offered small businesses tax breaks and incentives to help curb losses incurred by the wage hike.
With all that said, Ford's alleged experience selling weed could be useful come legalization.
With files from Vanmala Subramaniam
Follow Manisha Krishnan on Twitter.