Karley Sciortino in the "Kinky Travel" episode of Slutever.
This piece is part of a series of personal stories by writer Karley Sciortino recapping her experiences investigating the world of sex for SLUTEVER on VICELAND.
Over the years, I've heard a lot of kinky people complain about traveling problems like having trouble getting through TSA with a bag full of dildos or a suitcase entirely full of lingerie and strap-ons. (If you're a sex worker, that stuff can out you and actually get you in trouble.) I also know kinky people who feel like it's just hard to bring all of your gear with you. Like, if you're into horse play, where do you put your…horse suit?
We think of vacations as somewhere where we can go relax and be ourselves, but what if someone's way of doing that requires a lot of gear or a specific set up for their ideal sex play? It can be hard, unless there's some kind of kink infrastructure for them.
So, with the vacationally oppressed in mind, I decided to explore the kinky travel industry—something that has spawned out of this very problem. I basically wondered: If you can't get a hotel room for the weekend—if that's boring for you, and you need some sort of fetish getaway—where do you go?
I found a few answers to that question. Folsom Street Fair, the biggest BDSM and leather fair in the world, was one. Every single year, hundreds of thousands of people travel to San Francisco's Folsom district from all around the world to just let their freak flag fly at this event and be their insane, gross, kinky selves in public. You walk in, and there's leather daddies with their dicks out everywhere. There's also all these corners catered to different fetishes. Literally, there are horse stables where everyone is a human horse. There's puppy playgrounds where everyone is a human dog. It's the only time I've seen a man fisting himself in the street in public. It's like San Francisco on steroids.
Another answer I found was KinkBNB—basically, where all these Folsom freaks go when the street party is over. It's a service like Airbnb where people can rent out kinky and sex positive places to stay. So, you can rent a dungeon by the hour or stay in an orgy-friendly house, poly-friendly house, a nudist home—whatever. There's one for people who love to be in small, enclosed spaces where you just rent out a crawl space in a basement. It's basically a coffin that you pay 50 bucks a night for.
But what I really wanted to know was: What's the most popular destination on Kinkbnb? The answer to that questions is La Domaine Esemar, the oldest BDSM chateau currently in operation in the United States. It's in upstate New York, and it was started in 1993. I had to go.
I was a little surprised when I arrived. Out front, it looks like a pretty normal cottage. But inside, it's a "bed and dungeon." Basically, it has everything a bed and breakfast would have, except the kinky version. The chateau is run by a dominatrix named Mistress Couple, and instead of hotel staff, she manages a staff of naked BDSM slaves-in-training.
I showed up and this naked slave took my suitcase and helped me set up in my room. Then, this other slave—a short guy wearing a black ski mask and a French maid outfit that showed his butthole—ran me a bath and gave me a foot massage. The whole time, the slaves serve you food and clean up after you. One acted like a human horse and took me on a tour around the lush grounds behind the house, meanwhile all these other slaves were locked up in these cages outside without clothes on. It sounds freaky, but it was weirdly peaceful. Everyone just felt really at home, so I did too.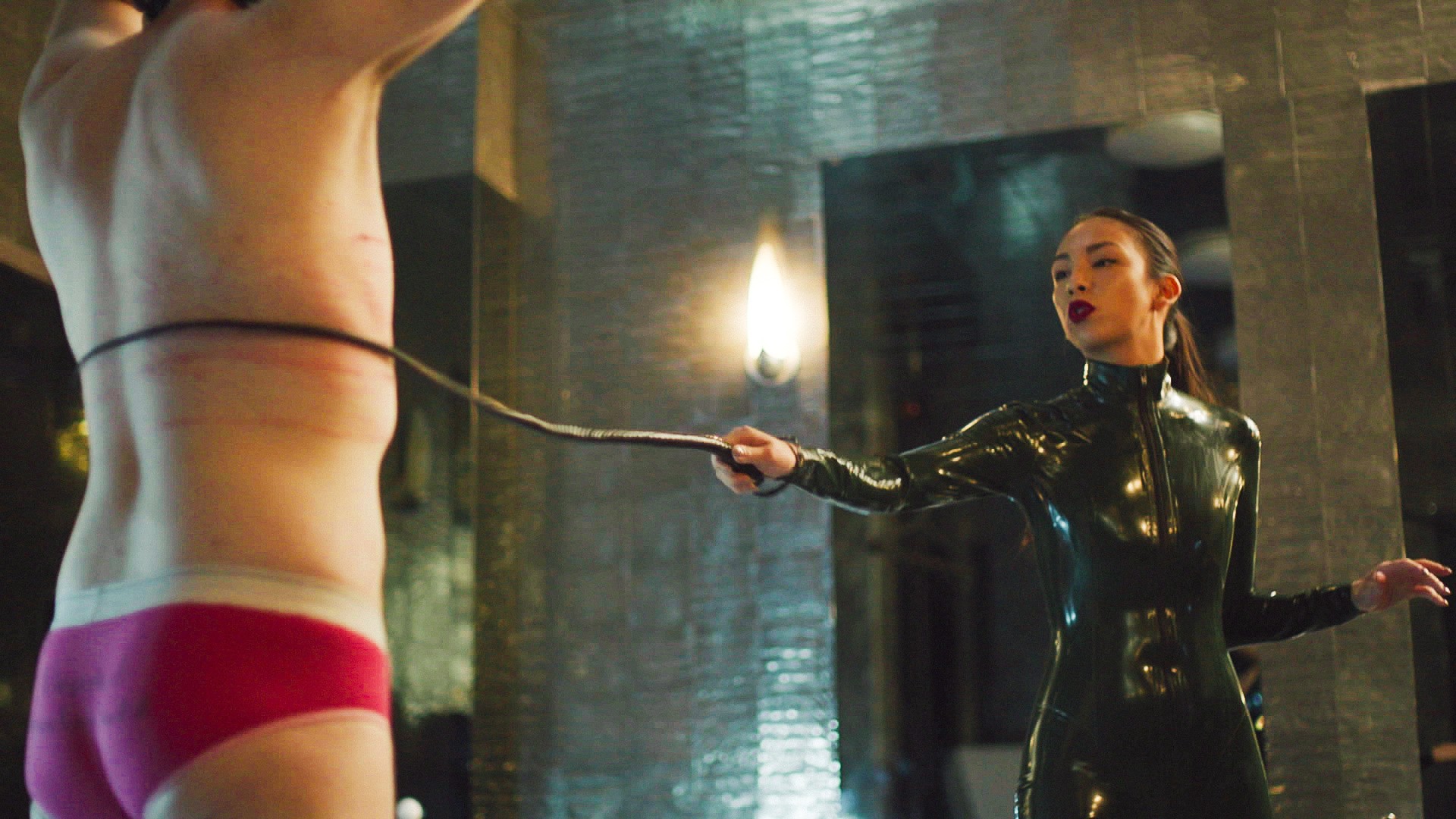 People don't just visit La Domaine Esemar to be doted on, though. It's also a highly reputable BDSM training facility where people can either sign up to learn to be a dom or a sub. If you want to learn to be a sub, you get one of the slave outfits and instead of a name, you have a number. So, the mistress will be like, "Slave Nine, run the guest bath." And if you want to dom, she teaches you how to use all the different tools the dungeon has to offer and how to tap into your inner mistress.
I spoke to one of the slaves while he was massaging my feet and he told me that he's from a small town in Massachusetts about an hour and a half away from the chateau, but he travels there regularly to train, because it's the only place where he feels like he's not a freak. There, he fits in, he's normal, and he's free to explore his sexuality the way he wants to. He said he loves it.
That sense of freedom is also what drew Mistress Couple to the chateau. She told me that she first went there to attend one of their famous sex parties, and she had never had a BDSM experience before. While she was there, she saw a woman get whipped in the pussy until she orgasmed and broke down in tears. Then, all the doms gathered around her and started hugging her. That was like an epiphany moment for her, that this was a safe space to really found out who you are.
The next day, she took a shower and didn't put her clothes back on when she got out. Instead, she asked to be a slave in training. Eventually, down the line, she ended up becoming the head mistress.
After hearing Mistress Couple's story, I realized that I also felt really safe at the chateau. I've worked as a dominatrix before, but I decided that I wanted to try exploring a part of my sexuality that I'm often too anxious to—my sub side. She took me down to her dungeon and asked me about what I wanted to try, then strapped me to this huge wooden cross and tested some of my boundaries. It was honestly a really great way to learn about myself.
As I was being hung upside down, I realized that even though traveling is a lot about meeting new people, seeing new things, and learning about other parts of the world, it's also about being able to look inside yourself. I know, that sounds super cheesy. But what learning about all the kinky travel destinations taught me is that these places are just trying to create a safe, fun, exploratory environment for people to feel free to explore their bodies and sexualities in a judgment-free zone. That's what's really awesome about it.