Screenshot
via
Melody Kliebert's Facebook video
In 2018, the quest for self-actualization involves a ubiquitous and relentless compulsion to post on social media. The desire for likes and shares—and perhaps even 15 minutes of fame—trumps practically everything else on the hierarchy of needs. As such, we live in a dystopia in which pregnant couples have switched from using cakes to announce whether they're having a boy or a girl, to filming themselves pulling complex and dangerous stunts. These "gender reveal videos" sometimes go awry and lead to injuries like broken fibulas, though everybody seemed to have a great time in the latest clip from Louisiana that took the genre to a whole new level of insanity.
Mike Kliebert lives in Ponchatoula—about 50 miles east of Baton Rouge—and goes by the nickname "T-Mike, the Gator King." In a video posted to Facebook on Sunday afternoon, the professional reptile wrangler puts a watermelon filled with Jell-O into the jaws of a giant alligator and waits for the beast to chomp down. When it does, blue gelatin sprays all over his front lawn, causing Kliebert's family to cheer with delight from behind their cellphones while George Strait plays in the background. Then the 33-year-old forces the gator down to the ground, so it doesn't kill that very same family he's celebrating a new addition to.
Worth noting:
An unnamed woman screams, "Let's get this party going!" to kick off the video.
With the exception of the baby screaming in the background, no one seems concerned that they're standing mere feet away from an alligator—least of all the kid who's rolling around on the ground next to it.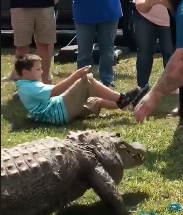 It's unclear if Crocs are really the right footwear to have on a) at a baby shower and b) when wrestling an alligator away from your friends and family.
Regardless, congrats on the new baby, T-Mike. You've already proven yourself to be a very protective, if ambitious, father, and I can't wait to see what the Gator Prince's birthday parties look like.
Sign up for our newsletter to get the best of VICE delivered to your inbox daily.
Allie is a proud Floridian and wants to be sent gator content on Twitter.