Nearly 75 years after it was torpedoed and sunk off the coast of the Solomon Islands, the wreck of the WWII light cruiser USS Helena has been discovered by the crew of the research vessel Petrel, which is owned by Microsoft co-founder Paul Allen.
The shipwreck was found on March 23, about a half-mile below the waters of the New Georgia Sound in the South Pacific. The USS Helena is the latest of three lost ships that were tracked down by Allen's team in March. Its sister light cruiser USS Juneau was found in the same region on March 17, while the aircraft carrier USS Lexington was located north of Australia on March 4.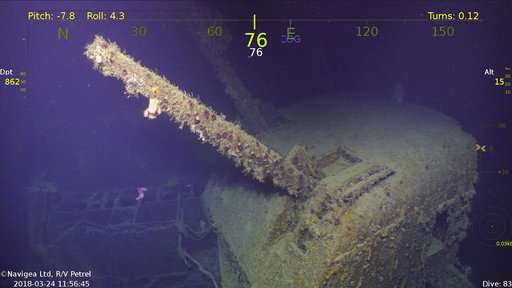 "We do these missions as testament to the brave souls who served on these ships," said Robert Kraft, director of subsea operations for Allen, in a statement. "Each ship has a story that touches families and friends of those who perished or survived. It's gratifying to hear those stories each time we announce a new discovery."
Read More: Underwater Robots Are Searching for an Ancient Shipwreck in the Arctic
Helena had already seen a lot of action before it was sunk by three Japanese torpedoes on July 6, 1943. As part of the US Pacific Fleet, the ship was at Pearl Harbor when it was attacked on the famous "date which will live in infamy," in President Franklin D Roosevelt's words. The ship was mistakenly in the crosshairs of that surprise offensive because it was moored in the slip usually reserved for the battleship USS Pennsylvania, which was a primary target. Though it survived Pearl Harbor, Helena was badly damaged and dozens of crew members were killed.
The ship went on to participate in several consequential Pacific maritime battles including the Battle of Cape Esperance, the Naval Battle of Guadalcanal, and the Battle of Kula Gulf, the latter of which resulted in its wreckage.
Though Helena rapidly sank within a half-hour of the first torpedo impact, 732 members of its 900-person crew survived. Some of them were forced to endure several days lost at sea and then relied on the help of locals once they finally landed on the island of Vella Lavella. For comparison, 687 members of the Juneau crew died when it sank on November 13, 1942.
To honor the ship's service, Helena became the first recipient of the Navy Unit Commendation Medal in March 1945. Now, over seven decades later, the shipwreck is finally back on the map.
Motherboard's documentary series "Dear Future" was nominated for a Webby. We'd love your vote, and it only takes a minute.