Photos courtesy Toronto Wolfpack
It was the hot dog cannon that stood out most to Liam Kay.
Last year's inaugural Toronto Wolfpack season was a bit of a culture shock on all fronts. For the city of Toronto, it was a first intimate look at professional Rugby League play and the introduction of a new team to soak up entertainment dollars outside during the best weather the city gets all year. For visiting League 1 teams, it was an unlikely road trip to face Rugby League's first transatlantic outfit. And for the players, some of whom the Wolfpack had to give the hard sell to in order to secure a commitment for their grand experiment, the experience of playing in front of a North American-style crowd still learning the game took some adjustment.
In rolling out the expansion team, the Wolfpack were sure to sell themselves to the city for not just the sport of rugby but as a unique atmosphere at Lamport Stadium in the city's young Liberty Village district. A slick colour scheme and logo quickly made Wolfpack merchandise popular. They sought marketable players who could not only compete at the professional level but engage fans and self-market the program. They even released a pin-up calendar, something a few of the players are still a little bashful about. This year, they've added a mascot to add to the family friendly environment.
And there's the hot dog cannon.
"It's just completely different to what it's like in England. The crowd atmosphere is different. Just the way, the atmosphere at the stadium while you're playing is completely different. Having hot dog cannons at halftime is completely different," says Kay. "Everything is just completely different."
---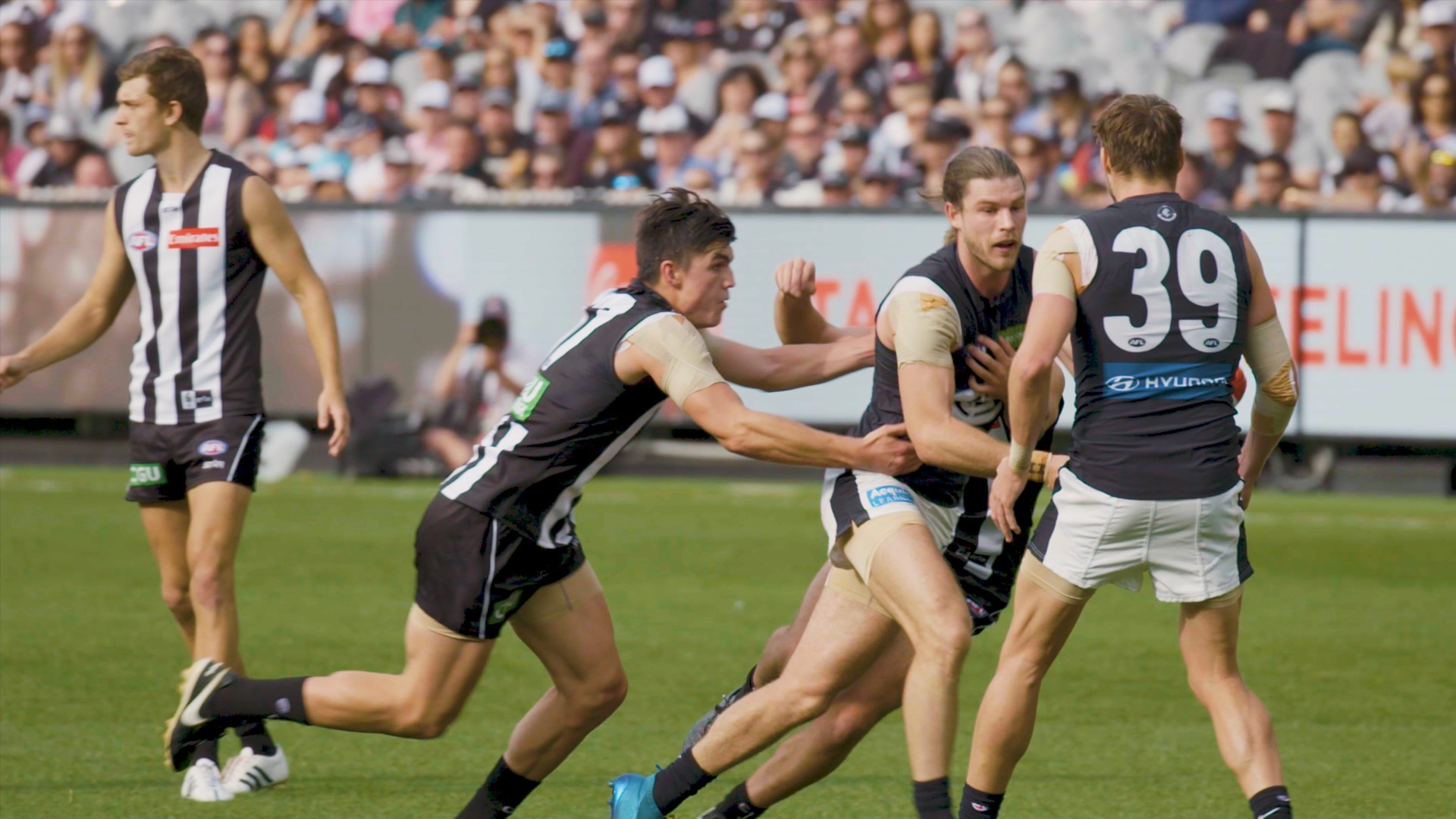 ---
The Wolfpack underwent significant roster turnover this offseason, and Kay had trouble describing the atmosphere to his new teammates ahead of their recent home opener. Renovations to their stadium made for a difficult schedule, with the Wolfpack playing their first 15 games on the road (technically, one was in nearby Markham and another on a neutral site), and so the players had been on the team for months without experiencing their new home crowd.
The turnout of 7,300-plus fans at their home opener proved a representative example.
"Toronto people have welcomed us with open arms, and you sort of see the reception we got when we came out," says Cory Patterson, who scored a pair of tries in his Lamport Stadium debut. "It's a weird setup. It's like they're right on top of you, and they're passionate. I've had a few people tweet me throughout the week saying we might not necessarily know the rules and what's going on, but we just love it."
The Wolfpack rewarded their fans with an exciting battle against the London Broncos. They scored a try barely three minutes into the game, turned in another strong defensive performance to take a 14-6 lead into halftime, and then scored a pair of tries out of the break to take firm control, ultimately winning 32-12 to avenge their only loss of the season. A week later, they won again, in a 64-12 shellacking of Desbury.
"It's like a party atmosphere, especially after the game."
Kay was the team's first-ever signing, something that was by design both on the field and off of it. With long, blonde hair, a fun, aggressive attacking style, and a marketable look and demeanor, Kay became a focus of the team's promotional push and the unofficial face of the franchise. A rowdy atmosphere sees players, Kay often included, join fans in Lamport Stadium's beer garden—now an exclusive partnership with The Craft Guys, with 10 different beer, cider, and wine vendors—for celebratory drinks after the game.
"I think obviously they have a different style to the norm. It's been well-received," says head coach Paul Rowley, though you won't find him in the beer garden often. "It's good for them, for the players. They're very down to earth lads, so if they're getting some recognition and some support, then we applaud that, because they work hard. All the players work hard, and to get appreciated in the way that they do from the loyal supporters is fantastic."
Players making time for fans after games—shaking hands, taking photos, explaining rules and nuances—has quickly become a staple of the game-day experience (even the visiting team hung around after the home opener, signing autographs and chatting with fans). Lamport Stadium and Liberty Village has quickly become property of the Wolfpack on Saturday afternoons. There's a palpable pregame buzz, nearby bars fill up before the 4:30 PM starts, and because the beer garden is licensed to stay open well after the games, the game-day experience lasts well beyond the final whistle.
"It's like a party atmosphere, especially after the game," Kay says. "Us as players, before or during the game have no interest seeing what's there. But after the game we'll go in there and interact with fans, and I think it stays open quite late with the DJ on, so people go there and use it as pre-drinks before they go out. It is quite special."
As the Wolfpack piled up wins last season—they'd ultimately win the League 1 title and be promoted to Championship, Rugby League's second division—the crowd's impact was pronounced. Toronto went undefeated at home in its first season, and their 2-0 start at home this year kicks off a stretch of eight consecutive Saturday home games extending through the end of July. That advantage was a big factor in helping the Wolfpack earn a promotion from League 1 to Championship after their first year, and the legitimacy they gained by earning a promotion so quickly helped them land some marquee names. The support of the crowd and the city of Toronto in general were large selling points in bringing in new players, and they were eager to hit the pitch.
"That it's a very unique experience for Rugby League," new captain Josh McCrone says of the rundown he received ahead of time. "Hearing the fans clap, doesn't matter if a good thing or a bad thing happens, they haven't quite got their heads totally around the rules yet. But I mean that'll be refreshing coming from some of the, I suppose, unique environments in England. We've played in some trying conditions, I'd say, over there, with the crowds and pitches. That's a great crowd. That's pretty impressive to fit everybody in that size stadium. The atmosphere is gonna be great."
It's the same game, but it can feel very different transplanted from Northern England, where there's over a century of rugby tradition, to a nascent Canadian rugby market. Some of the customs can feel different, too. For Kay, there was a "what have I gotten myself into" moment at the team's first home game last year—English crowds usually fill the stadium by the time players head out for warmups, but the Wolfpack were greeted by only a few hundred people initially. By game time, Lamport was raucous.
"Then outta nowhere, 6000, 7000 people turned up, and it was jaw-dropping, do you know what I mean? It was unbelievable," Kay says. "I think it's more refreshing over here. Because everyone in England, especially in the north, like, live and breath Rugby League. And coming to Canada where, you know, the main sports are like basketball, hockey, and baseball, it's refreshing having people coming up to you and asking what does this mean, or asking you about rugby itself. For me, that's the main difference.
"It's a lot more refreshing. And obviously you've got Toronto, as well, and that's the main thing, isn't it?"
Given the challenges that come with being a transatlantic team, a strong home-field advantage is paramount. In fortifying the roster, the Wolfpack were both looking to improve to the point of earning a promotion to Super League (the top division) for next year and continue to build a team that fits the atmosphere and style of play that made them so popular so quickly.
"Our two most recent signings in (Ashton) Sims and McCrone fit the profile," says general manager Brian Noble, though Sims injured his calf in the home opener and will miss a few games. "Ashton Sims looks like a wolf and carries on like a wolf sometimes, but he's an outstanding leader. Josh McCrone's a leader in his own right. And Paul plays an enterprising and entertaining brand of Rugby League. We hope the hearts and minds that we captured last year will be apt to double over. We need to infuse everybody as we were last year."
The hope is that it works in both directions, the crowd helping attract and support players while the success of the team feeds back into the crowd. The Wolfpack are hoping to push last season's average attendance of about 7000 up to 8000, maybe even pushing up against Lamport's 9600-seat capacity. Finding success early on certainly helped galvanize the fledgling fan base—there were already supporter groups and a popular podcast last year—and with a jump in divisions and an extra year for fans to learn the finer points of the game, the Wolfpack think some real momentum could be gathering both for the team and the sport in the city.
"I sincerely hope so," says Noble. "The level of the competition coming to Lamport is better, so they'll see more competitive games, they'll see some close games as well this year. There was pretty much a lot of blowouts last year at Lamport, which is good for a new franchise and good for a winning mentality and the psychology of getting used to winning. We'll be challenged severely this year, so we'll need our fans, who have become unbelievably good, to not only grow and enjoy the product, which they seem to do, but to get behind the team as well and carry us on with a wet sail, as they say."
The crowd certainly won't be dry, and another successful extended home stand could go a long way in solidifying the Wolfpack as a staple of Toronto summers.