Photos courtesy of Amazon
The first season of One Mississippi fictionalized the worst time of Tig Notaro's life—a bacterial infection called Clostridium Difficile, breast cancer (which resulted in a mastectomy), losing her mother in a freak accident, and a sudden break-up—but gave her a temporary happy ending. In real life, Notaro returned to stand-up and was subsequently offered a documentary, book deal, HBO special, and television show, but in the latter, her character decides to stay in Mississippi after her mother's funeral, and gets a gig hosting a local radio show. In Season 2, which debuts on Amazon today, the story moves away from Tig's terrible bout of bad luck and onto her life in her new old home of the faux Southern small town St. Lucille.
Season 2 is very much a love story—or rather, several love stories, as Tig's relationship with her radio show producer Kate (played by her real wife Stephanie Allynne) is the focus, but Tig's on-screen father and brother also find companionship. It's a slow burn for Tig and Kate, though, as Kate is adamant she is straight, and Tig is reluctant to make her move. Those familiar with Notaro and Allynne's real life love story (which was documented in the Netflix doc Tig) will enjoy watching the push-and-pull of the will-they-won't-they, knowing that they definitely will by season's end. But first, viewers get to see their connection grow, Tig try to date other people, and Kate coming to terms with her crush on her co-worker.
Read more: Finally, a Lesbian Movie That's Both Super Gay and Universal
"It felt exciting," Notaro said of replaying things like their first kiss. "I think also having cameras and eyes on us, I felt a little nervous and weird. I'm not really comfortable with public affection—that probably added to it. But the moment felt actually very real and honest and authentic and awkward in the first kiss kind of way. Not awkward like fumbling, but like 'Oh wow, this is happening!'"
In Tig's fantasy, their kiss is followed up with a duet from Fun Home, a shared song-and-dance to "Ring of Keys," the Broadway musical's most famous song about the experience of seeing someone who makes you feel something you've never felt before.
"We all love that song so much and I have a terrible voice and I really wanted to sing in public and do my best," Notaro said. "I just thought it was funny. Stephanie has such a pretty voice and when she's singing around the house, I'll join in and just ruin everything. So I thought it'd be fun to let people enjoy that."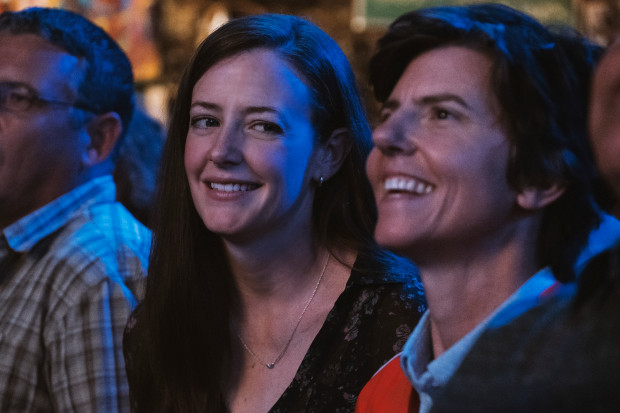 Notaro doesn't take herself too seriously, and neither does her character. She's able to find the humor (albeit dark at times) in any situation, including a moment at the local Christian hospital when she's initially refused admittance by an administrator because she looks gay. Instead of a teachable moment, Tig turns the conversation on its head, telling the woman that, because it's such an easy choice to go straight, she's suddenly decided to go full on heterosexual.
"It's just an idea I've always had that if somebody's disarming against me for being gay and if people do believe that you can change your sexuality, then I thought it'd be funny to just go ahead and decide that I don't like women, right in the moment," Notaro said of the scene. "And then how do you argue with me? If that's what you want me to do, is not be gay, and then I'm telling you 'Ok, I'm not gay,' then there shouldn't be a problem?"
As an androgynous and self-professed boyish looking woman, Notaro said she's had people assume her sexuality, but never experienced anything as "blatant" as the scene. She has, however, been through some of the other depicted and discussed scenarios in Season 2 of One Mississippi, including the sexual assault that women and girls are subject to throughout their lives. Although it was touched upon last season, Season 2 goes deep into Tig's experience of having been molested by her step-grandfather when she was young, and how other acts—ranging from men exposing or touching themselves to "playing games" that seem harmless but are in retrospect creepy and predatory—continue to exist in a culture that allows them to pass as innocuous.
In an episode of Season 2, Kate is in a work meeting with a male colleague when he begins masturbating while speaking with her. Kate is confused, disgusted, and angry—as viewers will be when they see that he later lies and says he was "scratching his leg," and their boss (an Ira Glass type) explains it away, asking Kate why she didn't leave the room while it was allegedly happening. It's worth mentioning that Louis C.K., who serves as executive producer of One Mississippi in name only, is rumored to have done the same thing to women, as some in the industry have spoken publicly about the comedian allegedly masturbating in front of them or women they know (including Roseanne Barr, who told The Daily Beast that stories about C.K. "have been leveled and talked about for years"). Notaro told the publication that she'd had "an incident" with him prior to Season 1, but didn't go into detail. Still, viewers will surmise that these allegations, at the least, have informed storylines.
It's another instance of Notaro and her all-women writers room taking a topic raised by other television shows but flipping the perspective, offering a more specific, pointed take. In this case, it's that sexual assault (both blatant or thinly veiled) is not something to be hidden or forgotten about, but instead broached with the honesty and forthrightness that it deserves—even if it's being discussed on a public radio show as Tig and Kate do in Season 2, somehow maintaining their witty, poignant banter while discussing something disturbing.
"I want conversations to happen," Notaro said. "I think enough is enough and it's all very serious—it's not casual, it's not cool, it's not funny, it's not OK. It's none of those things. And we try to show all the different levels of abuse and assault and in the workplace, in the family with trusted people that you know—situations where you're not even physically touched, it's still assault."
One Mississippi also takes on issues of race this season, with Tig's brother, Remy, and father, Bill, both taking interest in women who happen to be of color (Vietnamese and African-American, respectively) and how they are forced to reconcile their own racism. Its setting in the South allows other townspeople's racism to be more blatant in their patriotism, with local Christian women celebrating "Great Americans Day" on Martin Luther King Jr.'s birthday "because you know, it's Robert E. Lee's birthday as well." (Tragically, this was a true dual celebration in Arkansas up until 2016.)
On screen, Tig is the dissenting voice in her fish-out-of-water world, and in Kate, she's found someone who understands her, and has a similarly sarcastic yet optimistic disposition. In real life, Notaro and Allynne have a similar relationship and are now married with twin boys, living happily in Los Angeles, co-writing and co-starring in One Mississippi together. And for Season 2, Notaro said she learned how to trust herself more in all aspects—writing, acting, producing—which makes the finished product that much more satisfying.
"It's fun to sit back and watch the entire season," Notaro said. "It's definitely heartwarming for me because writing it and filming it is enjoyable in its own way, but to sit back and watch it unfold and be acted out, it was really, really a wonderful feeling."