Abdul Hamid Noorzae reaches for a bottle of pomegranate syrup in his greengrocer's shop. He takes his reading glasses, dangling from a piece of string over his gray fleece, and perches them on the tip of his nose so he can have a closer look. Pomegranate syrup. It reminds him of his home country, Afghanistan. Of his childhood and lush fruit orchards.
"My mother used to press the pomegranate seeds and make syrup," says Noorzae. "If you have a stomachache, they make you feel better. There used to be a big juice factory in Kandahar, but then the war came and everything was destroyed," he sighs. "Forty years of war."
It's almost 20 years since Noorzae last saw Afghanistan. Twenty years since he bribed the Taliban to get out of jail, fled to Tehran, was targeted by the Iranian secret police, and paid human smugglers to transport him across Asia and Europe to safety. From Tehran to Kiev, from Budapest to Hamburg and finally Denmark.
"When I arrived here, it was easier. Because I got here by car and train, not boat."
Frugtkælderen, Noorzae's basement-level shop in Copenhagen's harborfront neighbourhood Islands Brygge, is a sprawling mix of everyday essentials: there is coconut water, boxes of Turkish delight, quince tea, and a bag of Danish cookies on the counter.
When Noorzae moved to the Copenhagen suburb of Lyngby 10 years ago to find a home for his wife and five kids, a local government official asked him if he was looking for an internship. "I told them no," says Noorzae. "I wanted my own shop. I'm happy because I'm self-employed. This shop is not going to make me rich, but I'm independent."
Noorzae grew up in the Afghan region of Farah. He met his wife in Kabul, where he studied agriculture and she studied biology, but as a member of the People's Democratic Party of Afghanistan, he was drafted to the army in 1979 when war broke out. He transferred to Kabul airport, where he trained and worked as a radar officer while his family settled in the capital. In 1997, shortly after Noorzae and his wife had their fifth child, the Taliban took over Kabul and the country was thrown into civil war. Soldiers and members of the democratic party—including Noorzae—were targeted by the fundamentalist rebellion and thrown in jail.
Thanks to his father's prominent standing in the village where he was from, Noorzae managed to secure the money to bribe the Taliban. "Yes, of course," he says matter-of-factly. "That was the only way out."
He escaped to Tehran in 1999, only to be arrested again by Iran's secret police. They wanted to enlist him as an informant and travel back to Afghanistan, Noorzae says. He knew this was never going to be an option. "One of my school friends had helped Iran, but they turned on him. They told him he hadn't helped them enough. One day, they put a bomb in his car."
The school friend's family was in the car when the bomb exploded.
What followed for Noorzae was a six-month journey from Iran to Europe, organized by human smugglers whom he had to pay $10,000, he explains. Together with other refugees, they were transported in cars and buses from Iran to Turkmenistan, on to Tajikistan, Russia, and Ukraine.
The first time they travelled by train from Kiev to Budapest, but were caught and sent back. The second time, they hid under the train carriage ceiling, huddling together between electric wires and water pipes. After 17 hours stuck in the tiny compartment, they crossed the border and were let out. From Budapest, Noorzae travelled to Slovakia, Leipzig and Hamburg, where he was presented with a train ticket: Copenhagen Central Station.
Noorzae is standing behind the counter in his shop as the crisp spring sunshine streams through the windows. He quickly fetches a cover for the styrofoam boxes of apples, lemons and fennel stocked outside. A few days before we met in the shop, Noorzae celebrated his 58th birthday. His children gave him a laptop as a gift so he can follow the news from Afghanistan and listen to American online radio. I ask him what goes through his mind when he hears stories of migrants fleeing today. "When I arrived here, it was easier," says Noorzae. "Because I got here by car and train, not boat."
His first stop in Denmark was the Red Cross camp for asylum seekers at Sandholm. It offered a sense of dignity amid the chaos. "There was a bed and a mattress. There was breakfast, lunch and dinner. Fruit and coffee. You could exercise and play sports."
After he was granted permanent residence, Noorzae was sent to the northern Jutland town of Støvring where he moved into a small semi-detached house and was given money to buy a bed, a TV and the bare necessities. "There were good people," says Noorzae. "Back then there weren't many foreigners in Støvring. It was just me and another Afghan man."
Abdul's father had helped move the family to Iran, and the Danish immigration office provided the money needed to pay the Iranian police for their release. "I didn't have that kind of money," says Noorzae, "but the head of the asylum centre said it was fine: 'We'll lend you the money and then you can pay us back'," Noorzae says. The Danish embassy in Tehran issued temporary Danish passports to Abdul's family. When he went to pick them up at Aalborg airport, he brought a video camera to record the moment.
---
WATCH: 15 Years of War in Afghanistan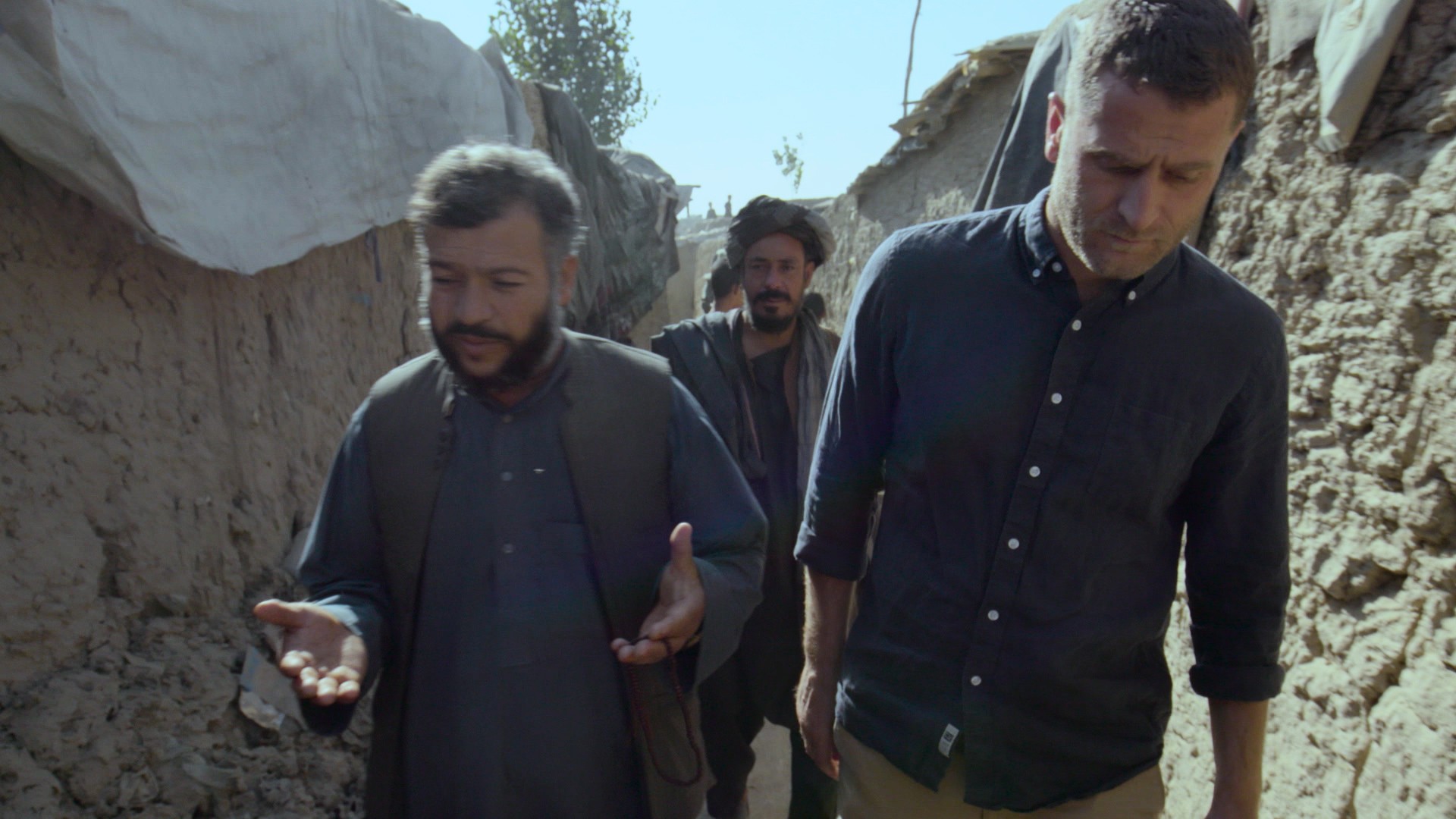 ---
Noorzae went to Danish-language school, he worked at a garage and tried to make the most of his professional experience from Afghanistan, but the political climate was changing. "I talked to my social worker about finding work at Aalborg airport, but then 9/11 happened. It became really hard for a foreigner to find work in an airport. The atmosphere changed. Then came the [far-right] Danish People's Party."
When the family moved to the small town of Østers Assels, in Limfjorden, Noorzae took over the pizza shop on the ground floor of their new house: Dino's pizzeria. Next door was a Nissan garage with 12 employees who adopted Dino's as their canteen. "The mechanics liked grilled chicken with fries. I didn't make much money, but I bought the best ingredients. I probably had 80 different types of pizza."
When the family left northern Jutland for Lyngby, it was for their kids' sake. Noorzae beams when he talks about his three daughters—the elder two are engineers and the youngest is in the medical field—and the two boys who are on their way through high school. But they left something behind in Støvring. "Family life was easier up there," says Noorzae. He loved seeing their contact family—Karen, his daughter's schoolteacher, and her husband Poul-Erik—and cooking and eating with them. Noorzae smiles when asked about his favorite thing to eat in Denmark. It was the meal that Poul-Erik used to make for him: washed Villemoes potatoes and chicken kebab.
When Noorzae visits the Afghan-run corner shops in Copenhagen, he always searches out quorooti, an Afghan dish he craves: it's a oniony, garlicy dish of dried salted yogurt mixed with toasted bread. What does he miss most about Afghanistan? "Everything. The whole country. Because I lived there when it was a different Afghanistan. When the war stops, then we will go there again. My children want to see Afghanistan. They want to go and help the poor people there."
READ MORE: Nation of Immigrants: Bringing Afghan Food to Central Virginia
When that day comes, the pomegranate orchards could be blooming again. As the country tries to wean itself off foreign aid, pomegranate is targeted as one of the crops that could help bolster the economy through exports.
Noorzae remains optimistic about Afghanistan's future. "We only have two problems in this world: politicians and religious fundamentalists," he says. "The world is much more like a united family today. There is a new generation growing up in a new world. Hopefully the borders will disappear."