Photo by Dave Sandford/NHLI/Pool Photo via USA TODAY Sports
After winning the Stanley Cup in 2009, the Pittsburgh Penguins spent the next several years falling woefully short of another title, despite having the talents of Sidney Crosby and Evgeni Malkin. It wasn't Crosby and Malkin's fault that their team was drifting aimlessly; it was everything around them. The supporting cast wasn't there on the ice, behind the bench, or in the front office.
There was every reason to be concerned that Jim Rutherford and Mike Sullivan were not going to solve this problem.
When the Penguins hired Rutherford to be their general manager in June 2014, he had just overseen five consecutive seasons with the Carolina Hurricanes that did not result in a playoff berth. Rutherford had led the Hurricanes for two decades and engineered a Cup champion in 2006, but it was fair to wonder if the man, now in his mid-60s, no longer possessed the skills to build a winning team.
Sullivan, meanwhile, assumed the head-coaching position in Pittsburgh in the middle of last season. Some people rise to leadership positions after spending years under the tutelage of experts in their field; others serve as long-time assistants to John Tortorella. Sullivan was the latter, which might be more like getting hired at an investment firm after working mainly for Bernie Madoff.
Instead, the Rutherford/Sullivan combination turned out to be the biggest reason the Penguins became the NHL's first back-to-back champions in nearly two decades Sunday night, with a Game 6 win over the Nashville Predators.
From 2010 to 2015, the Penguins had frittered championships away. Marc-Andre Fleury imploded like a destroyed submarine every postseason, while players like Jussi Jokinen and Douglas Murray were (shockingly!) not enough to get the Penguins over the top. Head coach Dan Bylsma was fired after Rutherford was brought on in 2014; his replacement, junior league coach Mike Johnston, neutered Crosby. So did all the concussions that nearly wrecked Crosby's career during those years.
With the Chicago Blackhawks and the Los Angeles Kings emerging as two teams in a dynasty time share, the common thinking became that we would look back on the Crosby and Malkin era the way we look back on Adrien Brody's acting career—the talent was there, but we just couldn't put them in enough successful, award-winning vehicles when they were at their peak.
Then Rutherford did what no "hockey person" would have done when attempting to build a winner: he acquired Phil Kessel.
You know. That Phil Kessel. The guy you can't win with. Who doesn't play defense. Who has a gluttonous contract. Who isn't worth the cap hit. That guy who is going to get fat because he eats hot dogs.
Rutherford also filled in the bottom-six forward group with speed the way his predecessor, Ray Shero did not, but acquiring Kessel for assets that no one will remember in a decade was the beginning of a transformation that would inject the Penguins lineup with speed top to bottom.
Kessel should have won a Conn Smythe Trophy last year, when the Penguins ended their seven-year "drought" with the second Cup of the Crosby/Malkin era. His ten goals and 22 points in 24 games that postseason while anchoring the third line were just as important as his eight goals and 23 points in 25 games during the title defense this year.
That title defense became even more difficult once Kris Letang was declared out for the season with a neck injury in April. A case can be made that Letang is the most valuable player on the Penguins, serving as a No. 1 defenseman and offensive catalyst on the back end, starting breakouts and quarterbacking a deadly power play. With Letang out, the Penguins were left with a bunch of defensemen who ranged from "fine" to "should this guy be in the NHL at this stage of his career."
The last time a team won a Cup without a defenseman of Letang's abilities was in 2006, when Rutherford's Hurricanes won 16 games with such luminaries as That One Guy, The Fella With The Size, and Defenseman No. 4. If anyone knew how to fill defense holes in this situation, it was Rutherford.
And he did it with Ron Hainsey, a player who had never experienced playoff hockey before this season. Rutherford has made every transaction, every AHL call-up count the past two years. Last year, he turned Rob Scuderi into Trevor Daley, which is about as close as you'll come to seeing someone turn literal chicken shit into chicken salad.
If Rutherford built the car, Sullivan was the driver avoiding every potential crash and hugging every corner.
How many coaches have been felled by their inability to break tendencies or trust young players, or by restrictive systems that prevent the best players from being the best players? Sullivan had every opportunity to fall into this trap; instead, he will likely go down in NHL history as the only coach to win back-to-back championships with the same rookie goaltender.
It's easy to forget that Matt Murray was an unknown commodity entering last year's playoffs. The Penguins goaltenders were so banged up that they had to go with Jeff Zatkoff in Game 1 of the first round before Murray returned from his concussion and took the reins. When Fleury was ready to go, Sullivan didn't go back to his veteran; he rode Murray all the way to the Cup.
Well, there was that one Game 5 in the conference finals when Fleury allowed four goals and put the Penguins in a 3-2 series hole against the Lightning. Whether you want to classify it as Sullivan learning quickly from a mistake or going back to the rookie after giving him a quick breather, Murray won Games 6 and 7 and four more against the Sharks in the 2016 Final.
Facing a similar situation this year, Sullivan wasted no time benching Fleury after one bad game in the conference finals and going back to Murray, who had injured himself during warm-ups before Game 1 of the first round and had watched the entire 2017 postseason to that point. When Murray faltered, Sullivan stayed with him, which was no small thing this time around—Fleury is beloved in that locker room and carried the team through two rounds, so no one would have been upset to see him go back in net.
Instead, Murray rewarded Sullivan with shutouts in Games 5 and 6 of the Final against Nashville.
And that reward would not have been possible if Rutherford dealt Fleury at the deadline, something other GMs would have considered. Even the deals Rutherford didn't make have led to championships.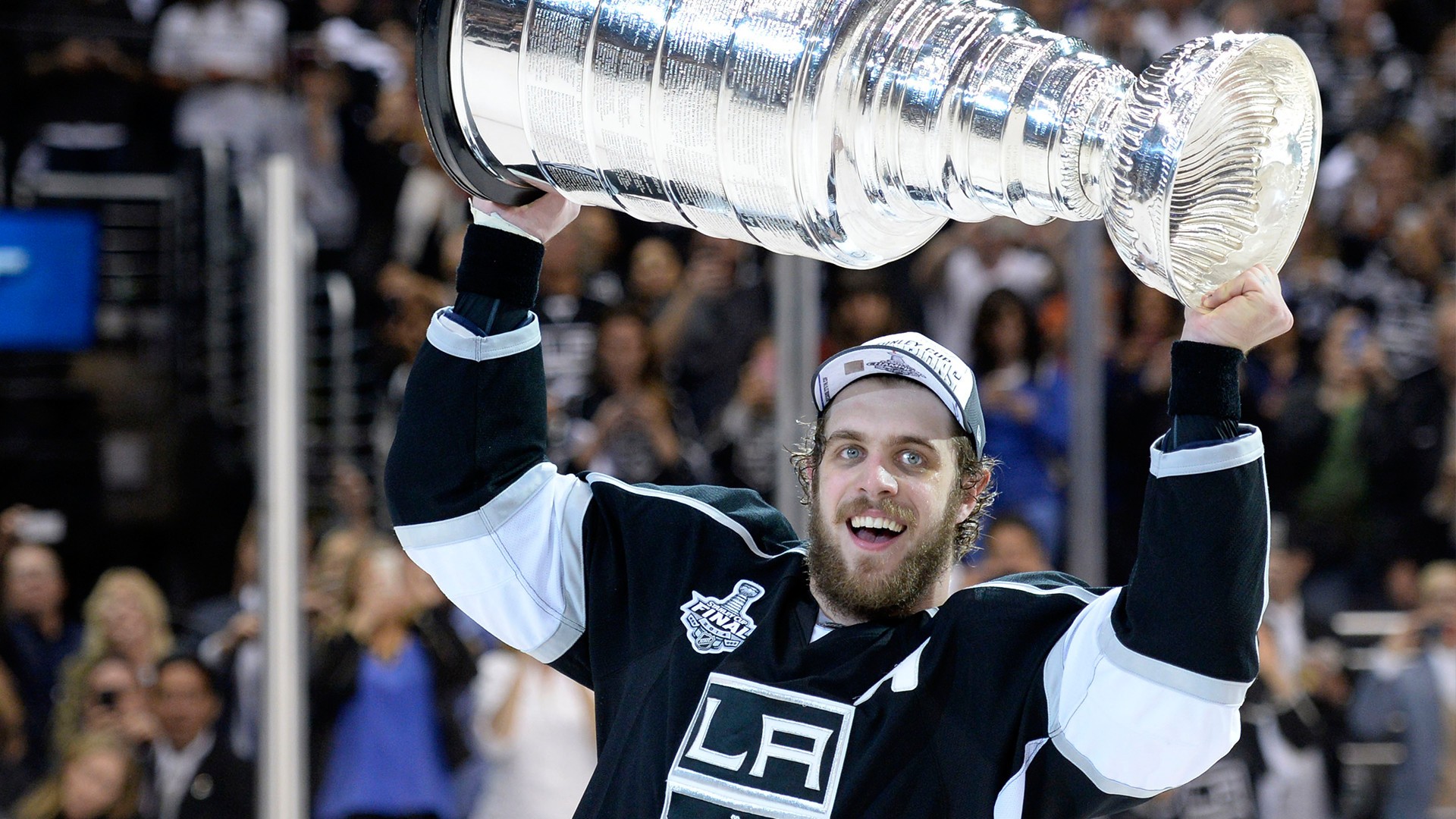 The Penguins' success the past two seasons are littered with little things that made the difference, adjustments like Kessel on the third line last year and second line this year, or finding a perfect match with Jake Guentzel and Crosby this year, or massaging minutes and matchups with the makeshift defense.
Sullivan's moves simply weren't options with the coaches that came before him. Could you imagine either a Dan Bylsma or Mike Johnston team getting worked over like the Penguins early in this Final, only to bounce back later in the series? That's all Sullivan.
So it's only fitting that the Penguins won on a late goal by Patric Hornqvist, the first acquisition by Rutherford in a trade that sent James Neal to Nashville. The Hornqvist–Neal deal has worked for both teams, but Rutherford made that deal partly because he felt Hornqvist was more willing to score the dirty goals while Neal was more of a perimeter player.
Hornqvist scoring after a bounce off the back wall to break a scoreless tie feels like the perfect way for the Penguins to clinch a second Cup for Rutherford and Sullivan.
Crosby and Malkin have always been the engine that drives the Penguins, but having Sullivan operate the car and Rutherford add all the necessary upgrades to get everything out of that engine is why the Penguins now have a shot to win a third straight Stanley Cup next year instead of another off-season of wondering if Crosby and Malkin are "true winners."