PYONGYANG, North Korea — It's been an eventful weekend in North Korea.
On Sunday morning, the Hermit Kingdom conducted a failed medium-range missile launch from a site near the northeastern coastal city of Sinpo. Apparently timed to coincide with the parade and the arrival of a U.S. Navy strike group in the region earlier in the week, the missile "blew up almost immediately" after launch, according to U.S. Pacific Command.
On Saturday, huge crowds gathered for the 105th birthday of Kim Jong Un's late grandfather Kim Il Sung, who is considered to be North Korea's founding father.
Following a forceful speech by Choe Ryong Hae, one of Kim Jong Un's closest confidants, thousands of Pyongyang residents marched for hours in lockstep chanting devotional mantras to a smiling and seemingly relaxed Kim Jong Un, seated in a balcony high above.
According to one North Korean official, the parade was the public debut of the country's military Special Forces unit, which goose-stepped down the street wearing night-vision goggles — notable because the pariah state is banned from possessing them, under international sanctions.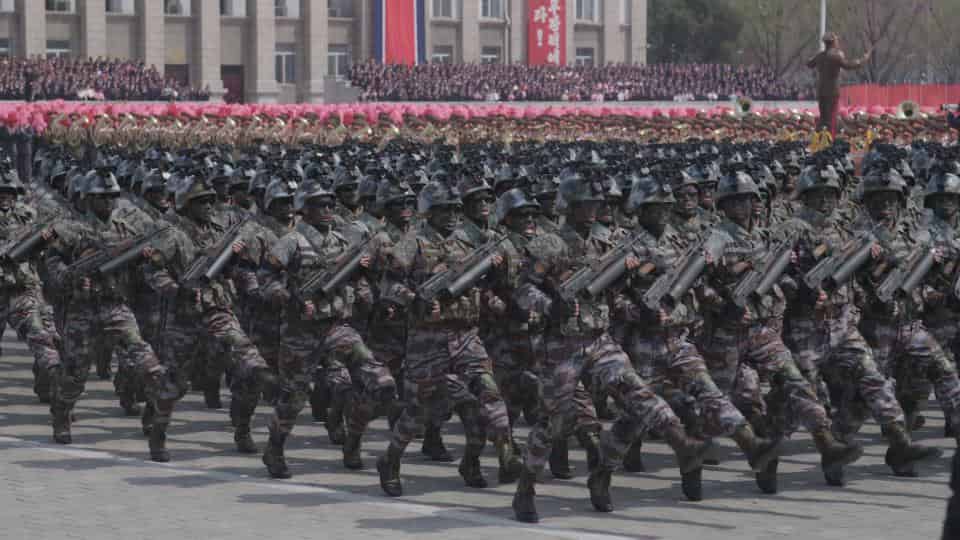 A procession of missiles followed, including the first-ever parade display of North Korea's submarine-launched ballistic missiles, and at least one new type of Intercontinental Ballistic Missile (ICBM) that North Korea claims has the ability to strike the United States. It's unclear whether the ICBMs are fully functional or just prototypes. They appear to use solid fuel and mobile launchers, which would allow them to be launched more quickly and stealthily than the liquid-fueled missiles currently in the North Korean arsenal. The U.S. military is still assessing the type of missile used in Sunday's failed test, with one defense official telling CNN that there was limited available data because the missile blew up so quickly after launch.
Vice President Mike Pence arrived in Seoul on Sunday for talks with the South Korean government. Pence called the failed missile launch "a provocation."
"This morning's provocation from the North is just the latest reminder of the risks each one of you face each and every day in the defense of the freedom of the people of South Korea and the defense of America in this part of the world," Pence said.
National Security Adviser H.R. McMaster said in a television appearance Sunday that the U.S. "will take action" to end any threat from North Korea, while President Donald Trump tweeted Sunday morning that China is "working with us" to address the situation in North Korea.
"The president has made clear that he will not accept the United States and its allies and partners in the region being under threat from this hostile regime with nuclear weapons," McMaster said.
Earlier in the week, following his meeting with Chinese President Xi Jinping, Trump said the U.S. would take unspecified action against North Korea if Beijing doesn't cooperate. Any U.S. response to rising tensions could be complicated by the lack of key State Department personnel in the region. Trump has yet to appoint ambassadors for South Korea, Japan, or China, and the position of assistant secretary of state for East Asia and the Pacific remains vacant.
Citing unnamed intelligence officials, NBC News reported Thursday that the U.S. was "prepared to launch a pre-emptive strike with conventional weapons" against North Korea in order to prevent an imminent nuclear test. But the Pentagon pushed back against the report, and a senior Trump administration official called it "completely false." Other White House reporters cited their own unnamed sources as saying the U.S. planned only to retaliate.
Xi said he hopes for a "peaceful" resolution, but China has a mutual defense treaty with North Korea and Beijing could choose to interpret any attack on its neighbor as an act of war. North Korea has the world's fourth-largest standing army, and could respond to a U.S. attack by launching conventional, chemical, or nuclear weapons against South Korea or Japan, where several American military bases are located.
Meanwhile, in Pyongyang, there was no public indication of the rising tensions. On a 30-minute drive during a carefully managed press trip on Sunday, the streets were bustling, with grey-market vendors doing a brisk trade in ice cream, bottled water, and noodles.
During a brief interaction with members of the public, a Western press delegation was asked to avoid the topic of the failed missile launch, as well as any discussion of international politics or the North Korean leadership. A festive and relaxed atmosphere among the general populace suggested either a limited awareness of the tectonic political events on the peninsula, or a total confidence in their country's ability to fend off outside attack.
Keegan Hamilton contributed reporting.