Five employees at Canada's spy agency, the Canadian Security Intelligence Service (CSIS), launched a $35 million civil suit Thursday accusing managers of fostering a toxic workplace full of racism, sexism, and Islamophobia.
The 54-page statement of claim is full of stories from longtime, and highly decorated, employees from the Toronto office, alleging that the service has a problem with minorities — echoing accusations of racial profiling and discrimination brought by several national Muslims organizations in recent years.
The contents of the claim, first reported by the Toronto Star, have not been proven in court, and the agency has 30 days to file a defence.
CSIS director David Vigneault did not address the allegations directly, but said in a statement that CSIS "does not tolerate harassment, discrimination, or bullying under any circumstances."
Here are some highlights of grievances aired by the employees — identified with pseudonyms because they have been warned by CSIS not to reveal themselves publicly — who allege they continue to suffer emotional impacts and trauma from the events.
According to numerous email excerpts in the claim, management routinely spew homophobic slurs at gay employees, and as jokes between themselves.
"Careful your Muslim in-laws don't behead you in your sleep for being homo," one manager allegedly wrote in an email to Alex, one of the claimants, who is gay and lives with his partner, who is Muslim. His claim states he's been with the agency for 10 years, all the while subjected to routine harassment — nicknames such as "fag" and "gay boy" — online and in-person.
"In fact," the statement continues, "at a town hall meeting in 2014, in which the entire Toronto office was in attendance, a member of management stood at the podium and joked that Alex "[took] it from behind."
Alex was even more concerned about CSIS management's attitudes towards Muslims. One manager allegedly declared at a social gathering while his Muslim partner was in the room.
Alex's co-complainant is Bahira, a Muslim woman of African and Arab descent who's worked at CSIS for 15 years. "Her colour, ethnic origin and religion have at times been precious assets to the Service," the statement reads. "But at all times, they have made her a target of harassment, discrimination and reprisals."
As soon as she started working there, she recalls one colleague showing her a comment that said, in Arabic: "Prophet Mohammed of Islam is a dog and Jerusalem is ours."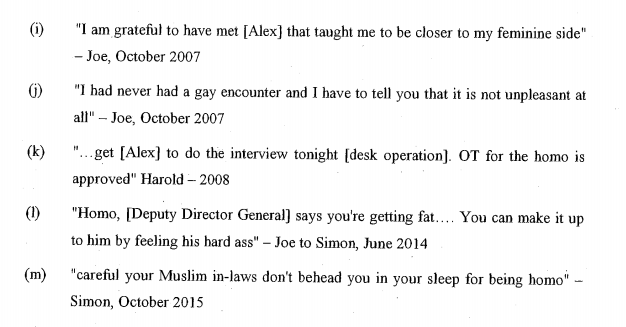 She received a wave of backlash from managers when she started wearing a hijab in 2004, with one questioning whether she could still do her work and wear it. That year, she received a 1 out of 4 on her performance review. Bahira also says she was also compelled to tell management about anything she was doing with the Muslim community beforehand.
In 2016, she was diagnosed with depressive disorder and major anxiety disorder, and unable to work since earlier this year.
Another Muslim complainant, identified as Cemal, is Muslim of Turkish descent and has worked with the agency for 22 years. He claims to also have experienced intense discrimination due to his religious beliefs, and was once told to take a complaint "to Allah." Further, management reportedly referred to him as "imam" and "Muslim Brotherhood."
"Cemal heard a supervisor explain that she was rejecting job candidates because of their Muslim names," the court file states.
Another complainant, referred to as Dina, was the first black woman at CSIS when she started there 16 years ago. She reports being treated with disrespect by managers and colleagues, saying it has become an "accepted game to mock, undermine, work around and complain about [her] to her managers."
The claim states Dina has "regularly endured snide remarks that she was only promoted because she is a black woman."
Dina learned that Alex had filed a harassment claim, and learned she was a potential witness. Alex also confirmed to her that he heard other managers call her a joke: "Dina's colleagues would openly complain about her to the managers, but the running response was always, 'you know you can't touch her,' in reference to her being a token black woman in the Service."
Read the full claim: