In Trump's Washington, the volume seems to be constantly cranked up to 11 with a nonstop cascade of tweetstorms, scandal, legislative missteps, and of course the ongoing Russia investigation.
With the president's approval rating well below 40 percent and Congress' even worse, a lot of Republicans have been ducking constituent town halls during their August recess.
Not Chuck Grassley.
For the Republican seven-term senator from Iowa, it's always been a point of pride to visit all 99 counties in his state every year, and that still applies in the Trump era. VICE News followed him this week as he attended several town halls, some crowded with Democrats, and was rewarded with more Iowa nice than Washington hysteria.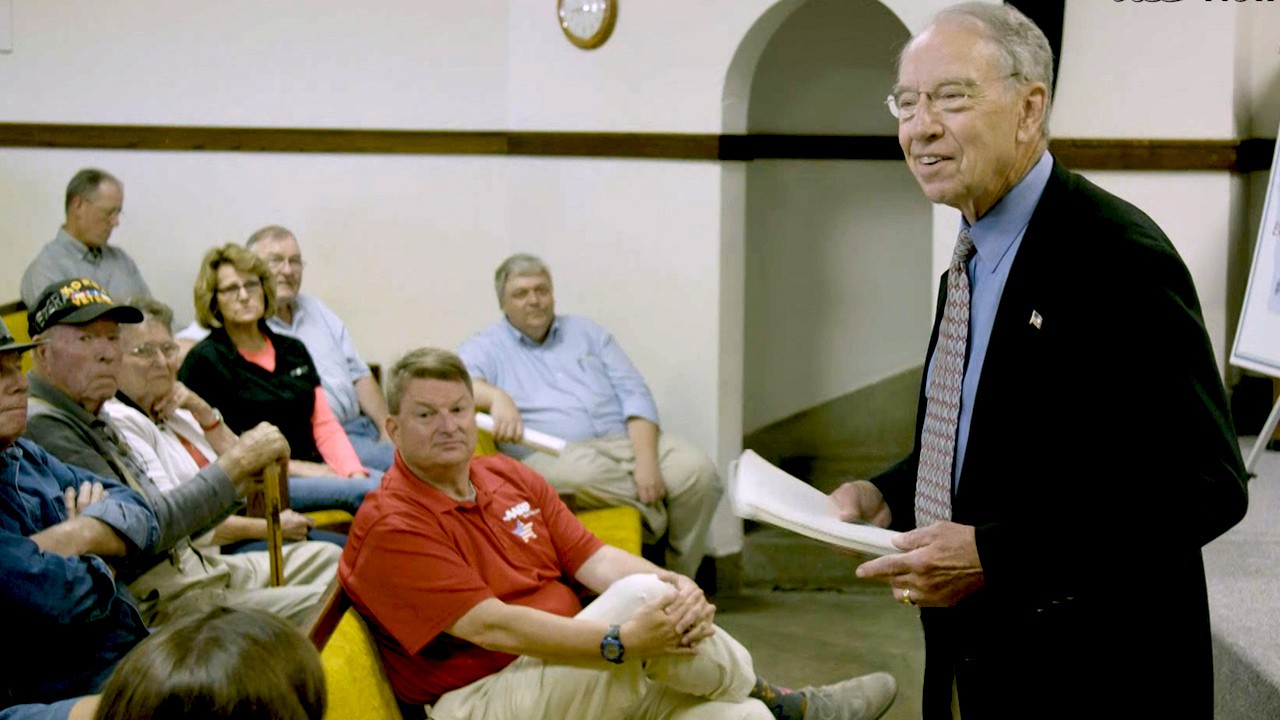 "He was able to come have a town hall and no one was yelling or shooting and we were able to hear each other," Laura Tumak, the Affirmative Action Chair for Iowa's Page County Democrats, told VICE News after a town hall in Bedford, where she asked Grassley a question about health care since her son has Down syndrome.
It helps explain why Grassley's been able to stick around for so long (since 1981) and why even in the face of a weakened Republican presidency, some Republicans in Congress are not facing the pressures that cable news coverage might have you think.
Like all Senate Republicans, Grassley is trying to figure out the right balance of supporting President Donald Trump — who remains popular with the Republican base — and maintaining his own popularity with his constituents.
If the general lack of town halls is any indication, many of his colleagues still haven't figured out that balance.
But Grassley's forward-facing approach and careful rebuffs of the president may provide a model for others. The peaceful tenor of Grassley's town halls this week suggests that Republicans in Congress may be able to bypass some of the anger directed at Trump.
"We don't even have to worry about what the president wants or doesn't want until whether he'll sign or not sign what we want to do," Grassley told a small group of assembled reporters after one town hall, in an implicit declaration of independence from the president. "I spend my time doing what a congressman and senator has to do. We're an independent branch of government representing the people of Iowa."
The delicate balance continued.
Asked about former Director of National Intelligence James Clapper's questioning of Trump's fitness to be president, Grassley said, "I don't think Director Clapper or Senator Grassley, not being professionals in medicine, have any right of making that decision."
Did he agree with the president's decision to continue fighting in Afghanistan after 16 years of war there? "Whether I agree that he did the right thing or not, I think once the commander in chief decides to put Iowans or any American in harm's way, I have a responsibility as a member of Congress to give them the tools that it takes to get the job done," he said.
On the recent violence in Charlottesville perpetrated by white supremacists, Grassley praised the president for speaking out against hate but qualified it: "It's too bad he didn't do it on Saturday."
"The first Saturday," he added.
This video segment originally aired August 24, 2017, on VICE News Tonight on HBO.