If you're worried about the future of the environment in the US, you've likely already been paying close attention to President Donald Trump's cabinet picks. There's been lots of debate over the merits of Trump's choices for Department of the Interior and the Environmental Protection Agency. But there's another posting you should keep your eye on: the Department of Agriculture.
There are, of course, a lot of ways that agriculture impacts and influences the environment. But it's also worth reminding that the head of the USDA isn't just in charge of farm policy and food programs—she or he also heads the US Forest Service, all 193 million acres of it. And former Georgia Governor Sonny Perdue, Trump's pick for Ag Secretary, has drawn criticism from conservationists worried about the future of our forests.
Most of Trump's other nominees have faced intense scrutiny from not only Democrats, but also fellow Republicans, the public, and the media. Perdue, who is still awaiting confirmation, has largely slipped under the radar thus far.
That's mostly because, compared to some of the other cabinet picks, Perdue is well-suited to the role. He has plenty of government experience, as a two-term governor and a state senator for a decade before that. As a Georgia politician, Perdue is familiar with the issues facing farmers—agriculture is responsible for a hefty chunk of the state's economy. Perdue himself grew up on a farm, started his career as a veterinarian, and went on to run several agri-businesses. Even the exiting head of the USDA, Tom Vilsack, praised Perdue as a good pick for the job.
"As a former governor, he knows full well the opportunities and challenges that exist in rural communities," Vilsack said. "He will, I am sure, work hard to expand opportunity in rural America."
But when it comes to forest stewardship, not everyone is convinced Perdue will put conservation first.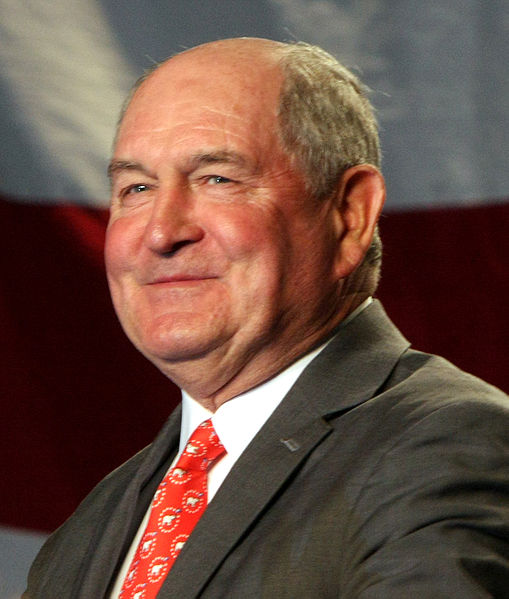 "He doesn't really believe in climate change and the number one threat to our forests is climate change," said Athan Manuel, the director of the lands protection program for Sierra Club, a national environmental group. "We're very concerned that we're not going to see forest management plans that take into account the impacts of climate change."
Perdue, like many of Trump's cabinet picks, has a rocky record of climate change skepticism. As governor of Georgia, Perdue once famously prayed for rain in response to a drought that plagued much of the south. In a 2014 op-ed in National Review criticizing the common core curriculum, Perdue wrote that liberals had "lost all credibility," when it comes to climate change.
"Climate change, we're told, is responsible for heavy rains and drought alike," Perdue wrote. "Whether temperatures are unseasonably low or high, global warming is the culprit. Snowstorms, hurricanes, and tornadoes have been around since the beginning of time, but now they want us to accept that all of it is the result of climate change."
(It's worth noting that climate change influences weather in many ways, and increases the likelihood of extreme weather events of all kinds.)
Manuel told me he's also concerned that Perdue's business background—both in agriculture and in timber—will result in more of our national forests being chopped down for lumber. Logging has always played a role in the Forest Service, but in recent decades there's been a shift toward balance the benefit of tapping these resources with the need to conserve our woodlands. Perdue could signal a shift back to more business-focused forest policy.
"It's certainly hard to imagine that a former fertilizer salesman will tackle the unregulated farm pollution that poisons our drinking water, turns Lake Erie green, and fouls the Chesapeake Bay and the Gulf of Mexico," Scott Faber, the senior vice president for government affairs at the Environmental Working Group, wrote following Perdue's nomination.
A spokesperson on Perdue's transition team, who asked not to be named, told me Perdue is refraining from media interviews while in the nomination process, which is typical for nominees. But Perdue's spokesperson pointed out that he has a record of emphasizing conservation as an elected official.
Indeed, Perdue signed laws that provided tax benefits to private landowners who pledged to conserve their land, and under Perdue, the state bought lands to expand conservation areas.
At the end of the day, the secretary's job is to enforce the laws passed by Congress. But there are strong laws in place, such as the Endangered Species Act, that environmental groups can leverage if Congress tries to overstep its bounds, according to Ben Cashore, a professor of environmental governance at the Yale School of Forestry and Environmental Studies.
"These laws are very durable," Cashore told me. "They have a significant impact and I doubt that's going to change under Trump because of the durability issues. I think it's going to be hard."
Still, if you are a fan of the forest, Perdue is another nominee you'll want to keep your eye on.
Get six of our favorite Motherboard stories every day by signing up for our newsletter .