Holiday Club Puerto Calma presents itself as a paradise for winter sun-seekers. The palm tree-lined complex of holiday apartments has views over the harbour of Puerto Rico de Gran Canaria, a resort town on Gran Canaria – the volcanic Spanish island marooned in the Atlantic, 150km from the northwest coast of Africa where temperatures stay in the high-teens and low 20s even in the winter months and it rarely rains.
The pandemic has effectively shut down places like Puerto Calma, and the whole island's economy, which relies on tourism. But as the tourism sector faced a crisis, a humanitarian emergency was also unfolding on Gran Canaria. Thousands of migrants from West Africa – mainly from Morocco and Senegal – were arriving to the island's shores on rudimentary boats. Struggling to accommodate the 23,000 new arrivals in 2020, the Spanish government contracted hundreds of empty hotel rooms for migrants to stay in.
The best was being made of a bad situation, it seemed. The migrants had somewhere to stay, empty rooms were being used, and for Calvin Lucock, director of the Holiday Club Puerto Calma, originally from Birmingham, England, it meant keeping staff employed that would otherwise have been made redundant.
Some of the migrants had been through terrible ordeals. Fode Top, a Senegalese fisherman staying at the hotel, told the Associated Press (AP) that he could no longer make a living as local waters had been fished dry by industrial methods used by Chinese and European vessels. When his 3-year-old son needed life-saving surgery, Top got into debt over the medical bills and was threatened. "If I return to Senegal I will have problems. Many problems," he said.
Holiday Club Puerto Calma provided a respite, but this was no holiday. The migrants have been in limbo there, unable to move on and build a new life.
Not everyone could sympathise, however. Disquiet was bubbling among timeshare owners who had been denied their getaways to the sun during the pandemic, and didn't like seeing their apartments used by people like Top who hadn't bought into Holiday Club's exclusive benefits.
In November 2020, the Timeshare Consumer Association (TCA) published an article on its website about the situation. At the time the organisation said it was "reserving judgement". But Daniel Keating from the TCA said, "Many Puerto Calma members are up in arms over what they perceive as the club giving away something owned by them to a third party. 
"In addition to this, there are a number of owners who feel that the decision of the club to house illegal migrants goes against their own political views. The complaint is that supporting refugees who bypass the legal migration process will incentivise more people to make the dangerous crossing at sea. The members feel that they should have been consulted before their assets were used in this manner."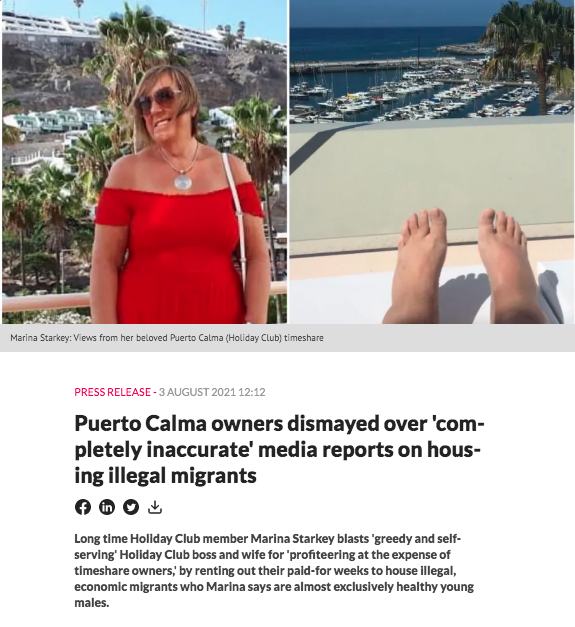 Just days later, the TCA published another article highlighting owners' concerns. One owner of three weeks at Puerta Calma, pseudonymously called John, told the TCA that, "All owners were informed by email of the plans to move immigrants (they're not refugees as Calvin [Lucock] would claim but illegal economic migrants) into Puerto Calma on the same day they started moving them in.
"The owners were told we had no choice. We were told it would be refugee families fleeing war torn sub Saharan Africa, but they are all single young men looking for an easy way into Europe," he said.
To make matters worse, John said that Unn Tove Saetran, Lucock's Norwegian wife, who owns a restaurant at the resort, was holding singing and dancing parties for the refugees when they arrived. "These activities were not available for paying members/owners when they stayed back in August," he said.
"Owners are being accused of being unreasonable but we are being told that our home away from home is being used to house illegal immigrants, and we have to accept it without complaint. That goes against the premise it was sold on, and I believe will have a negative impact on Puerto Calma, if not the whole Holiday Club group. I'm currently going through my contract looking for a way out, and I know others are doing the same."
But Keating of the TCA had a warning for John and others like him: "We do urge caution to any owners seeking to escape their timeshare contracts… Before making any decisions about retaining help in those matters, timeshare owners are welcome to contact our team for confidential, impartial advice on which companies can be trusted and which ones are fraudulent operators."
It all put the problems of impoverished Senegalese fishermen whose livelihoods had been destroyed into some perspective.
In February, Holiday Club Puerto Calma's contract with the Red Cross ended, and migrants were moved to large new camps built by the government. But fears of overcrowding and forced deportation drove many migrants to leave the migration system, and back to the hotel.
"We realised that we had a queue of people standing outside when we closed the doors," Saetran told AP.
Lucock and Saetran decided to reopen the hotel to migrants, this time at their own cost.
"They were very scared, they didn't have anywhere to go, and there wasn't any other solution," said Saetran.
"These boys are lost. You cannot sit by and watch 50 or so men who have got nowhere to sleep or will have to sleep under a blanket on the floor. I wanted to offer them some safety," Lucock told the Independent.
"Anyone who has lived through what I and my wife have lived through in the past six months [looking after the migrants] would have been changed, or you would have to be cast in stone or completely ignorant," he said.
The hotel now cares for 58 young men including eight unaccompanied minors, who fell out of the system – with the help of some volunteers and hotel staff.
Timeshare owners are still not convinced. An August press release from the TCA said, "Long time Holiday Club member Marina Starkey blasts 'greedy and self-serving' Holiday Club boss and wife for 'profiteering at the expense of timeshare owners,' by renting out their paid-for weeks to house illegal, economic migrants who Marina says are almost exclusively healthy young males."
"Calvin and Unn Tove are pictured variously playing chess with illegal immigrants, hugging North African men and taking selfies with groups of them on the beach, smiling in modest bonhomie."
Starkey told the TCA: "Calvin and Unn Tove are being portrayed as humanitarians and heroes. To us owners it seems more like they are profiteering at our expense and treating our beloved resort as an illegal immigrant camp.
"These people who arrived illegally with the help of human traffickers are overwhelmingly young fit males, with few or no women and children."
Lucock and Saetran plan to set up a charity and continue helping migrants when tourism picks up again, assuming timeshare owners don't thwart their efforts.
"They've come here looking for a better life, one of the reasons I came to Spain," Lucock told AP. The only difference in his eyes is that, "They are not born with a European passport so they can't travel in the same way I can," Lucock said.