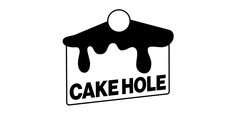 A series of deep dives into the weirder side of Instagram food.
When Julie Klausner initially envisioned the entryway of her Manhattan apartment, the Difficult People actor, comedian, and writer saw a glass carousel filled with a rotating selection of fake cakes, just like the tower that catches your eye when you enter a diner. After seeing her home on Apartment Therapy in March, I knew I had to talk to her more about it—and, particularly, the fake cake tableau at its entrance. "I just wanted to come in and get that wallop, like that sugar rush," Klausner said in a phone call. 
After realizing the hefty price tag that comes with those diner-style cake display cabinets, Klausner simplified her idea. On eBay, she bought "the most beautiful fake cakes [she] could find" and covered them with iridescent Mod Podge, a spray that's used to glaze objects with glitter and shine. (Generally speaking, she recommends using this to cover at least one item you own, in order to feel the satisfaction of seeing something sparkly and shiny). With the cakes arranged together on a shelf, Klausner—who says she's always been obsessed with cakes and, to some extent, pies—described the result as a Wayne Thiebaud-inspired display of decadence and hyperfemininity, something between a bakery window and a department store display. 
Klausner's home aside, fake cakes are increasingly joining the crowded tablescapes of trendy home interiors. On Instagram, you can find them in vibrant colors and topped with faux fruit and swirls of "frosting": displayed on dressers next to blob candles; as the centerpiece of a wavy cow-print table; hanging on a wall beside a squiggly mirror; and posed atop a chrome-and-cane dining chair. In this setting, fake cakes play up the nostalgia and whimsy that make up the design aesthetic that writer Emma Hope Allwood has dubbed "avant basic," characterized by its sense of "quirkiness in the age of mechanical reproduction" and "vintage without the effort." 
But how did fake cakes, of all things, become the decor trend du jour? And more importantly, what's the point of having your cake if you can't eat it too?
Many of the fake cakes sweeping Instagram right now come from the Austin-based photographer Jasmine Archie, who started making artificial desserts under the moniker Pretty Shitty Cakes in late December. After falling down an internet rabbit hole of ceramic and styrofoam cakes, Archie decided to try her hand at turning spackle, paint, and cardboard into designs that look straight out of a vintage Wilton cake decorating catalog. As the coronavirus pandemic has forced young creatives to find new hobbies, this type of elaborate, retro cake design has seen a resurgence resurgence, in both edible and inedible forms. "It definitely was really shitty at first, but I'm kind of getting okay at it," Archie said of her creations.
Pretty Shitty Cakes found new interest among Archie's circle of younger, home decor-obsessed creatives, with regular appearances on popular design inspiration pages. Since January, she has sold around 200 fake cakes, taking orders at the start of every month through Instagram DMs since she's been too busy to set up a web shop. This month, she had to close orders on the 19th due to overwhelming demand. "It's growing way faster than I can keep up, but I'm loving it," she said. Similar sellers, like the UK-based Happy Crappy Cakes, have also popped up in the meantime. 
Unlike a real bakery, you can start a fake cakery with relative ease. Despite describing herself as a "horrible baker and cook," Archie has quickly become adept at piping and smoothing spackle. Fake cakes don't require kitchen knowledge, perishable ingredients, a special space, or a permit to sell them; you can mail them without worries about refrigeration or overnight shipping. Those logistics are why Rebecca Uriarte of Aunt Beck's Bakery in Huntington Beach, California transitioned from a 30-year career of baking and decorating real cakes to turning styrofoam, paper, and paint into cake doppelgangers—including Victorian-themed pastel layer cakes and slices that look real, but not quite. "I already knew the skill, so the switch was easy," Uriarte said.
Though Archie focuses on the home decor market, Uriarte has seen a broad range of uses for her work, from photographers buying them as props for photoshoots, to people displaying them as seasonal decorations, to pet owners featuring them at an animal's birthday celebration. Some of her designs are realistic enough to trick people into thinking they're getting dessert, while others are so glittery and exaggerated that their sole purpose is fun, she said. 
Decorative cakes aren't a new practice at all: At the marriage of Queen Victoria's daughter, Victoria Adelaide Mary Louisa, to German Emperor Frederick III in 1858, only the bottom layer of their tiered cake was edible, and variations on that practice have endured in the wedding world. The company FunCakes, for example, has offered fake cake rentals since 2007. Dummy cakes like these allow couples to display elaborate, tiered cakes at their receptions, but without the high price of a real cake. The swap happens when the "cake" is "cut," since sheet cake, which is less laborious to make and therefore cheaper, is served to guests instead, as seen recently in the Netflix show Marriage or Mortgage.
Dummies are also used if a person wants a big cake for a small wedding; for competitions, to avoid food waste; and in the sorts of bakery displays that many readers will already be familiar with. One Australian baker even recently turned to fake cakes in response to COVID-related restrictions that prevented people from serving the desserts used in cake-cutting ceremonies. 
Despite her dashed diner carousel dreams, I wondered if the fake cake shrine brings Klausner the joy she'd imagined. "Yes, but in kind of a sickly strange way," she said. "I really like fake food, because, at the end, it's essentially hollow. Because everything is perfect about it, there is something that's not delicious." 
This is the paradox of highly stylized cake: Real cakes can look fake, and fake cakes can look real. Just as fondant, though aesthetically seamless, results in a much-loathed eating experience, a pretty cake doesn't imply deliciousness—and ugly cakes might even taste the best. One of Klausner's favorite cakes, in fact, is the kind that comes out of a box and that you then frost, lopsided, with a plastic knife in a break room. "Those, to me, are the most delicious," she said. "They're just not the most beautiful. These are beautiful, but they're also soulless." 
There's another thing Klausner pointed out: to lean into the perfection of fake cakes is to make them campier. "Camp," of course, being a reference to the phenomenon that writer Susan Sontag explained in 1964's "Notes on Camp," and which served as the theme of 2019's Met Gala. "To start very generally: Camp is a certain mode of aestheticism," Sontag wrote. "It is one way of seeing the world as an aesthetic phenomenon. That way, the way of Camp, is not in terms of beauty, but in terms of the degree of artifice, of stylization."
In other words, while a fake cake might be both nutritionally and physically hollow, it's not without meaning. Klausner, for her part, said she explicitly sought out designs that brought to mind her '80s childhood. (Her entire apartment, done in collaboration with designer Steven Hammel, is heavy with nostalgic '70s and '80s nods: bold color, loud prints, and Memphis group influences.) Sugary icing and sprinkles will always evoke girliness and childhood for her in a way that a Jell-O mold never could, she said, bringing to mind the saccharine sheet cakes one might serve at a McDonald's birthday party. "I think the cakes that you remember when you're a child are the ones that will always be cake to you in the way that you want cake to be," she said. 
Beyond the most obvious explanation for buying fake cakes, which is that cake is fun and fake cake is even more fun, perhaps fake cake is about a sense of permanence; it brings pleasant memories to mind, but it also lasts forever, unlike a piece of real cake that must be eaten or frozen before it becomes stale and sad. Fake cake is a lasting piece of decadence that you give yourself just to have something beautiful. 
Because Klausner had also mentioned her love for pie, I had to ask: Would she ever have a fake pie in her home?
To this, she cited a theory from a friend: A pie is something you make that's about the person you're baking it for, while cake is something you bake because it's all about you. "I don't know if that's true or not, but I absolutely love the theory," she said.
"I love pie, but there are no fake pies in my home, which I think answers your question," she continued. "The other thing is, I won't have fake cupcakes in my home, I will not have fake cake pops in my home; this is not about trendy fake desserts." Those short-term fixations won't last forever, but a fake cake will.
Follow Bettina Makalintal on Twitter.