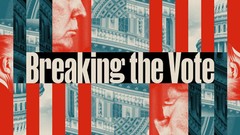 A series tracking the growing assault on voting rights, and efforts to undermine the democratic process in America.
The last time the ultra-conservative faction of House Republicans known as the Freedom Caucus elected a leader, Pennsylvania Rep. Scott Perry hadn't quite earned his bona fides. Now, fresh off news that he played a key role in Donald Trump's 2020 coup attempt, Perry is apparently much more qualified for the job. 
Perry got elected as the new chairman of the Freedom Caucus this week, inheriting the job created by its founder, a then-North Carolina congressman named Mark Meadows. Yup, that's the same Mark Meadows who went on to become Trump's White House chief of staff and who this week refused to comply with a subpoena from the January 6 select committee to tell what he knows about Trump's coup attempt. 
The Freedom Caucus was once the place where 40 or so right-wing lawmakers like Meadows and Ohio Rep. Jim Jordan made trouble for GOP leaders, messing with bills over conservative leverage issues like abortion and immigration. They got powerful enough to oust Speaker John Boehner in 2015, and he's had a few things to say about them since. Today, the Freedom Caucus is Trump's most loyal power base in Congress, where messianic messengers like Matt Gaetz, Marjorie Taylor Greene, and Paul Gosar gather to push lies about a stolen election and to help recast the deadly Jan. 6 riot as a patriotic cause. 
Want more of what you're reading here? Subscribe to the weekly Breaking the Vote newsletter from VICE News.
In the weeks after Trump's 2020 loss, Perry leaned on DOJ officials to investigate bogus fraud claims in Pennsylvania and recruited other Justice officials into the effort to overturn election results coordinated from the White House, according to a Senate investigation. As such, he's a potential witness, if not a possible actor, in the investigation of the coup plot. 
With those qualifications, Perry is now the point man for the Freedom Caucus as it boosts violent tweets against Democrats and threats against fellow Republicans who vote for bipartisan bills. Next year, when GOP Leader Kevin McCarthy will probably become Speaker under Republican control, it'll be Perry's job to act as an enforcer, making sure McCarthy, or whoever the speaker is, doesn't stray from the Trumpist doctrine of retribution and election damage. 
It flew under the radar this week, but there are signs that McCarthy already has a head start. Freedom Caucus member Rep. Chip Roy, of Texas, blasted McCarthy for failing to prevent a few Republicans from voting for an infrastructure bill. Roy was annoyed that he had to explain that to angry constituents.
McCarthy shot back that he often has to explain Roy's votes, too. More than one person noticed that Roy, a staunch Trumpist conservative, voted to certify the 2020 election results on Jan. 6. That makes him an outlier among his Freedom Caucus friends. If that was McCarthy's point, what you see there is the probable future Speaker of the House using a member's vote to certify a fair election as a weapon against them.
That, along with the Paul Gosar episode, tells us a lot about the kind of future—and the kind of accountability—McCarthy, Perry, and the Freedom Caucus are building for when they have real power.
About a dozen Freedom Caucus lawmakers gathered in solidarity behind Rep. Paul Gosar as he stood in the well of the House to face a rare censure this week. He was there because of the video his office tweeted depicting him killing Democratic Rep. Alexandria Ocasio-Cortez. 
Gosar made sure to say on right-wing media outlets that he's not sorry for the violent video, while mainstream outlets dutifully carried the message that he expressed "regret." There was little to expect from Gosar, who has a track record of supporting the insurrection and consorting with white supremacists. What was important was what GOP Leader Kevin McCarthy had to say. 
Up until the censure vote, McCarthy hadn't criticized Gosar. Would he, the likely future Speaker of the House, who had condemned Trump immediately after the Jan. 6 insurrection and blamed him for inciting it, only to quickly retreat, use the spectacle of the censure vote to unmistakably condemn political violence? 
Nope! Instead, McCarthy offered a litany of familiar attacks against Democrats, and a general, non-specific condemnation of violence. For Gosar, and his actions, he had no criticism at all. 
Trump's Freedom Caucus soldiers spent the earlier part of the week vowing retribution on anyone seeking accountability for the violent Jan. 6 riot and parallel coup attempt. Meanwhile, Rep. Marjorie Taylor Greene made clear she was monitoring McCarthy for signs of weakness.  
Mark Meadows is one of the people closely watching what happens to Steven Bannon for blowing off the Jan. 6 committee's subpoenas. Last week I wrote about what's at stake as prosecutors decide whether to charge Bannon with contempt. 
A week later, Bannon pleaded "not guilty" to two counts of contempt of Congress. Bannon appeared outside the federal courthouse, where he stood flanked by Trump's (second) impeachment lawyer, David Schoen, and vowed to "go on offense" against his enemies. 
VICE News Tonight's Liz Landers caught up with Bannon outside the courthouse to ask the question Bannon won't answer for Jan. 6 investigators.
Still, it's vital to remember that Bannon's biggest fight here isn't the legal one over his contempt. David Frum of The Atlantic has an important piece explaining how Bannon is likely to use his court battle and the spectacle around it to wage his real war. Ever hear of the Chicago 7? "The prosecution was doing law; the defense countered with politics," Frum writes.
Lest you think the Justice Department, Congress, and state governments were the only places where Trump and his allies tried to pull off their 2020 election takeover, we learned this week that Trump acolytes also tried to mobilize the military to aid in the coup attempt. Turns out General-turned-National-Security-Advisor-turned-admitted-felon-turned-QAnon-conspiracist Michael Flynn reportedly called on a former subordinate still serving at the Pentagon to "get orders signed" to seize election ballots and stop Biden from being declared the winner. It all comes from ABC News correspondent Jonathan Karl's new book, "Betrayal: The Final Act of the Trump Show," which hit stores this week. 
Karl also details how lawyer Sidney Powell, now infamous for getting herself sanctioned and sued over "Kraken" lawsuits about voting machines, tried to enlist the same DOD official, Ezra Cohen, in a crackpot QAnon conspiracy theory. The idea was that then-CIA Director Gina Haspel had been injured and taken into custody while on a secret election-manipulation mission in Germany. Karl reports that Cohen argued with Flynn and reported Powell's "out of her mind" call to the acting secretary of defense. 
Karl writes his mind was "boggled' by the depredations he discovered interviewing Trump for the book. And he got a tough review from the New York Times' Jennifer Szalai, who wondered how a journalist of Karl's experience could have been so late to the realization that Trump and his authoritarian strategies were a threat to democracy. 
Wyoming Republican Rep. Liz Cheney was already on the outs with her state's Republican Party when she voted to censure Gosar for his office's tweets depicting him killing AOC. Earlier in the week, Wyoming GOPs voted to no longer recognize Cheney as a Republican, after she committed the dual sins of voting to impeach Trump for inciting the Jan. 6 mob and joining the select committee investigating the insurrection. 
The narrow 31-29 vote telegraphs the ugly fight Cheney faces to stay in Congress in 2022 with Trump and his loyalists against her. A Cheney spokesperson called the idea that his boss isn't sufficiently conservative "laughable." Of course, it's not her conservatism that's the issue but her lack of loyalty. Cheyenne attorney Harriet Hagemen, Trump's endorsed primary challenger, said Cheney "broke with where we are as a state" when she went against Trump. 
The guy who became the global face of the Jan. 6 insurrection by parading through the Capitol in Viking horns and face-paint on behalf of Donald Trump got nearly three and a half years in prison this week. Jacob Chansley, aka the "QAnon Shaman," was sentenced to 41 months behind bars, including 10 months he's already served. That's the toughest sentence for any Jan. 6 rioter to date, and a weird scene in the ongoing weirdness Chansley and his lawyers manufactured after the insurrection.
Chansley climbed on the dais in the Senate, where prosecutors said he scrawled a note for Mike Pence that said "It's Only A Matter of Time. Justice Is Coming."
Chansley delivered a long, at times contrite statement to Judge Joyce Lamberth, but Lamberth still stuck him with a relatively long sentence. Prosecutors say Chansley was among the first few rioters to enter the Capitol, that he carried a spear into the building, and that he rallied other rioters to bring out lawmakers from inside.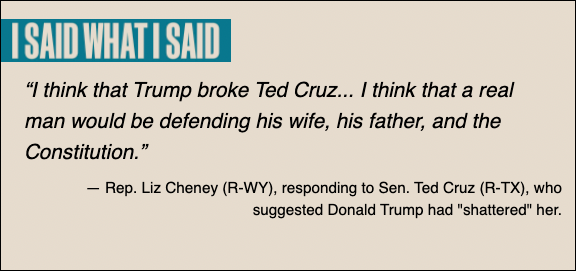 A Mile High with QAnon — There've been more and more stories of local officials acting out their QAnon fantasies on the very real elections we're supposed to trust them with. 
This week the FBI raided the home of a Republican Colorado election official who's accused of facilitating leaks that ended with QAnon figures posting the contents of voting machine hard drives online. VICE News' David Gilbert has the story on Tina Peters, an official from Mesa County, who, along with three others, got an early-morning visit from the feds Tuesday. 
Peters turned up at the August "Cyber Symposium" hosted by MyPillow CEO and leading Trumpist election conspiracist Mike Lindell, and VICE News Tonight was there to document the scene, including a pretty nutso interview with Lindell: 
Pro-Insurrection 2020 Check-in — Meet the Virginia state senator who gave a speech at the Jan. 6 Stop the Steal rally, praised rioters as "patriots," supported calls for martial law to overturn the election, then played a key role in electing businessman Glenn Youngkin governor. She's Amanda Chase, and she's running for Congress.
American Radicals — Who exactly were those bedraggled Michigan guys who plotted to abduct, hog-tie, and execute Gov. Gretchen Whitmer? Journalist Nina Burleigh has this don't-miss look into the militiamen who called themselves The Watchmen, how they got radicalized in a Facebook-fueled haze of anti-government Christianity, and how an informant with guts blew up the plot. When you read it, you'll wonder how many more of these guys are out there waiting for the signal to strike. 
Savior of the Republic… Pat Toomey? — If you don't know who Pat Toomey is, don't feel bad. He's a not-super-famous GOP senator from Pennsylvania. And according to some new research, he's the man who can convince Republicans the election wasn't stolen. 
Researchers at Stanford University wanted to see whether statements from "elite" political figures could knock people (especially Republicans) off the idea the 2020 election was stolen. They showed subjects a bunch of clips of Republicans and Democrats stating that the election was secure, and, it turns out, a significant number of Republicans actually responded. One of the guys who worked: Pat Toomey. 
It's good news, according to the researchers, because it suggests GOP elites can sway public opinion against Big Lie BS. Aaaaand here's the problem: This stuff worked under laboratory conditions, but in the real world, Toomey is retiring from the Senate, after years getting trashed by Trump. So much for our experimental heroes.  
An Election Plotter on the Election Board — You know the one where the bank robber is put in charge of vault security? A lawyer who's on tape trying to help Trump muscle Georgia officials into stealing the 2020 election was appointed to a federal election integrity advisory committee, it was reported this week. Attorney Cleta Mitchell got named to the Board of Advisors for the federal Election Assistance Commission, which makes recommendations on election security and best practices. 
Mitchell was on the line when Trump called Georgia Secretary of State Brad Raffensperger on Jan. 2, trying to get Raffensperger to overturn Biden's win in Georgia. She can be heard tossing out a lot of theories at the official, trying to get him to decertify election results.  Mitchell was appointed back in August, but no one noticed until she joined the board earlier this month. 
From THE ATLANTIC
Opinion: Biden is preparing for his democracy summit. He should begin at home
From THE WASHINGTON POST