Alexis Winning's favorite photo from Derby Lane's archives is a memorable one. In the Depression-era black-and-white, a little girl extends her hand towards a monkey who is riding on the back of a greyhound. The monkey was actually a jockey and the winner of a special race featuring all dog-riding primates.

"She's offering a peanut and probably wondering if the monkey is gonna bite her finger," Winning said, laughing.
The little girl in the photo is Alexis's grandmother, Mary Margaret Winning, the longtime matriarch of Derby Lane who died last year at the age of 94. It's a striking visual reminder of the family's five generations of history at the track.
If Fenway Park is the spiritual home of baseball, then Derby Lane, in St. Petersburg, Florida, is the Fenway of greyhound racing. Its massive, old-fashioned red neon signage has been luring drivers in from the nearby Gandy Boulevard since the Hoover Administration. 
But in November of 2018, Florida voters passed Amendment 13, which called for the abolishment of greyhound racing in the state by the end of 2020. Today, dog racing is a dying pastime in the U.S., an echo of 1920 and 30s Ragtime America. Tracks still operate in Arkansas, Iowa, and West Virginia, but Florida was the big leagues of dog racing in the U.S.—as recently as two years ago, 11 out of the last remaining 17 commercial dog tracks in the States were in the Sunshine State. Given national trends as well as Florida's stature as the sport's last stateside stronghold, it's not a stretch to say Amendment 13 could herald the end of dog racing in America.
Derby Lane is a family-owned business and has been from the start; in fact, it's still in the same family—the Winning family (yes, really). Richard Winning is the CEO of the St. Petersburg Kennel Club, the company that owns Derby Lane, and his family has owned the track for five generations.

Alexis, his daughter, is the Marketing/Social Media Coordinator for Derby Lane and has worked there for 15 years in nearly every capacity: administrative assistant, poker room cashier, special events coordinator. Few know the track, or the business of greyhound racing, better.
Winning's great-great-grandfather, TL Weaver, sold the land to some businessmen who had plans for a greyhound track, but the buyers defaulted on their loan—so Weaver ended up with it. The racetrack has been in the family ever since. "This is the oldest continuously operating dog track in the world," Winning said, "and we want to be there until the end." 
So what led Floridians to change their minds? A mix of changing cultural attitudes towards animals in general (and dogs specifically), several high-profile industry scandals that drew outrage, and a massive public campaign coordinated by various groups opposed to greyhound racing.
There's been a nationwide shift in thinking about how animals in the United States are treated, and the developments in Florida are evidence of that. Performing circus animals have been widely outlawed, and even Ringling Bros. & Barnum and Bailey ended "The Greatest Show on Earth" several years ago, largely due to pressure from PETA. California passed a law requiring more space for various farm animals and banning cages for egg-producing hens. And New York City has been steadily limiting Central Park's famous horse-drawn carriages, with an outright ban likely on the way.

But dogs occupy their own special place in the debate over the treatment of animals, having undergone a status upgrade from backyard pets to family members, ones that Americans are willing to spend heavily on (in 2018, Americans spent a record total of $72 billion on their pets). Any intimation that they're being mistreated—let alone being doped up with cocaine or steroids—is capable of incensing the greater public.
It's this cultural shift that allowed Amendment 13 to pass with an overwhelming 69 percent of voters choosing to end racing; in an age of extreme partisan polarization, it was that rare beast with massive bipartisan support. The amendment was endorsed by (take a deep breath): Lara Trump, former Democratic gubernatorial candidate Andrew Gillum, Republican Governor Rick Scott, the League of Women Voters of Florida, Attorney General Pam Bondi, Republican Congressman Matt Gaetz, the Democratic Progressive Caucus of Florida, former Republican presidential candidate Mike Huckabee, the Florida College Democrats, and the Florida Federation of Republican Women.
Many organizations poured money into the ad campaign for Amendment 13, including well-known groups like the Humane Society, the ASPCA, and PETA, but the push in Florida was spearheaded by GREY2K USA, a non-profit that merges grassroots advocacy with political engagement and aims "to represent the dogs themselves, work to pass greyhound protection laws, end dog racing, and promote adoption." The group is led by Carey Theil, who has been in charge of research and political efforts over the last two decades.
"Greyhound racing is cruel and inhumane and should be phased out," Theil said—and he now believes that's only a matter of time until it is. "Racing is going to end completely in the United States. The only question left is how long that process will take and how many dogs will suffer in the meantime."
The trends and stats nationwide make a solid case for his prediction. According to the Association of Racing Commissioners Intl. and collective state data, $3.5 billion was bet nationally at dog racing's peak in 1991. At the time, there were more than 60 racetracks in 19 states. By 2014, gambling on racing had dropped to a comparatively meager $400 million. In Theil's eyes, it's "a depression-era relic of an industry that just happens to still exist today and will soon be relegated to the history books."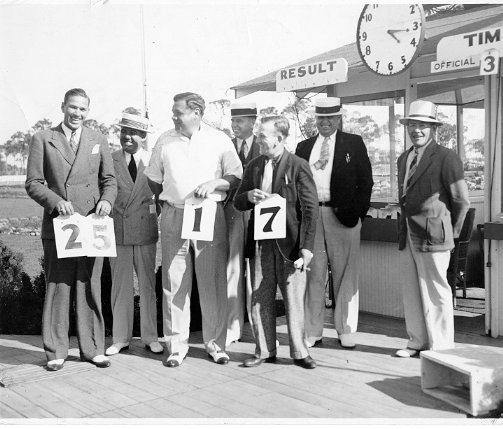 In its nearly century-long run in Florida, dog racing has evolved in unpredictable ways. In racing's early days, during Prohibition, Florida was flooded with gangsters and illegal booze. These races were, technically speaking, illegal, and known to be associated with organized crime—but in 1931, pari-mutuel betting was legalized, and the game became respectable. Under this system—familiar to fans of horse racing—specific bets of a certain kind (i.e. a bet that dog No. 3 will place first) are grouped together into a pool. Taxes and the house cut are deducted from the pool, and payoffs for the winners are calculated by dividing the pool among all winning bets. This way, a bet correctly guessing the top three finishers of a race will pay off at a much higher rate than a simpler bet for a single dog to "place" in the top three. State officials saw this influx of cash as an easy way to add revenue amid the Great Depression.

Derby Lane's first dog races were held on Jan. 3, 1925, and the early years were star-studded and glamorous. Greyhound racing enjoyed a glitzy aura of celebrity and wealth. Professional baseball players in Florida would come to the tracks for spring training and bet fistfuls of cash; Babe Ruth was a regular patron, along with other legends like Dizzy Dean, Lou Gehrig, and "Rabbit" Maranville. In 1951, Mickey Mantle filmed a cigarette commercial here. The old grandstands have hosted Hollywood royalty as well—as late as 2001, Brad Pitt and Carl Reiner shot a scene there for the now-classic heist caper Ocean's 11. But like the public perception of the Mick's cigarettes, dog racing's image has drastically changed as well.
My hometown, Dunedin, is 20 miles north of St. Petersburg, and I went to high school in The Burg. While the track's appeal was still strong in the late 1990s and early 2000s, the glamour was mostly gone. That isn't to say Derby Lane wasn't cool; it very much was. Derby Lane is a piece of old Florida history; and growing up in Pinellas County, attending a race is a rite of passage upon turning 18.

For today's locals, hitting the track is a fun, affordable night out. It was a great place to go for those dwelling in the limbo between 18 and 21. Entry is free, the programs with all the dogs' statistics are $1.25, and minimum bets are only $2. Once you hit the legal drinking age, the cheap draft beers made Derby Lane an even bigger draw. One of my best friends (Gabriel Aluisy, the photographer for this story) had his bachelor party there.
On the one hand, it was a place where retirees whiled away time, but on the other, a place that featured fast dogs, gambling, and inexpensive booze. Even in the early 2000s, the track felt like something forbidden; the experience of betting was anachronistic, like Dick Tracy and Elliot Ness could show up and raid the place at any moment. There were usually a few shady characters hanging around. Naturally, we loved it.
Many Florida tracks became loss leaders, and owners opted to close ahead of the deadline for Amendment 13. Sarasota Kennel Club, another historic track with a history dating back to 1929, ended races in May 2019. Derby Lane, however, has remained a profitable enterprise. The "handle," or yearly take from racing (ignoring poker and other streams of income), hit a high of $80 million in 2006, and is, even now, around $20 million. Derby Lane will carry on business as usual to the last possible day—Winning views it as the least they can do for the track's employees.
What she most wants people to remember about the near-century of greyhound racing in St. Petersburg is the historic nature of Derby Lane, from when it opened on Jan. 3, 1925, to its forthcoming final race on Dec. 27. "I want people to think of the thousands of employees who worked at Derby Lane, from high schoolers getting their first job as a lead-out, to seasonal employees who held jobs for many years. The people who worked so hard to make Derby Lane a destination," said Winning. "What many don't realize is every track in Florida directly affects the basic infrastructure in that city. St. Pete is one of those cities that are going to feel that. There are so many local businesses and charities that we have worked with throughout the years." 
"There are movies like Seabiscuit, parties for the Kentucky Derby—it's a part of our culture. People know the horses' names, like American Pharoah… You couldn't find two people in 100 to tell you the names of the world's fastest dogs."
Since 1931, approximately $75.5 billion in pari-mutuel handle wagered has resulted in $4.38 billion in state revenue; the industry may not be what it once was, but the stakes are not small for those directly involved in the industry, as well as those on the periphery, such as greyhound adoption agencies—and in a development many wouldn't expect, some have become a source of support for the racing industry. John Parker, VP for Greyhound Adopters for Racing, believes racing is good for the individual dogs, good for the breed, and good for the economy.

"Racing is one of the keys to the long-term best interests of the breed because racing maintains their genetic diversity," Parker said, adding that since they're bred for athletic excellence, "racing greyhounds have far more genetic diversity than other breeds—there is almost zero hip dysplasia, for instance. When you have inbreeding, which is quite common in the world of show dogs, these genetic health problems become concentrated."
But a sticking point for many Florida voters was one rather grim, unavoidable fact of dog racing: some dogs will get injured, and some of those dogs will die. As Theil pointed out, "The state of Florida does require public reporting of all deaths that occur on track property. According to the state, 531 greyhounds have died at Florida racetracks since May 2013. And most of these deaths occurred after dogs suffered serious injuries while racing."

Florida does not, however, require the public reporting of greyhound injuries. "There is extensive evidence that injuries are a serious problem at every track in the state," said Theil. Seminole County passed a county-wide injury reporting requirement in 2017. Over the past three years, 147 greyhound injuries have been reported at the single track in that County, Sanford Orlando Kennel Club, including 106 dogs that suffered broken bones.

So what does Parker say to those who are concerned with injured dogs, or dogs that must be euthanized?
"Injuries are very rare, and the way it's presented is often decontextualized. How do the injury rates compare to dogs in the pet world? Injury rates are between 1 and 2 percent of all racing starts," Parker explained. "Greyhound racing has a better track record than horse racing, and I think doctors will tell you that they see more injuries at home than on the track. The folks at Grey2KUSA use the stats to make it look like they are more frequent than they are."

Parker argued that the very nature of greyhounds makes them more injury-prone than other breeds, and he feels the blame racing itself receives for the injuries is misplaced. "I always tell people, these dogs have very big engines on light frames," he said. "I have a pet greyhound myself, and she recently suffered a compound fracture."

As far as the bell tolling for dog racing in America, Parker isn't ready to call it yet. "I think the jury is still out on that. We do need to remake the business, and venues should be owned by greyhound people and racing people, not just gambling people."
Derby Lane will continue to offer poker and simulcast wagering as long as the state allows. And Parker is quick to point out that Amendment 13 has a rather large loophole. "It does not, as many have stated, 'ban greyhound racing in Florida.' It only bans gambling in Florida on greyhound racing in Florida," he said. "Floridians can still bet on racing held in other states simply by going to a facility in Florida that offers simulcast wagering. Greyhound racing could still be held in Florida with wagering coming from sources outside Florida." So it's possible there is some wiggle room for the industry if it can explore other revenue models.
When pressed for details on how to reinvent the industry, Parker said he wants to "emphasize the sport aspect of it, like horse racing does. They've maintained their image as a mainstream sport, and greyhound racing has not. There are movies like Seabiscuit, parties for the Kentucky Derby—it's a part of our culture. People know the horses' names, like American Pharoah… You couldn't find two people in 100 to tell you the names of the world's fastest dogs."
Although the Amendment had two years to be phased in, there have been some fears that "unemployed" dogs in Florida won't find homes and will have to be euthanized—claims that Parker says are nonsense.
"I guarantee you no dogs will be euthanized because of racing being shut down. Even some racing people have indulged in that misinformation, and it's a shame," Parker said. "The adoption community is ready, and can handle it—we've done this before."

This is a point that Parker and Theil actually agree on. Theil said that during the campaign, some opponents of Grey2kUSA "used the adoption issue as a scare tactic," claiming that dogs would go unadopted and have to be euthanized—but he doesn't accord this argument much weight.

"When dog racing has ended elsewhere, it has led to record years for greyhound adoption—and we believe the same thing will happen in Florida," said Theil. However, Theil does believe that adoption has been deeply politicized by the industry over the past year. "Dog racing promoters have made a conscious effort to turn the greyhound rescue community into a public relations arm of the industry—every group that spoke out about animal welfare problems has been ostracized and forced to close. Only certain groups are given access to dogs now and must be enthusiastically supportive of greyhound racing and willing to defend it to keep their industry imprimatur." Everyone seems to agree the dogs deserve good lives; how that's being done and who gets to help do it is still a matter of contention.
While there's no doubt the industry has greatly cleaned up its act since the 1980s and vastly improved conditions and treatment of dogs, it's also been rocked by a series of scandals in recent years. The most bizarre—and the one that likely grabbed the most headlines—was in 2017, when dogs in the care of a Florida trainer tested positive for cocaine (more specifically, the dogs tested positive for Benzoylecgonine, a metabolite of cocaine). All dogs that win a race are tested, along with another dog chosen at random. In this case, a race winner tested positive, indicating that someone had attempted (successfully, it would seem) to give certain dogs a competitive edge.

Winning has doubts and said that important details of that case haven't been publicized, including the validity of the urine samples. "Greyhounds are dropped off for weigh-in and are not around their kennel helpers or trainers for anywhere from one-and-a-half to five hours before they race. Honestly, I don't buy any of this. Cocaine is likely to kill a greyhound that reaches speeds of 45 miles per hour within its first six strides."

While "coked-up canines" may grab more headlines, another major doping concern for Theil is anabolic steroids.
"Female greyhounds are routinely given an anabolic steroid, methyltestosterone, to prevent a loss of race days," said Theil. The practice is outlawed in the racing industry in other countries (the UK, Australia, and New Zealand) but continues in the United States. "There are serious health issues related to the use of this drug, which by definition enhances performance." Theil noted that the Florida House and Senate both voted to outlaw the practice, but that "each time, the bill died during the final days of the legislative session."

"Over the past decade there have been more than 400 greyhound drug positives at Florida tracks, including more than 70 greyhound cocaine positives, as well as positive results for novocaine, lidocaine, and the opiates oxycodone and oxymorphone," said Theil.

Aside from the doping, concerns were raised about the dogs' habitats and how they are cared for, with some groups (among them Grey2kUSA) claiming that the dogs are kept in cages for up to 23 hours a day.

Theil said that "dog tracks require a large number of dogs to operate—in July 2019 alone, 965 greyhounds raced at Palm Beach Kennel Club. Because of that, dogs are kept in large warehouse-style kennel compounds, in rows of stacked metal cages with carpet remnants or shredded paper as bedding. And those dogs are in these cages for 20 to 23 hours each day."

This is another claim that Winning disputes. "The dogs live their first year with their litter-mates playing and socializing, and they also have a lot of human interaction at the farm," she said. "Once a greyhound is racing, it only races once every four days."

Winning took particular issue with the ads during the campaign for Amendment 13, which showed greyhounds in cages and claimed they spent 23 hours a day in a crate. "Kennels at Derby Lane begin their first turn-out as early as 4 a.m.—when kennel workers clean and change bedding while the dogs spend time in the pen. And this is just the first of many turnouts, with the last being around 11 p.m.," said Winning. She made the valid point that this is "more than most people's dogs are let out. These dogs are athletes. If a dog was abused or confined, it would not perform well… A racing greyhound gets regular exercise, a cool-down bath after racing, massages, and is regularly checked over by a vet… What a terrible life they live, huh?"

As anyone who has attended a race can attest, the dogs do appear to be enjoying themselves, often straining eagerly against their handlers as they're led out to the track—something else Winning called attention to: "The dogs all have different dispositions. If a dog doesn't want to run, it doesn't. No one can make it run." Much in the same way some dogs bred for hunting simply won't hunt, not every greyhound is a born racer.
Winning chalks up the loss at the ballot box to misconceptions about greyhound racing, and a lack of education about the sport. She feels Amendment 13's passage came down to "the humanization of pets, specifically dogs, that has occurred over the years." Following the public hearings, the Humane Society and Protect Dogs Yes on 13 campaign "dumped a bunch of money into television ads—and that really got into Florida voter's heads." 
Derby Lane tried to counter this wave of ads—the track even tried to host public kennel tours to be more transparent, but Winning said that "once word spread that we were running tours, the opposition dug through the pari-mutuel wagering division rules and found one that overruled our own track policy regarding tours," meaning they were able to prevent Derby Lane from inviting the public to view operations. 
"So obviously, they didn't want people to see what really happens—or those people would be likely to vote in our favor and not theirs." Still, the industry in Florida countered the emotionally charged television ads with a billboard campaign, and didn't seem to devote anywhere near the financial resources as their opposition did to swaying public opinion; it's certainly possible they underestimated what turned out to be an existential threat.
The old grandstands aren't nearly as packed as they were in the glory days, but on a hot and breezy day last year in August, there was still a healthy smattering of people, and that was despite competition from a Buccaneers pre-season game in neighboring Tampa Bay. The track's circular course of white sand contains a grassy infield and a small pond and fountain in the middle, with five palm trees sprouting from a tiny island in the water.

Races can go for either 550 or 660 yards, and betting tickets are bought from windows at the ground level. Poker rooms and the track's flagship restaurant Circa 1925 are on the third level, but down on the ground is the preferred spot to watch the races, where the scent of hot dogs, popcorn, and industrial light lager wafts on the breeze.
Speaking to Winning, it's clear she loves what she does. "I think my favorite thing about working at Derby Lane is that it is a 94-year-old family-owned and operated business," she said. "To see a local place with nearly 450 employees—employed year-round—still being run by a family is very rare these days." According to her, many employees have spent decades working in the industry, and will now need to be re-trained in a new field, "if they are still young enough."
Jonathan Aluisy, aka "The South Snake" (he's Gabriel Aluisy's father), has been coming to the dog track at Derby Lane since 1994. And despite a lifetime ban (a misunderstanding and later rescinded after some shrewd lobbying on his part), he is as much of a regular as it gets. 
"These last 10 years, since I retired, I've been coming here five days a week. Most of us play poker in the morning, too," said Aluisy. "It's a very friendly atmosphere, parking is free, admission is free—you can't beat that."
Like most Floridians, I voted Yes on Amendment 13. As things stand, it doesn't seem possible to divorce the industry from dogs becoming injured. Whether or not they are likely to get injured at home as well, I'm not okay with even one dog getting hurt or killed for my entertainment. But I'd be lying if I said that I wasn't going to miss Derby Lane. The place has character, something that Florida seems forever intent on eradicating with garish billboards, soulless strip malls, and bland chain restaurants.
The bipartisan political heft behind Amendment 13 all but ensures Florida's days as America's dog racing capital are over—for the moment. Aluisy isn't happy about it.

"This law stinks. These dogs were born for racing, it's in their genes," he said, echoing the sentiments of Parker. "After a race, their tails are all wagging—they love to race… On a two-dollar bet, you can make a few thousand—that's juicy! I'm going to miss Derby Lane a lot, and so will thousands of others."
Theil sees the phased ending of greyhound racing in Florida as something that even a state as politically divided against itself as Florida can agree on. "We're living through an era that is so divided, so much cynicism—this issue is an example of democracy working," he said. "For the animal welfare community to flex its muscles and to take on an industry that used to be so powerful? Personally, it's very gratifying—but I also recognize it is disruptive. Individuals are having to make new lives. Dogs are being displaced. I am empathetic. But it doesn't take away from the fact this is proof that ordinary people can say: 'This goes against our values, and it's going to end.'"