Photo by Kim Klement-USA TODAY Sports
Spring training is finally here, and the Toronto Blue Jays are looking as close as ever to having their 2018 roster set. What that roster looks like by the end of the year, though, remains very difficult to see.
Will Josh Donaldson remain a Blue Jay? Has the team done itself a disservice by angering Marcus Stroman during their arbitration hearing? Why is Ezequiel Carrera even here? And… uh… should Troy Tulowitzki just retire already?
These questions—and also some better ones!—are currently burning up the minds of Jays fans. Which also means that they're front and centre in this week's edition of our Blue Jays mailbag. So let's dive in!
And remember, if you have a Blue Jays question you'd like me to tackle for the next mailbag, be sure to send it to stoeten@gmail.com. As always, I have not read any of Griff's answers.
Stoeten,
Well, looks like we have a few months, potentially, to figure out what a Josh Donaldson extension looks like. JD is saying he can play into his age 39-40 seasons, meaning 7-8 years. At Pitch Talks, Ross Atkins said something along the lines of the Jays having a number in mind that could make JD a Blue Jay for the rest of his career. I think Ross is a smart man and there's no way he can think Donaldson only has, say, 4-5 years left (or at least would hedge a bit beyond that, would be my thought). So, if the Jays front office and Josh Donaldson both potentially have a 7-year contract in mind based on statements they've made, I would think their impasse is either a matter of annual salary, or perhaps the Jays wanting the back-end protected with option years and incentives - I wouldn't be surprised if the Blue Jays may be thinking 5 years/$100ish million with a couple of option years at the end (or maybe a back-loaded deal beyond the expiry of Martin's and Tulo's contracts). I don't think an opt-out makes sense for Donaldson, so I'm wondering if the guarantee is less than what he wants while the total may be somewhat closer to what both sides want? What do you think?
Thanks,
Julius
I think you've got it about right, though I maybe wouldn't read quite as much into Atkins talking about making Donaldson a Blue Jay for life. Unless, as you say, you're talking about a deal with some on the back end of it.
I do think that term is probably an issue here. Though, really, term is mostly just about raising the total guaranteed amount of a deal—especially when we're talking about a player who rightly doesn't view his chances of getting a second big free agent payday, once his next contract expires, very highly. The total value of the deal is very secondary. And the thing is, if J.D. Martinez, as he heads into his age 30 season, can only get a five-year deal—which in reality looks a whole lot like a two-year deal, as he'll be able to opt out after with three years and $60 million remaining on it—I suspect the Jays believe they would be bidding against themselves with Donaldson if they were willing to go much higher than that. Or maybe even that far.
Josh will turn 33 about four months prior to opening day of 2019, and as much as he wants to get paid beyond age 37 and 38, and as great a player as he is, teams just do not seem to want to do that anymore—and they have been especially disciplined about it this winter. Plus, Martinez and Donaldson are very similar hitters. Over the last four seasons combined, Donaldson has produced a 148 wRC+, and for Martinez that number is 149. Donaldson has been far more valuable over that span (28 WAR to 14.6) because of his defence, and, to a lesser extent, his superior baserunning. It's undeniable that having someone who can handle third base is much more valuable than a DH who might play a little outfield (which appears will be Martinez's role in Boston), and I don't think Donaldson is going to have to move off the position anytime soon. But how much is that defence going to be worth over the life of Donaldson's next contract, especially since in the last two years he's gone from being significantly above average (+24.6 UZR and +31 DRS over 2014 and 2015 combined) to being basically just average (-0.9 UZR and +3 DRS in 2017).
And when you consider that, because of the age difference, it's probably not smart to believe that the two players' bats will decline at the same rate, it gets even tougher for Josh, I think.
Jon Heyman of Fan Rag provoked a response from Donaldson when he wrote a few weeks ago that he "is believed to be seeking a monster payday, according to friends," but Josh offered something of a non-denial denial, tweeting at Heyman, "I respect what you do for a living, but you don't know my friends. Nor do my friends know what I want." Martinez, reportedly, began the offseason seeking seven-year, $210 million contract, and has ended up with $100 million less. I doubt Donaldson will have to come down by quite that much to ultimately get a team to sign him, but if he wants a whole lot more than what Martinez got—and I think you're right that he probably does—he's probably going to have to bend a little.
In the wake of Donaldson's comments on Monday, Ross Atkins says that he's still hopeful that the two sides can work out a deal that appropriately shares risk going forward. Maybe seeing where Martinez ended up will help to guide that process on the player's side. Jays fans would certainly be over the moon if they could figure something out, and rightly so.
---
Being a professional athlete means you get paid to play a sport. Tulo has not played for over six months and he says he can't commit to being ready for opening day. What am I missing? Isn't his job to be ready? Surgery or any means necessary - retire if u can't play.
Mike
Uh… what are you missing? Besides some basic humanity or an understanding of how our bodies work, you're missing the fact that it would be unbelievably stupid for a player to go all-out and to risk making an injury worse, putting his whole season—maybe his career—in jeopardy, just to be ready for one specific game. Is it the word "commit" that's throwing you off here? Do you think this implies he's somehow not trying? Or are you just using whatever you can as an excuse to justify how full your diaper gets any time you think of Tulowitzki?
If the ankle he blew up in late July isn't quite properly healed yet, it isn't properly healed. If a bone spur in his heel is complicating that recovery, it's complicating it. To cast this as some kind of a personal failing of his is not only incredibly shitty, but factually incorrect. And I highly doubt you'd set arbitrary "you must play by then or I will demand you retire" date on players you actually value when healthy. Will you be demanding Aaron Sanchez retire if his blister problem pops up again and he can't quite be ready for opening day?
The thing is, the aim of the Jays and Tulo is to make sure he is as healthy as he can be for the duration of the season. If that means all parties feel it's not in his and the team's interest for him to be out there on opening day, that would be unfortunate, but also completely and entirely fine.
---
Why be a "file and trial" team? Wouldn't all parties benefit from being able to say "oh, we're separated by $400,000, let's split the difference and avoid the arb hearing"?
@EastOfWestOf
Before we get to the meat of this question, a little background on the arbitration process. All players with between three and six years of big league service time (and a small group with between two and three years of service, known as Super Twos) are eligible for salary arbitration each winter. In a player's first three years of service (his "pre-arb" years) his team basically dictates what they will pay him, which is usually not much more than the league minimum (something you may remember Scott Boras grousing about on Aaron Sanchez's behalf a year ago). Once a player becomes eligible for arbitration, he has a little bit of leverage with which to fight for a higher salary. Most times players avoid arbitration by negotiating a salary with their club. But when the two sides can't come to an agreement prior to the league's arbitration filing deadline, which this year was Jan. 12, they're each required to submit what they think is an appropriate salary for the player, and eventually they'll meet with an arbitrator who will hear their cases and choose whether the player gets paid the salary that he wants, or the salary that the team suggests (something you heard Marcus Stroman grousing about last week).
A "file and trial" team is one that chooses to stop all negotiations with any of their arbitration-eligible players once the deadline to exchange salaries has passed. This year the Blue Jays had only two arbitration eligibles who they couldn't agree to terms on a contract with: Marcus Stroman and Roberto Osuna. So, as a "file and trial" team (which the club has been since at least the Anthopoulos era), they stopped all negotiations on Jan. 12, even though they weren't terribly far apart with either player. Stroman filed at $6.9 million, the Jays filed at $6.4 million. And Osuna filed at $5.8 million, and the Jays filed at $5.3 million.
The thing about "splitting the difference," though, is that these numbers don't represent the figures the two sides had been haggling over so much as they represent each side's strategic attempt at coming up with a salary that the arbitrator will find favourable. In all likelihood, during the closed door negotiations, the Jays were pushing for a lower number than the one they filed, and Stroman and his camp were pushing for a higher one. This is a fact that often gets lost when fans look at these arbitration exchanges—especially fans looking for an excuse to rage about their team being petty or pinching pennies.
If you're a team, using a hard deadline makes sense for a couple reasons. Not only are deadlines effective tools in negotiations but also it's just about being efficient with manpower, I think. I'm not sure how much preparation goes into the cases that are brought to the arbitrator, but it would be a bit of a waste to be doing that on one hand, while continuing negotiations on the other—especially if it turns out that the two sides managed to come to an agreement just before they were about to go into the room.
But, as to the actual question here, you might have a point. If, instead of "file and trial," a team had a policy of "file plus one day, then trial," just to leave open the ability to talk again after numbers are submitted, would we see teams or agents submitting numbers in bad faith? Not if they actually wanted to win the arbitration case, we wouldn't. So maybe it would make sense to see what the other side actually files, and then see if splitting the difference is something anyone thinks is agreeable. That said, I have no idea if some form of that isn't happening anyway, prior to the deadline.
Honestly, though, I'm not sure how much energy should really be invested in avoiding these hearings anyway. Sure, Stroman for a moment seemed like his feelings were hurt by it, but it's not like what he heard in the room is going to actually change anything. His goals and the Jays' goals are still the same, and if Toronto offers him a long-term deal that's in his financial interest, he's going to take it. If the Jays don't, he won't. A lot of this stuff seems to get blown a little too far out of proportion.
---
How does Carrera fit into the picture? He should not make the team over Diaz and even if you can sneak him through waivers, do you want him taking ABs from Dwight Smith Jr., Pompey, Alford, Teoscar?
JB
I'm with you that I'm not quite sure how I see Carrera fitting onto this roster, or Buffalo's. I don't necessarily agree, though, that he shouldn't make the big club over Aledmys Diaz. Yangervis Solarte can handle shortstop capably enough for a game or two, so I could buy it if the Jays end up optioning Diaz to Buffalo whenever everybody's healthy, then recalling him as necessary. I'm not sure that's the way they'll go with it, I just think it would be alright if they did.
---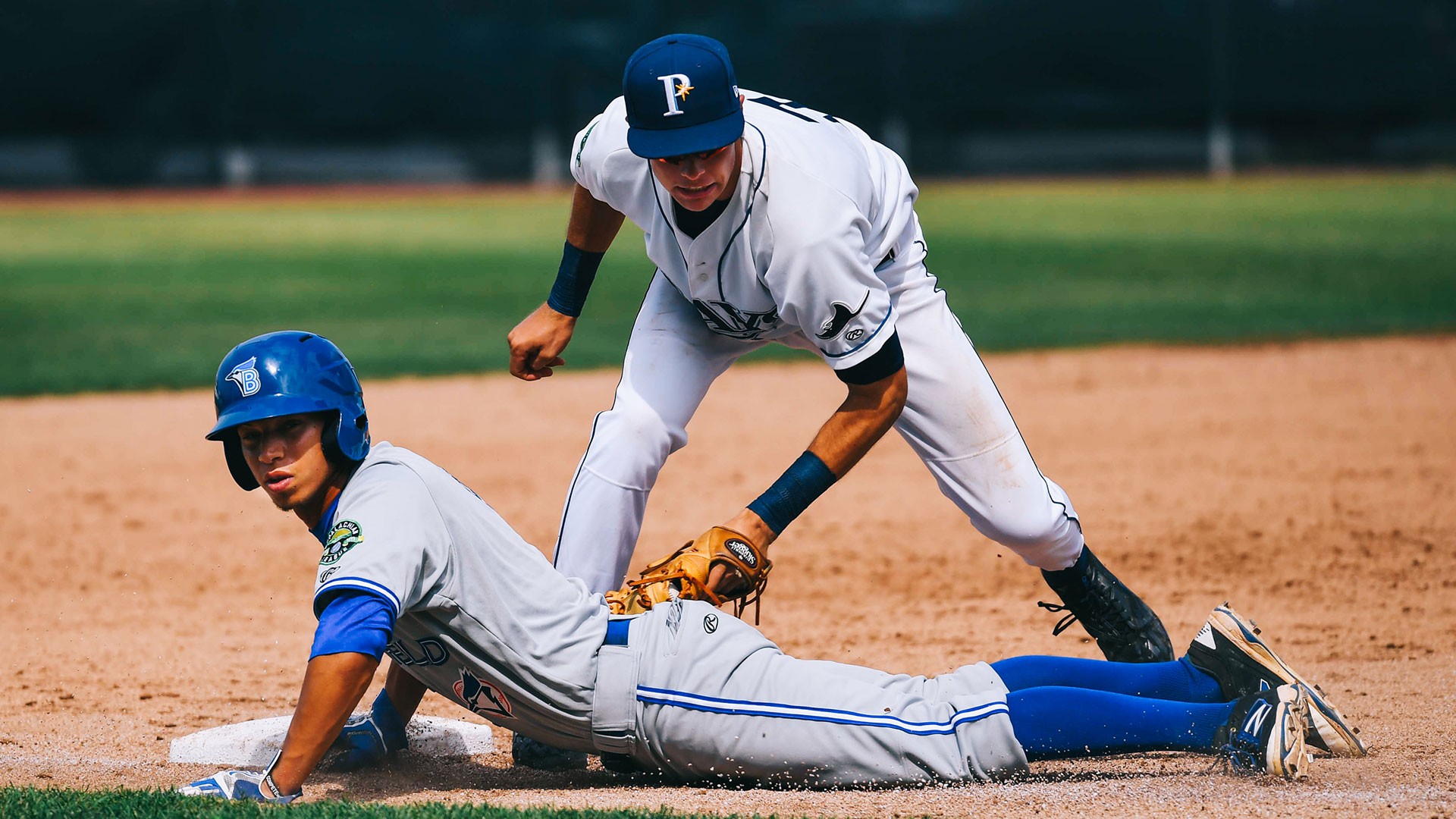 ---
But yeah, Carrera is a tough one. Curtis Granderson sure looks a whole lot like a straight replacement for ol' Zeke, doesn't he? Granted, Carrera's offensive numbers against right-handers were actually pretty impressive in 2017, as he slashed .310/.376/.448 against them, which was good for a 123 wRC+ in that split. But they were powered by a Colabello-esque BABIP of .391. He's not going to be able to repeat those numbers. And defensively he's pretty awful—across three outfield positions last season he was -6.9 by UZR, -14 by DRS, and by Statcast's Outs Above Average he was a -6, which tied him with Jose Bautista and two others who all ranked 192nd out of 207 outfielders.
Maybe the Jays see value there that doesn't show up in any of the public metrics, but my suspicion is that they don't. Carrera was a productive hitter for them in 2017, and when they tendered him a contract (he's set to make $1.9 million this year) neither Granderson nor Randal Grichuk was in place. I think he served mostly as insurance then, and I suspect—or maybe just hope—he'll be viewed that way again in Dunedin this spring.
Contracts for arbitration eligible players aren't guaranteed until the end of spring training. The Jays could cut Carrera before the 16th day of camp and be on the hook for just 30 days worth of his salary (about $317K), or they could cut him between then and the end of camp and only be on the hook for 45 days worth. The Jays won't be quick to eat that money, but if all the outfielders are otherwise healthy, what's the point of having Carrera as the club's fifth option out there? Especially when Solarte could man left field in a pinch, and there are three viable youngsters in Buffalo.
---
Could the Jays respond to the Yanks and Red Sox by adding one of the 3 good starters that are left (Arrieta, Cobb, Lynn). I know it would cost a 2nd round pick and cash, but… 5 good starters. Sanchez in a Miller-esque role, dominant 2 or 3 inning reliever. Pitching wins games!
Jay
It's a creative thought, I'll give you that. But devaluing Sanchez just to be the high bidder on one of a trio of flawed starters at the top of the free agent market does not sound like an especially smart move, and it's certainly not something the Jays would do unless they felt that there was no other choice but to move Sanchez to the bullpen. He's a starter now for good. And the rotation, with the decidedly unsexy yet sneaky-good addition of Jaime Garcia, should be fine.
---
Do you think the dummies that grumble about Shapiro and Atkins have any idea how bad they almost had it? (Meaning: Dan Duquette). It really bothers me sometimes at how much a large portion of the fan base underrate the front office.
Tom
Well, look. To be fair to Dan Duquette (which, after his comments about Bautista last winter, he probably doesn't deserve), there seem to be a lot of people who don't believe he has the same kind of autonomy to do his job as a lot of his fellow GMs. That was also the reason it was speculated that Jays assistant GM Tony LaCava turned down the Orioles' offer to be their GM back in 2011 (LaCava said at the time that it was because he didn't want to leave Toronto). So, maybe it wouldn't have been quite as bad as you're thinking, but I'm definitely with you in thinking that the Jays ended up doing very well for themselves by getting the executives that they did.
As for the "dummies," while there is definitely a strain of "you're not my real dad" to some of the criticism that Shapiro and Atkins have faced, and some of it in the early days was especially over the top, what it really comes down to is that if they put a winning team on the field it will mostly stop, and if they don't, it won't. Some people are always going to be irrationally negative, but I think the broader conversation has started to move past this kind of stuff. I hope so, at least.
---
With Corey Dickerson DFA'd would it make sense for the Jays to acquire him to replace Pillar or Morales? With his career wRC+ 124 vs righties he would be an upgrade over either of them for a reasonable cost. Having Granderson/Dickerson split LF/DH would keep Pearce out of the OF.
Ed
Some fans are just dying to get rid of Kendrys Morales, eh? I really don't see why the Jays would be eager to do that, given that they'd certainly have to eat almost all of the $23 million still owed to him in order to get a team to take him (if any even would). Granted, he didn't have a good year hitting from the left side of the plate, but he was outstanding from the right side, and still generates elite exit velocities, which should at least give the Jays a little bit of hope that he might be better in 2018 than we saw last year. I don't see him moving. Sorry.
And that's sort of what makes adding Dickerson, while an intriguing possibility, a tough one. The Jays have basically already got their own version of him in Grichuk, only Grichuk has more defensive value. True, they could dump Pillar, move Grichuk to centre, then go with Pearce and Solarte in the corners against left-handers, and Granderson and Dickerson in the corners against right-handers, but those aren't exactly great defensive alignments, and none of those guys is really a right fielder. They could dump Pearce and give his job to Teoscar Hernandez, which would look better defensively, but might mean eating salary to do so. Is it worth paying $6 million to Dickerson, plus a bunch more to move Pearce, and maybe some to move Pillar, just to have the outfield setup this way? I don't think it is.
So, while it looks like Dickerson would be a good pickup, simply because of the low cost and the fact that he can be productive, as it stands it's probably too awkward a fit for me to really see it happening.
You can send Andrew Stoeten questions for VICE Sports' Blue Jays Mailbag at stoeten@gmail.com, and follow him on Twitter.