Left: screenshot via BBC / 'Question Time'; Right: Screenshot via Wolfenstein 2
Welcome to Angus Take House – a weekly column in which I will be pitting two of the wildest takes the world's great thinkers have rustled up against each other. This is your one-stop shop for the meatiest verdicts and saltiest angles on the world's happenings. Go and grab a napkin – these juicy hot takes are fresh from the griddle.
What's the story? Jacob Rees-Mogg has suggested that Mark Carney (the Governor of the Bank of England) and the BBC are damaging Britain's chances of getting a good deal by "talking down Brexit".
Reasonable take: Maybe, if the BBC keeps reporting bad things about Brexit, it means Brexit is bad. Maybe, I dunno.
Beef Wellington Take: Or maybe the BBC is deliberating only asking stupid people to talk about Brexit in a long-winded but meticulously planned attempt to discredit it… eh?
I can't stomach much of Question Time these days. There was a time when I'd make it to the closing credits, but now – after the 50th coiffed, greying man in a woollen golfing vest has huffed the words "British" through his dewy, pink lips – I normally bow out about midway through the second question. Last night, however, I managed to stay up long enough to see this electrifying section on BBC bias.
We all knew lads like this at school: hair as tall as an oak tree, probably played the trumpet, wasn't actually that clever but his mum would complain and get him moved into the top set. Well, now you know where he is! Repping his local Activate wing on national television, and hanging around afterwards to try and get a selfie with Jacob Rees-Mogg. He reckons the BBC have been sabotaging Brexit since the referendum by getting "very intelligent" people to talk up the Remain side, and then "less intelligent" people to argue for Leave.
It's a remarkable take, really, just in terms of what an effective self-bodying it is. What was clearly meant as an elitist swipe at ill-informed heartland Brexit voters ends up dragging every prominent Brexiteer down with it. You're literally on the BBC, talking about Brexit, complaining that the BBC only lets stupid people talk about Brexit. It's the hot-take equivalent of pulling the pin out of a grenade and throwing the pin.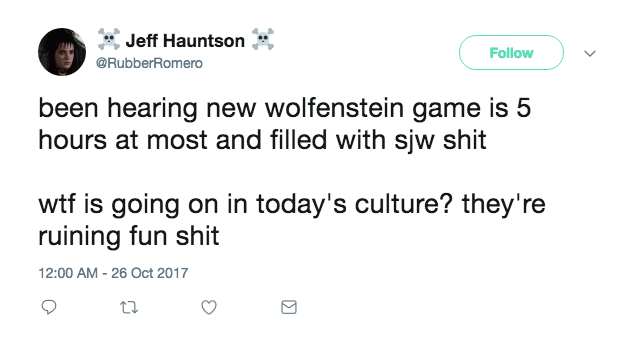 What's the story? First-person "let's kill Nazis" shooter game Wolfenstein II: The New Colossus is out today!
Reasonable take: Let's pretend to shoot some Nazis.
Alt-Lightly Fried Ribeye Take: I am a Nazi, and therefore personally triggered by this game.
God, this is depressing. Proper "sign of the times" stuff, this. Wolfenstein is a series of WWII video games which date back as far as 1981. Throughout that whole time, the Nazis have been very much the baddies. Obviously, because they are Nazis.
The world we live in now is a strange and exhausting place – especially in America, where members of the alt-right are complaining that the game is pandering to SJWs and snowflakes. Accusations of political correctness were flying around. Yes: political correctness. You can't even be a Nazi now. World's gone mad!
It really doesn't bear thinking about the sort of greasy-thumbed warriors who exist in the "leaves YouTube comments about video games" / "has a MAGA cap" Venn diagram overlap, but they are out there and commenting in full force. As far as they are concerned, this is the latest chapter in the lengthy crusade of cultural indoctrination corrupting the country, teaching children inflammatory, anti-American opinions like "Nazis were not good".
Prime Cut: Let's say the Nazis have won this week, on account of their general Third Reichiness. Plus Bowtie Boy played himself so beautifully he doesn't need our help.