In a scene midway through Blade Runner 2049, artificially created LAPD detective Agent K (Ryan Gosling) is doing retro-futuristic detective work and must manually read human DNA sequences printed on microfilm. He's searching for the child of the first ever replicant to give birth, the secret of which could ignite a war between "natural" humans and their nearly indistinguishable lab-grown counterparts.
The stakes couldn't be higher, but K scrolling through thousands of lines of A's, G's, C's, and T's is one of many absurd moments that demonstrates just how different this world is from our own. Los Angeles has had flying cars (spinners) and a mastery of human genetics for more than 30 years. Now it also has voice-activated drones and holographic AI girlfriends—but no iPhones, Google, or Facebook.
That technological paradox is by design, director Denis Villeneuve recently explained in an interview with CNET. Progress hasn't ground to a halt, but both Blade Runner films zero in on the impoverished underclass and enslaved replicants who don't benefit from a new economy driven by off-world colonies. Niander Wallace (Jared Leto) stands in for the wealthy off-worlders who have the capital to get away from the spent cities of Earth.
None of this was explicitly shown in either Blade Runner film, but it was integral for the designers at London-based visual effects house Territory Studio to understand the dystopia's economics. Territory was enlisted to design the motion graphics behind much of the technology in Blade Runner 2049, including the DNA microfilm, LA's holographic advertisements, and all the LAPD and Wallace Corp.'s computer interfaces. The tech behind each character is as important as their costumes for filling out their character. What would Wallace be without his creepy eye drones, or K without his beat-up spinner?
---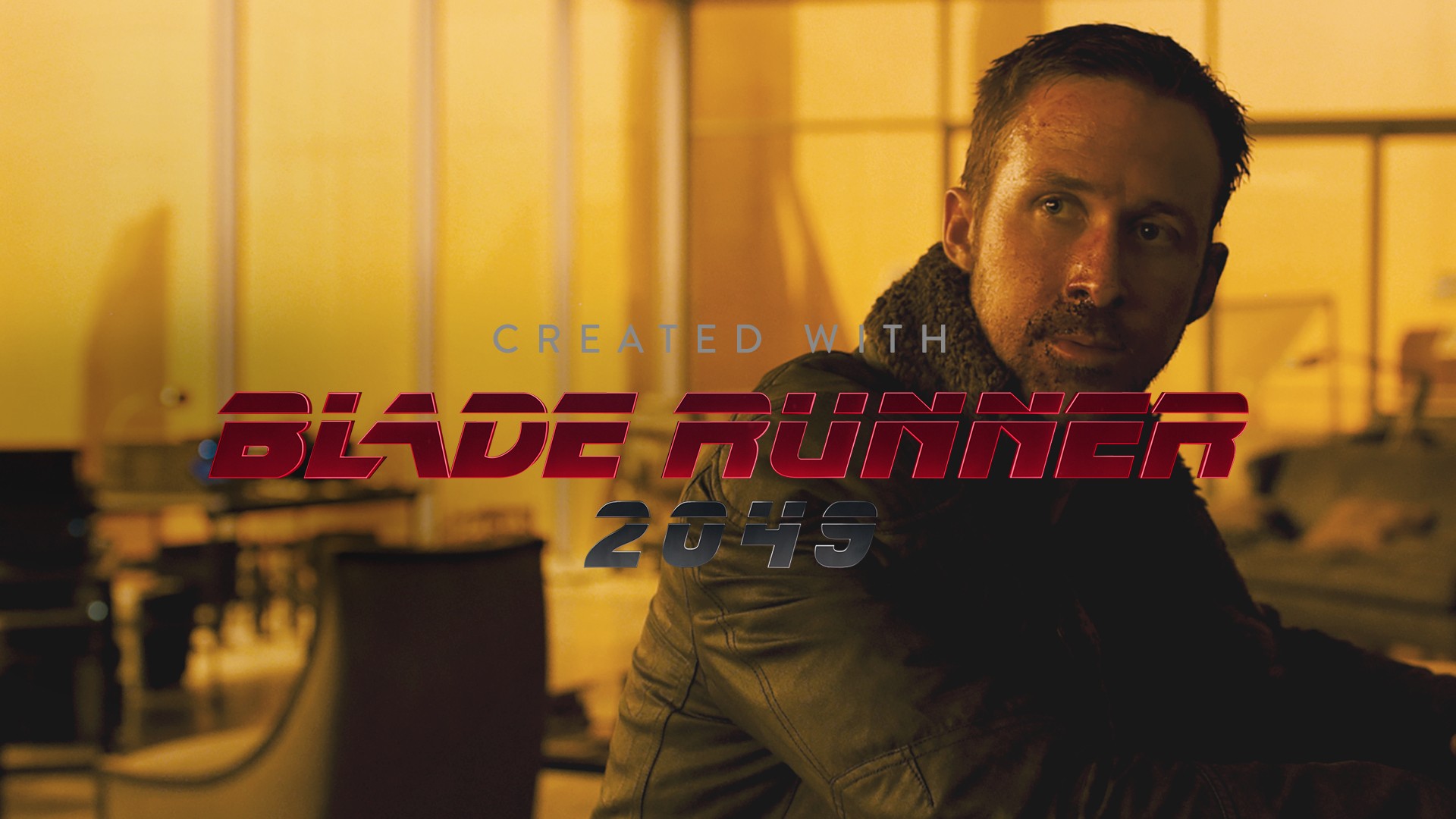 ---
Villeneuve filled in 2049's backstory for Territory founder David Sheldon Hicks, creative director Andrew Popplestone, and creative lead Peter Eszenyi. Popplestone and Eszenyi got two hours with the script in a secure room; later, they learned about the great blackout of 2022, which the public saw in Shinchiro Watanabe's anime prequel short following the replicant rebels who destroyed Earth's digital capability and hooked humans on analog. "In effect, this triggered an economic and technological 'reset,'" Hicks says, allowing a number of replicants to masquerade as "real" humans. These are Agent K's day-to-day targets.
Villeneuve added that, since 2019, the off-world colonies advertised in that famous blimp shot have flourished. "Anyone who could afford to had left for the off world colonies," Popplestone says. "Those who stayed had to, either because they were poor or had a job that kept them on Earth."
Territory's job was to capture the alternate history of an iPhone-less civilization and the vast chasm between rich and poor within the devices people use in their day to day. "We needed to design for contrasting classes," says Popplestone.
"Wallace Corp is the One Percent of super wealthy who owned and had almost exclusive access—on Earth—to the latest most sophisticated technology," Popplestone continues—and that's why Wallace's office looks like Kinfolk's take on a James Bond–esque super villain lair, his limo resembling something featured in a futuristic version of the Minimalists' blog, and his replicant servant Luv (Sylvia Hoeks) launching missiles with eyewear that's a cross between Calvin Klein and a Dragon Ball Z scouter.
Agent K, on the other hand, lives in a drab, cramped apartment holographically garnished by his hologram-in-residence, Joi—a product of Wallace Corp., just like him. He drives a beat-up LAPD spinner that gets the job done. "We designed it to look old, but feel really human in its imperfections," Popplestone says. The trappings of wealth and poverty make clear the difference in power and class between the two characters; the contrast between them, Popplestone says, "needed to reflect this division and tie in with K's status as a slave and second-class citizen."
Minus the flying cars and holograms, the gap between the rich and the poor in Blade Runner is a clear indictment of today's massive income gap. The top 1 percent of Americans control 40 times as much wealth as the bottom 90 percent, according to a study at UC Berkeley, and that doesn't even scratch the surface of international poverty. Villeneuve's future is even more bleak. The whole planet is dependent on Wallace's patents, to the point that he singlehandedly rewrites legislation in a prequel short directed by Luke Scott.
And Villeneuve wanted to capture that disparity with an "abstract, organic, optical, physical" aesthetic, encouraging Territory to, in their words, "be completely original in [their] approach and avoid even thinking electricity was a commonly available power source." For weeks, they powered down their computers and studied optical lenses, antique film projectors, sheep's eyes, and raw meat for inspiration about how technology would work without silicon. They found alternative lighting for screens in bioluminescence, and an analog for a brain scanner displaying neural pathways in macrophotography of dried grapefruit flesh.
While the gadgets are some of the most visually stunning aspects of Blade Runner 2049, outside of 13-time Oscar nominee Roger Deakins's brilliant cinematography, they also tell a story: Read between the lines, and the world's history is written in computer screens and ads.
Follow Beckett Mufson on Twitter.