Photos courtesy of 20th Century Fox Film Corporation
Of all the films she's ever worked on, The Princess Bride remains casting director Jane Jenkins's favorite. If she comes across it while channel surfing, she'll stop whatever she's doing to watch it. She delights in screenings where every audience member can recite the dialogue (which will likely happen when the film returns to theaters on October 15 and 18), and to this day, still uses The Princess Bride quotes to express herself. "I've got my country's 500th anniversary to plan, my wedding to arrange, my wife to murder, and Guilder to frame for it—I'm swamped!" is a go-to.
To celebrate the film's 30th anniversary, Jenkins (who jokingly asked, "Has it been 30 years? How is that possible?") told Broadly her story of finding the perfect actors for The Princess Bride. And don't worry—there aren't any kissing parts!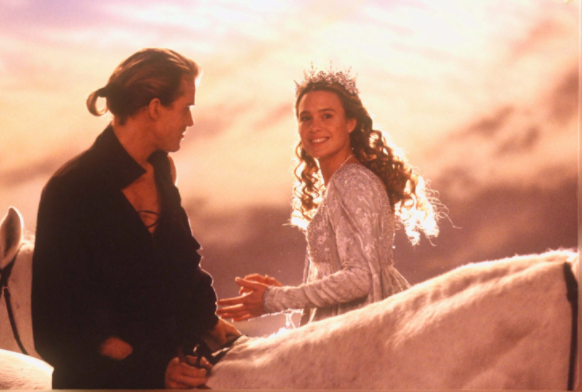 The production team looked at "a zillion girls" in their search for Buttercup, Jenkins estimated, and initially struggled to find the right actor. But two years prior to this search, Jenkins said she and The Princess Bride director Rob Reiner had met with Robin Wright when she auditioned for a role in The Sure Thing that eventually went to Nicollette Sheridan. Wright—who was still a teenager at the time—was "just very wrong" for the part, Jenkins said, because she was "very raw, very new."
"Frankly, she wasn't that brilliant when she came in to read," Jenkins remembered. But she added that there was something about the actor that reminded her of Grace Kelly. When Wright's agent called her again about The Princess Bride, Jenkins said she asked the actor to do an accent. "My stepfather is British," Jenkins recalled Wright saying. "I can do a pretty good British accent."
Read more: Meryl Streep, Goldie Hawn, and and Cher Nearly Starred in 'Thelma and Louise'
Once Wright started reading the lines, Jenkins recalled her reaction: "Oh my god, oh my god, oh my god … I was bouncing off the walls and screaming at my partner, 'I think I just found Buttercup!'" Jenkins said Wright read again for Reiner—who was immediately sold—but the two still needed one more person to sign off: author and screenwriter William Goldman. She explained that the team made arrangements to meet at the director's house that weekend.
"I will never forget this for as long as I live," Jenkins said. "The doorbell rang. Rob went to the door, and literally, as he opened the door, [Wright] was standing there in this little white summer dress, with her long blonde hair, and she had a halo from the sun. She was backlit by God. And Bill Goldman looked across the room at her, and he said, 'Well, that's what I wrote.' It was the most perfect thing."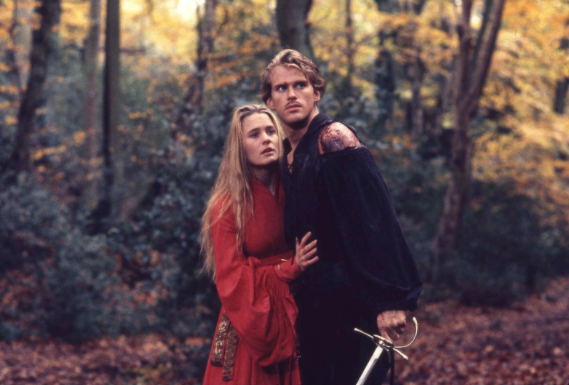 Reiner only had eyes for Cary Elwes for the role of Westley after seeing him in an early screening of Lady Jane, according to Jenkins. She said the director thought Elwes epitomized the "very dashing, very Errol Flynn" type of guy he sought for the farm boy-turned-pirate. The one catch was that Elwes wasn't available to read for the part in Los Angeles, Jenkins explained, adding that Reiner decided to fly out to Berlin to meet Elwes where he was shooting a film called Maschenka.
"From the moment [Reiner] met with [Elwes], he said, 'This is exactly the guy that I want,'" Jenkins recalled. "We met with other young actors, but none ever came close to the expectations that Cary had already fulfilled. It was a fait accompli."
Fezzik, Inigo Montoya, and Vizzini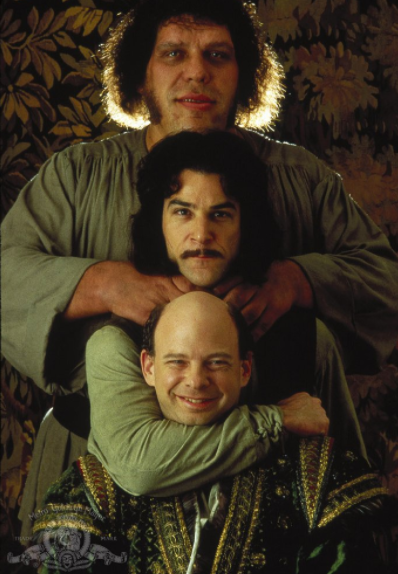 Because Fezzini is a giant, Jenkins said she sought someone diminutive to play Vizzini to exaggerate their size disparity, which limited her options. She went with Wallace Shawn, who she says wondered why he'd been cast for the role. "Everybody cracked up when [Shawn] read for the part," she explained. "Everybody was on the floor, so it totally worked." Jenkins said that Shawn and Mandy Patinkin joined the cast early on in New York, so she just needed to cast Fezzini the giant—a task easier said than done.
Name a tall actor (or even a tall athlete), and chances are, The Princess Bride crew considered casting him. The very first name that came up, according to Jenkins, was André the Giant. "I asked during a meeting, 'So this giant guy, what are we talking here? How big?'" she recalled. "And they told me, 'Like André the Giant.'" Jenkins, however, had no idea who the wrestling figure was until her partner informed her he was "literally the biggest wrestler out there." She says she then called the World Wrestling Federation to explain that they were interested in casting André, and provided the dates they'd be shooting. Unfortunately, Jenkins said, the time period coincided with a wrestling match he was due to have in Tokyo—for which he'd be paid five million dollars. "They asked, 'Will you pay him five million dollars?'" Jenkins described. "And I said, 'I don't think so! That's like half the budget of this movie!'"
Since their dream giant wasn't available, the crew met with anyone who might fit the bill—and fit was the key. "If you didn't have to duck in the doorway of my office, there was no need for you to be there," Jenkins joked. She said she met with Kareem Abdul-Jabbar, who was a fan of the book and wanted to read the script, and Lou Ferrigno, who wasn't quite a giant but was well known for portraying The Hulk. She also said she met with a Scottish strongman who was the strongest man on earth at the time.
One actor, Carel Struycken, seemed like a good candidate until Jenkins discovered he'd already committed to shooting The Witches of Eastwick. Jenkins said she tried contacting that movie's casting director to propose sharing the actor, but was rejected. Then, as luck would have it, André the Giant's wrestling match was cancelled, according to Jenkins. She described that upon hearing the news, Reiner dropped what he was doing to meet the wrestler in Paris for a meeting.
"And that's how we wound up with André at the eleventh hour," Jenkins said. "And he was absolutely perfect."