Hemp plants in front of Parliament. All photos by the author
Yesterday, around 300 medical cannabis patients gathered outside Parliament to drink cannabis tea—a protest against the unjust laws that have made their lives so difficult.
The protest aligned with a ten-minute bill presented by member of Parliament (MP) Paul Flynn, which suggested that medical cannabis should be legalized in the UK as soon as possible. The Labour backbencher stated it was necessary to stop the suffering and criminalization of sick people in the UK, and drew contrasts with the 29 US states that have legalized medical cannabis, along with many European nations. He also stressed that this was an effort to "re-legalize" cannabis, as it was legal until 1971 and is the "oldest medicine in the world," used as far back as 5,000 years ago.
To the surprise of many, the bill passed, and a second reading is set to take place in late February 2018.
---
WATCH: High Society – Getting to Grips with the UK's Weed Culture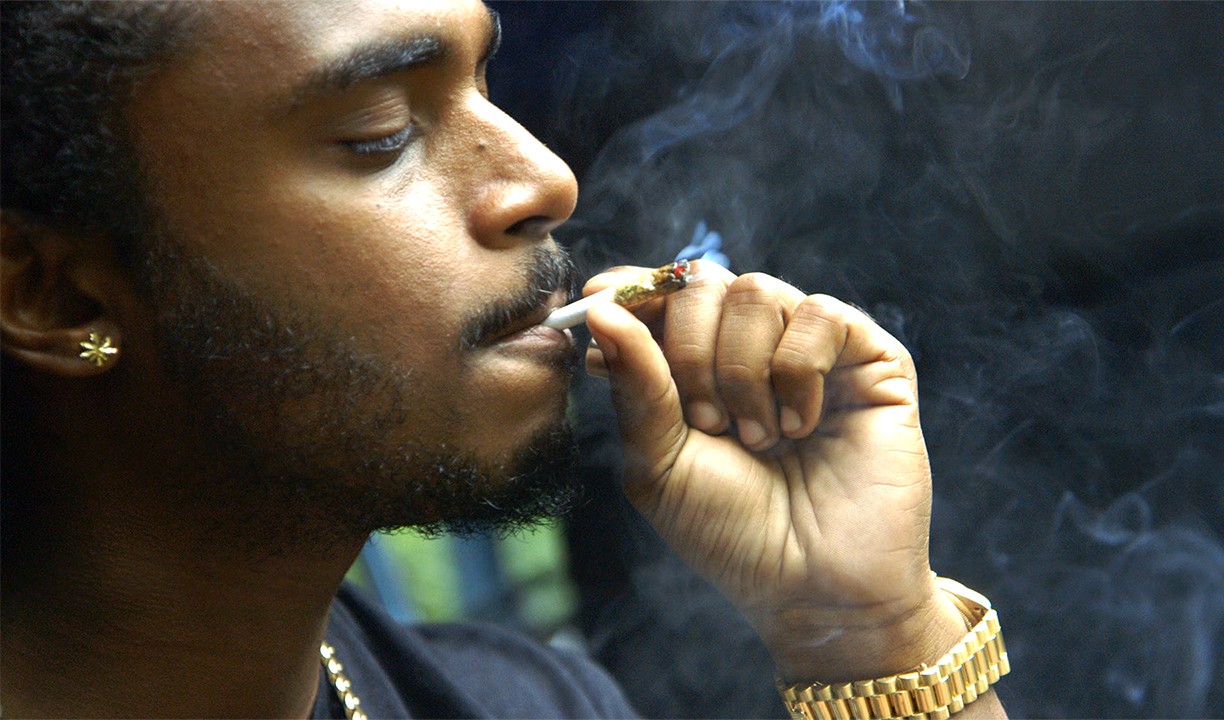 ---
Meanwhile, the protest happening outside the chambers was inspired by a call to action by Flynn's previous parliamentary speech in July, in which he said: "I would call on people to break the law, to come here to Parliament and use cannabis and see what happens." Flynn attended the protest itself, where he gave a speech and talked to activists, but politely refused the offer of cannabis-infused tea and scones. Layla Moran, a Liberal Democrat MP who attended the protest, also refused the offer, but admitted she had smoked cannabis in her college years: "Yes, I did inhale!" Tonia Antoniazzi MP, two police and crime commissioners, and the Multiple Sclerosis Society also attended to show solidarity to the cause.
The protest attracted people from many walks of life, the common denominator being that cannabis had played an important role in their own lives or a relative's life. The gathering was primarily organized by an activist group called the United Patients Alliance (UPA), formed in 2014 by increasingly frustrated medical cannabis users. It sees itself as an advocacy, support, and lobby-group campaigning for the legal access to medical cannabis.
Recently, Paul Flynn and Tonia Antoniazzi joined Norman Baker as official trustees of the UPA. "Tonia is actually very committed to our cause; it was her first act as an MP to support medical cannabis, as it is a cause close to her heart," Jon Liebling, political director at the UPA, tells me. "One of Tonia's best friends is a man who suffers from MS and uses medical cannabis. These MPs show us passionate support as they know someone being directly affected by the law."
In the last year alone, Paul Flynn—who has never inhaled—stood up 116 times for cannabis. And as the issue gains momentum in politics, the UPA are having more opportunities for progress.
"I think this new generation of MPs are less worried about coming out for cannabis legalization as we are now having so many strong cases for the medicine," Flynn tells me at the protest. "MPs were previously hesitant to support this cause as they didn't want to be seen as encouraging drug use."
The UPA started as "bunch of patients running a little charity group", according to Liebling, but have now evolved into a more professional unit, engaging with politicians, professionals and the public on a bigger scale.
"We estimate there are over 1 million cannabis patients in this country who are consuming cannabis every day because they feel that is the best medicine for them," says Liebling. "And it's about getting them proper support, advice, and access, and stopping the pointless arrests of people who are innocent and suffering." Liebling stresses that this is not a political issue but a health issue, one which people of all political viewpoints should voice support for. "This is a cross party issue—as we are a nonpartisan organization. But when we launched, from the first day, we had the support of the Green Party. Then bringing in the Liberal Democrats wasn't difficult. Now we have Labour, which is giving us the strongest support we have ever seen so far."
When I ask him about Conservative support, he admits they "still can't find anyone willing to step forward on the issue." The UPA also has support from other individuals and organizations, such as Open Reason, Nick Clegg's liberal think tank, and Forma Holdings, an international medical cannabis investment group. "Some people who are anti-authority may see us as sellouts," says Liebling, "but we just need to be professional and engage with society to make a real change to the law, as soon as possible."
The UPA does not encourage the smoking of cannabis and strongly discourages any use of tobacco, which is often mixed in to joints in the UK's recreational weed culture. "We want to educate cannabis users on the different methods of ingesting cannabis, and dramatically change the image of cannabis consumers in the press; this is why we focus on medical."
Medical cannabis campaigners have often led the way to legalization in efforts around the world, as their plight is seen as a much more urgent and noble cause. Liebling supports legal cannabis for all adults, but believes the priority is in educating the government and public about the medical benefits, telling me "the battle for legal cannabis is coming soon, but let's get the sick off the battlefield first."
The UPA spends time doing presentations and visiting universities to educate people on the wide and complex world of options for ingesting cannabis, and the different products that can be derived from the plant. "I was recently invited to universities in Durham and Kent to speak about medical cannabis to some classes, to educate students on the very basics of medical cannabis—knowledge which many are unfortunately lacking," says Liebling.
The UPA is working on a course to educate politicians and others about the complex technicalities of the cannabis world, including why GW Pharmaceuticals' legal cannabis drug Sativex—the only one available in the UK—is not effective for many medical cannabis patients, and how cannabis consumption goes way beyond the stereotypical joint.
Back at the protest, attendees are thrilled with the bill passing in Parliament. "I'm ecstatic with the result. You can feel the sense of joy in the crowd," says Mona, a protester who suffers from MS and vaporises cannabis daily to treat her condition. She was worried about getting spotted by her employer as an attendee of the demonstration, but also felt like it was time she joined campaigning efforts. "If I'm going to get fired because I treat my condition then so be it," she says. "I'm just happy something has been achieved."
Another protester, Callie Blackwell, had treated her son, Deryn, with cannabis to help treat a rare and aggressive form of leukaemia. The case became a national news story as he made an unexpected full recovery. "Unfortunately, I know many people who were too scared to come out today, but if we don't make noise we won't get anywhere," she says. "The majority of people in our situation do not speak out because they are worried about authorities and social services. This needs to change."
The protest and bill have been important for raising public awareness of the issue. However, there have only ever been three private member's bills to have made it into law. Mind you, one of them was Paul Flynn's, so maybe the campaigners stand a chance.
As the day comes to an end, UPA members and protesters are happy their efforts had amounted to something; the bill passed, and lots of national press came to cover the controversial issue. For now, the law remains the same in the UK—medical cannabis consumers still face prosecution—but as one protester says as I pack up to leave: "It's a small step… but it's either small steps or no steps."
Follow Ali Cedar on Instagram.