Getty Images
Fresh from his big summit with North Korea's Kim Jong Un, President Donald Trump will head to Finland next month to meet Russian President Vladimir Putin.
Trump will meet Putin in Helsinki on July 16, the White House and the Kremlin announced Thursday, marking the first official bilateral summit between two leaders with a notoriously complicated relationship. Official contacts between the leaders have so far been limited to two brief meetings on the sidelines of international summits last year.
Trump has repeatedly spoken out in favor of improving relations with Moscow, even publicly pushing for Russia to be re-admitted to the exclusive G7 group of countries. Foreshadowing the announcement Wednesday, Trump said that "getting along with Russia and with China and with everybody is a very good thing."
At the same time, his administration's policies toward Russia have had some sharp edges.
That dynamic has revealed a curious chasm between Trump's rhetoric about Putin and actual U.S. policies toward Russia, according to Michael McFaul, former U.S. ambassador to Russia under Trump's predecessor, Barack Obama.
"You have just this giant gap between the administration's policy and the president himself," McFaul recently observed. "It's extraordinary."
In April, Trump's Treasury Department slapped painful sanctions on influential Russian billionaires close to the Kremlin, a move that set Russian financial markets wobbling. American military forces engaged in a deadly firefight with Russian mercenaries in Syria in February, reportedly resulting in some 300 casualties for the Russian side (though none for the Americans). In April, Russia threatened to shoot down U.S. missiles fired at Syria.
Senior intelligence officials in the Trump administration have continued to warn that they expect Russia to try to meddle in the upcoming 2018 U.S. midterm elections. On Wednesday, Trump cited the conflicts in Syria and Ukraine among topics the leaders would likely discuss, but made no mention of the intelligence warnings.
Putin himself was directly accused by U.S. intelligence of ordering Russia's interference in the 2016 U.S. election, which resulted in Trump's presidency. The Kremlin has dismissed the charge.
After their last brief meeting in November, on the sidelines of an Asia-Pacific summit in Vietnam, Trump said he believed Putin's denials. He later backed away from those comments.
READ: Putin's famously unsinkable approval rating is starting to drop
Thursday's announcement follows a trip to Moscow this week by John Bolton, Trump's National Security Advisor, who met with Putin to pave the way for the summit.
Meeting with Bolton in Moscow, Putin blamed rocky relations between Washington and Moscow on American domestic politics.
"I regret to have to point out that Russian-U.S. relations are not at their best," Putin told Bolton. "I believe that this is largely due to sharp domestic political strife in the United States."
Before joining the Trump administration, Bolton had blasted Russia's interference in the U.S. election as "a true act of war," and pointedly accused Putin of lying about it to Trump's face when the two leaders met on the sidelines of a G-20 summit last year. He publicly cautioned Trump: "Negotiate with today's Russia at your peril."
But as Trump's envoy to Moscow on Wednesday, Bolton set the stage for precisely the kind of talks he'd warned Trump about — ones that could inflame criticism both at home and from NATO allies.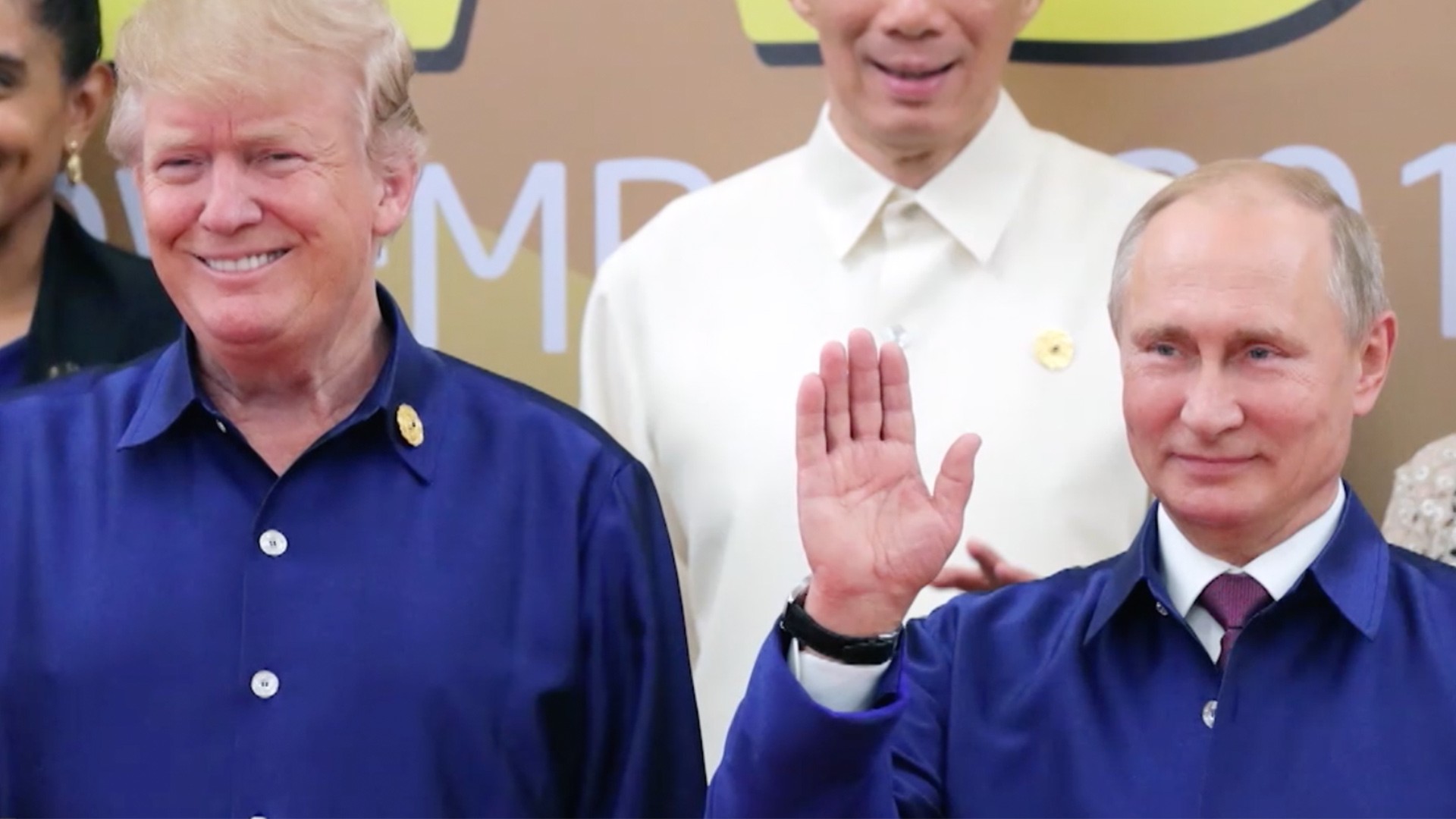 Cover image: Russia's president Vladimir Putin and U.S. president Donald Trump during a meeting of world leaders on the closing day of the 25th APEC Summit. (Mikhail Klimentyev\TASS via Getty Images)