Fans of Waluigi, the mustachioed evil Mario brother that the internet has turned into a bizarrely sexual meme, were disappointed by Nintendo's announcement of Super Smash Bros. Ultimate at E3 on Tuesday. Now they're lashing out with some fiery new memes.
In an ecstatic display of nostalgia, longtime Super Smash Bros. director Masahiro Sakurai revealed that all playable characters from the four previous versions of Smash would return to the new one, along with some new characters like Metroid boss Ridley, and Princess Peach's friend, Daisy. But, alas, the purple-capped Luigi doppelgänger was left out of the announcement, and the internet is up in arms.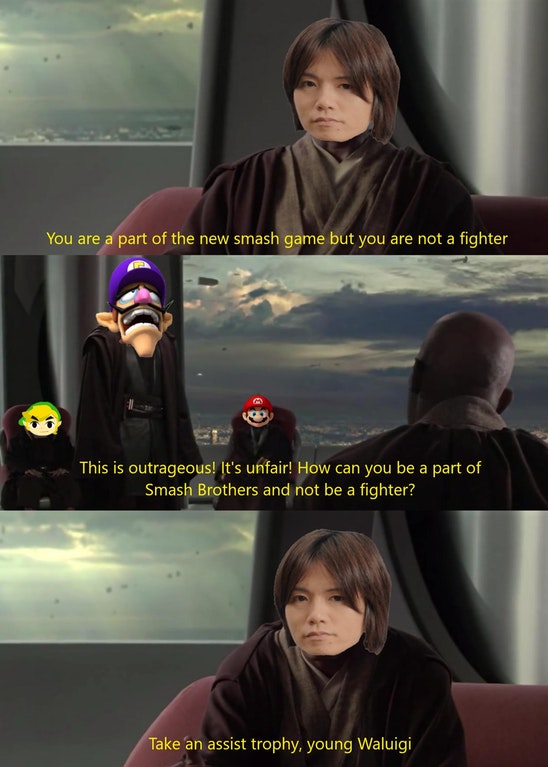 The snub is just the latest in years of unfair treatment since the character first appeared in Mario Tennis in 2000. Conceived as a doubles tennis partner for his brother Wario, Mario's evil doppelgänger, he was thin in both frame and character development. Because of that, he's the perfect blank slate. He's gone on to inspire poems, and went viral for his victorious crotch chop in the soccer game Mario Strikers, cemented as an emblem for humanity's inherent awkward corniness and vulnerability.
Fans hoped the Waluigi renaissance would prompt Nintendo to give him his moment in the spotlight, or at least make him playable in the new Smash. Instead, Sakurai announced an update to assist trophies that allows them to be damaged and killed, making an example of Waluigi.
In addition to the memes, there's a change.org petition to add him to the game. Some fans are already working on a mod to make Waluigi a playable character like they did in Super Smash Bros. Brawl. Others are passing around a lukewarm plan to DDOS Nintendo and force Sakurai to add their favorite character to the game. Sakurai's Google image results have also been spoofed:
Despite the zeitgeist, fans aren't getting their hopes up.
Sign up for our newsletter to get the best of VICE delivered to your inbox daily.