Asset sources: Wikipedia Commons and provided photos
A number of trans people have come forward with complaints that their Tinder accounts have been suspended or banned without reason.
Recently, YouTuber Kat Blaque brought attention to the issue with a Twitter thread about how Tinder had deleted "every single account" she had created on the app since she initially got it. She wrote, "At this point, it's very very very hard for me to not believe that I am either being targeted by transphobic trolls or being banned because I'm trans."
Other women interviewed for this article also cited suspicions that transphobic Tinder users had reported their profiles, leading to them being banned.
Tahlia, a 23-year-old trans woman who lives in Austin, experienced similar frustrations on the dating app. She started using Tinder in 2014. In December 2015, not long after she transitioned and marked her gender as "female" on the app, she was banned temporarily for the first time. She said Tinder reinstated her account about a month later after she had sent a number of complaints. But, recently, she had her account banned once again.
"There were two guys I was pretty interested in, we were talking, and they seemed pretty cool—now I don't really have a way of letting them know what happened," she told VICE. "They're probably just going to think I ghosted."
Tahlia has communicated with Tinder via email about her account issue. To date, after weeks, she still has not had her account reinstated.
In emails viewed by VICE, Tahlia contacted the company multiple times and only received what appear to be copied and pasted statements (if they replied at all), such as, "We take violations of our Terms of Service and Community Guidelines very seriously. Please note that we do not have an appeals process at this time, therefore your account will remain banned from Tinder. You will not be able to create a new Tinder profile using your Facebook and/or phone number."
Jonathan Badeen, cofounder of Tinder, direct messaged Tahlia on Twitter asking her if she and her friends who'd experienced similar issues had tried using the "multiple gender option" on the app after she went public about her situation. "Trust me, it helps," he told her.
(Since November 2016, Tinder has offered more gender options, including identifiers for trans people. However, despite Tahlia using a trans identifier on her profile, she still experienced a recent Tinder profile ban.)
"Yes I have and I still get banned after being reported by men who don't think trans people should be on there," Tahlia wrote in response to him.
"They do this to show how inclusive they are, but at the same time, trans women are getting banned," Tahlia told VICE.
Jelena Vermilion, a 24-year-old trans woman who lives in Ontario, echoed Tahlia's experience with Tinder. Currently, Vermilion is unable to access her account. Vermilion has reached out to Tinder about her account issue and has yet to hear back or have her account reinstated.
"It's more damning in a way because it put a target on us," Vermilion said about the option to show a trans qualifier on your profile, which she had been doing for the past couple of months.
Vermilion, like Tahlia, also has friends who identify as trans and have had similar issues with the app.
Vermilion had reactivated her account after her and her boyfriend broke up.
"As a trans person, it's already difficult to explore dating—especially with this political climate," Vermilion told VICE. "It feels very discouraging… I already have little hope when it comes to dating, so it's like, OK, there's one less option."
Both Vermilion and Tahlia have also experienced men on Tinder sending them transphobic or trans-fetishizing messages. (Sometimes, Vermilion said, it appeared the men hadn't even bothered checking out her full profile before swiping right.) Vermilion expressed concern that Tinder might suspend and/or ban profiles based on the number of reports they get from other Tinder users.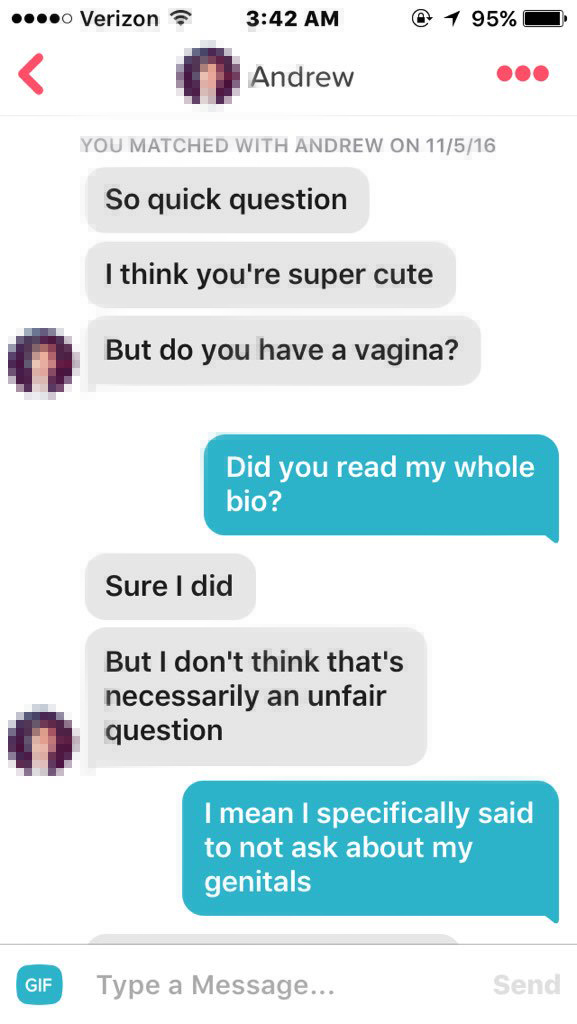 When VICE reached out to Tinder for comment about this story—and specifically asked about its account suspension and banning processes—a spokesperson for the company issued the following emailed statement:
Tinder has made a firm commitment to inclusivity, and in November 2016, we rolled out our
More Genders
update in an effort to further demonstrate to our users that everyone is welcome on the app. We stand behind our pledge to make sure no one is ever removed from Tinder simply because of their gender. However, we must do everything we can to make sure that Tinder is a safe space for everyone, which means taking our community guidelines and user reports seriously. While we cannot share details regarding specific users or investigations, all users are held to the same standards and are removed from Tinder if they violate our
community guidelines
or
terms of use
.
But, as Tahlia put bluntly, Tinder's statement does nothing for her and many others' recurring issues with the dating app: "Unless they're going to reinstate my account," she said, "anything they say is performative bullshit."