President-elect Donald Trump's decision to appoint retired Marine General James Mattis as his secretary of defense is proving reassuring to an anxious foreign policy community, even as some worry that the move threatens the longstanding tradition of civilian control of the military.
Trump pre-empted his own transition team's formal rollout of the job when he announced the appointment during a rally in Cincinnati on Thursday. "We are going to appoint Mad Dog Mattis as our secretary of defense," Trump said, using a popular nickname for Mattis. "They say he is the closest thing to General George Patton that we have." A formal event is expected on Monday.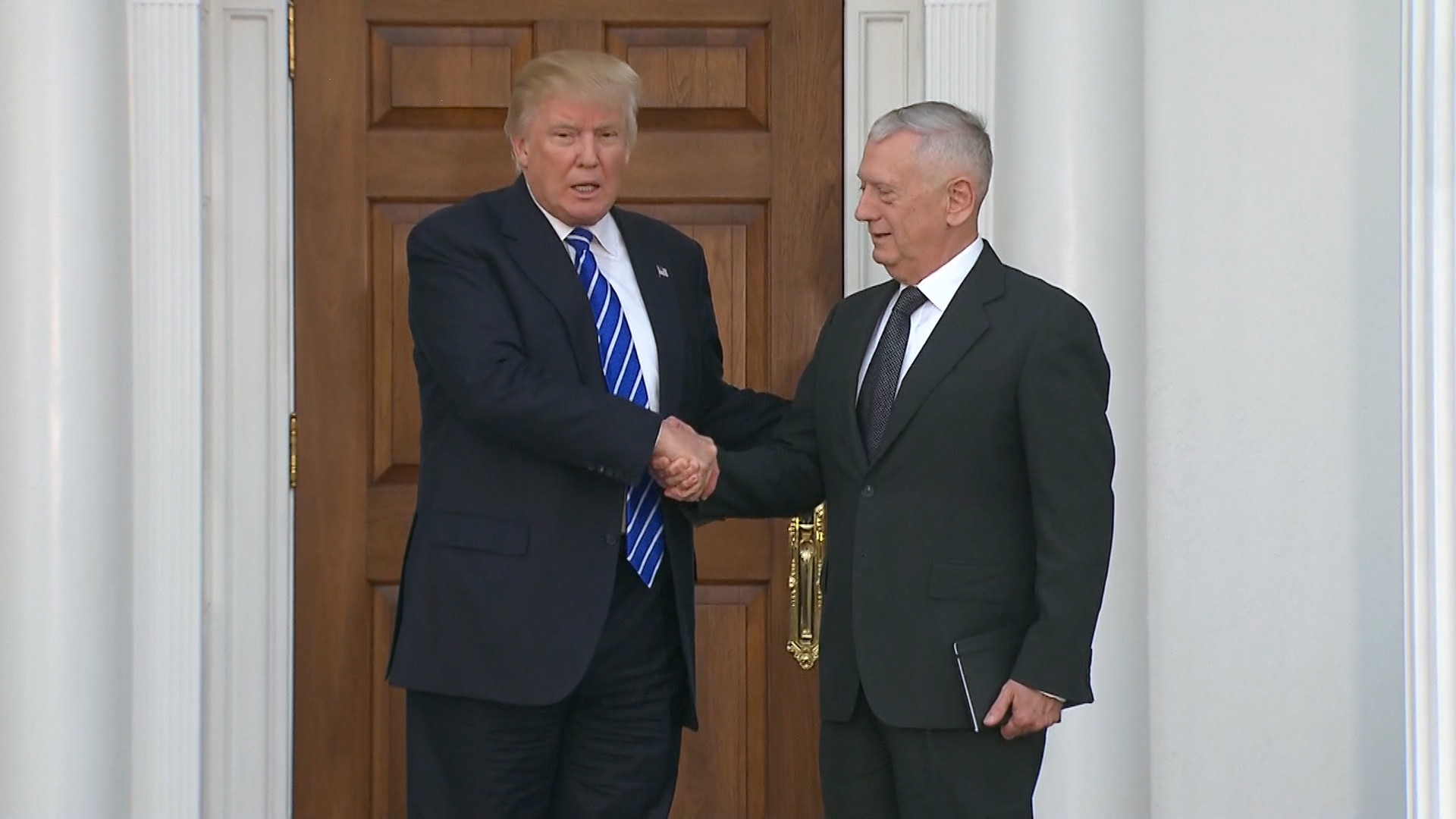 This segment originally aired Dec. 2, 2016, on VICE News Tonight on HBO.
Mattis is known for his outspoken rhetoric and a hawkish attitude, particularly on Iran and Russia, but also for his long resume and decorated career. He played pivotal roles on the front lines of the Iraq and Afghanistan wars, and most recently served as the leader of United States Central Command, which oversees all military engagements in the Middle East. He led the first Marine force into Afghanistan one month after the September 11 attacks, and later led the operation to retake the Iraqi city of Fallujah during the early months of that conflict.
If he assumes the role, Mattis will be the first recently retired military officer to head the Pentagon since George Marshall, more than 60 years ago, something that leaves some observers of civilian-military relations uneasy. By law, a retired military officer has to be out of uniform for seven years to take the job, or else receive a waiver from Congress.
Sen. John McCain, R.-Ariz., the chairman of the Senate Armed Services Committee, has indicated that he would support the waiver for Mattis.
But Michael Desch, an expert of civilian-military relations at the University of Notre Dame, says the appointment of Mattis represents an uneasy break from tradition.
"I don't think it's the end of the world by any means, but it is a deviation in course from how we normally think about civilian oversight of national security policy," Desch said. "I worry a little bit when you start stacking the deck with retired generals. You're saying we don't have the capacity among civilian leaders to handle these issues."
Civilian control of the military is inscribed in the Constitution, and it's rooted in the belief that democratic governance benefits from an independent decision-making structure over military affairs. Civilian leaders help ensure that military decisions are more directly responsible to the public, and that military officials remain insulated from the whims of popular opinion.
"You can't have a republic, and you can't have democracy, and you can't have liberty, if the least democratic institution in society is running society," said Richard H. Kohn, a professor emeritus of history at the University of North Carolina at Chapel Hill, who has studied civilian control issues.
But Kohn also said the choice of Mattis will also calm some frayed nerves among policymakers, many of whom were concerned about the appointment of an outlier like retired general Michael Flynn as national security advisor.
"It is very reassuring not only for its implication for national defense but for the advisory environment Mr. Trump is creating for himself," Kohn said. "It seems he realizes he needs a broader military advice than Michael Flynn would provide."
Observers of Trump's unorthodox and ever-shifting foreign policy positions seem to agree. Republicans like Mattis's outspoken criticisms of Russia as well as the fact that as a former supreme allied commander for the North Atlantic Treaty Organization, he might temper some of Trump's campaign rhetoric on the organization's obsolescence.
"The guy…understands the big picture," former Republican congressman Mike Rogers, who was recently ousted from Trump's national security transition team, told The Guardian. "He's an internationalist and he understands engagement. He also understands the judicious use of military power. He's not looking for a fight, but he'll always finish the fight."
He also gives Democratic foreign policy officials something to appreciate, in an administration increasingly stacked with extreme views on Muslims and the Middle East. President Obama picked Mattis to replace General David Petraeus as head of Central Command in 2010, overseeing the wars in Afghanistan, Iraq, and the entire Middle East. And last month, Trump cited the counsel of Mattis when he told the New York Times that he was moderating his views on the value of torture.
"He said, 'I've never found it to be useful,'" Trump told the Times of his conversation with Mattis. Mattis, he added, told him, "Give me a pack of cigarettes and a couple of beers, and I'll do better."
"Drawing the line on torture is really encouraging, and he's not an Islamophobe," said Perry Cammack, a former Obama administration official who is now a fellow at the Carnegie Endowment for International Peace. "Even for the very delicate negotiation that Trump's going to have on the Iran deal, Mattis is a pretty good guy. He's going to be able to say to the Israelis and Saudis, 'We're going to keep the deal. We know you don't like it, but we're going focus like a laser beam on violations.'"
Cammack, who participated in national security decision-making at the State Department, says he worries about the long-term consequences of removing civilian leadership at the Pentagon — particularly if it leads to a less integrated mindset among the service branches.
"But I'm torn," Cammack continued. "The job could have gone to one of the people who in my mind are really appalling. Having him there is kind of reassuring."