The creative community in Eugene, OR took a big hit during the recession in 2008. For the last decade, the city has put fine arts on the back burner in order to focus on more pressing issues, like poverty and homelessness.
Today, the New Zone Gallery and Arts Collective is one of a handful of independent art spaces still operating in Eugene. The nonprofit organization was established as an experimental gallery in 1983 by a number of teachers from the Lane Community College. The collective originally operated out of a building in the city's downtown gallery district until they lost the space in 1993. That year, the New Zone brought on local artist and promoter Steve LaRiccia to be the gallery's art coordinator while they mounted a comeback. New Zone has since become a more inclusive community gallery with over 60 active members from the Eugene area. They've spent the last 25 or so years bouncing around different locations, hosting solo and group exhibitions, putting on performances, and holding free gallery receptions on the first Friday of every month.
Inclusiveness is an essential principle of the organization's philosophy. Gallery member Margie Templeton says one of her favorite parts about the gallery is a show they put on twice a year that allows anyone in the community to submit work to be shown. LaRiccia tells Creators, "It's sort of a challenge to do what we do, but we continue to do it because it there aren't many places, unfortunately, for this rich, lively community and for artists to show their work. Which is sort of a conundrum for the community because we are known for our artists and crafts. The craftspeople do very well here, but fine arts it is a struggle." This reputation stems partly from an event held in Eugene every weekend called the Saturday Market, where local craftsmen sell a plethora of handmade works. "Eugene is Mecca for those kind of crafts, and [the local craftsmen] do very well," according to LaRiccia. "But when it comes to the fine arts, it's tough here. People don't have the money buy art for a couple thousand dollars. That's hard for the community to swallow."
Eugene is a well-known college town, home to the University of Oregon and their colossal sports programs. Templeton says the New Zone receives a lot of engagement from the University and that many of their members are recent graduates. Templeton tells Creators, "I think the university likes what we do here, they like that it's open, and that it's something they can join if they want to. And they can come down on a Friday night and have a good time."
LaRiccia says the art world has changed a lot since he started making art 25 years ago. With the advent of the internet, artists in the community can launch art careers online from the comfort of their homes. LaRiccia took a more grassroots networking approach when he was first promoting his artwork in 1991. He got into the scene as a promoter and would practice creating SX-70 polaroid manipulations on the side. LaRiccia took pictures with his SX-70 camera and used a stylus to manipulate the images to look like impressionistic watercolor paintings. Back then, Eugene held an annual Mayor's art show at the Hult Center in what used to be a city-run art space called The Jacob's Gallery. LaRiccia submitted his photo manipulations to the mayor's show one year but was rejected so he decided to throw a Salon des Refuses exhibition, a tradition started by artists in 19th century France that were refused by the official Emperor's show. LaRiccia collaborated with local artist and rabble rouser Jerry Ross to put on this show of rejects which turned out to be a tremendous success. Ross And LaRiccia have been putting on their own Salon des Refuses in Eugene for the last twenty five years.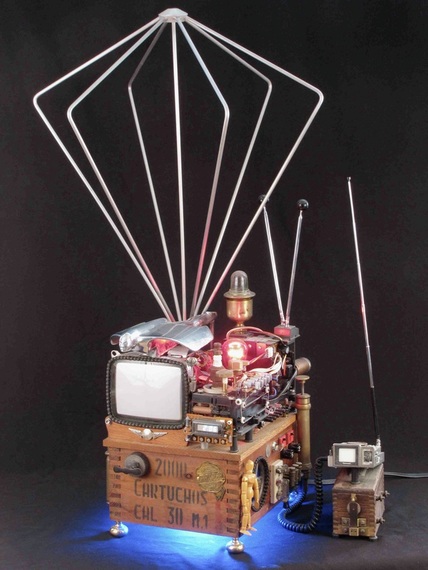 In 2009, LaRiccia decided to self publish a book of his photo manipulations. When the book was published in April of 2010, New Zone did an open, non joint, show called the Zone For All while he was gallery coordinator. LaRiccia decided to put a found objects mixed media piece together for the show. In two weeks, LaRiccia built a device on top of an old French ammo box, with a chassis, some lights, and a color television. The interactive assemblage was called Farnsworth's Dilemma and marked LaRiccia's introduction to functional steampunk art making.
LaRiccia has since then created a number of Frankensteined machines that he engineers from a combination of found objects. In 2011, he took an a 1991 Macintosh computer and grafted it onto a 1897 Remington Auto 7 typewriter. He took the computer boards off and attached them to the typewriter and made an the interface so when you typed the characters would come up on the screen. He called the piece Wozniak's Conundrum and it was actually shown inside an local Apple Store in Eugene for a period of time.