Above: A Syrian boy looks for his possessions in the trash after his family was evicted from Hospital Squat in Athens. Illustration based on a photo by Marios Lolos.
It was 4 AM on Monday in Athens when police broke open Hospital Squat's metal doors. Somaia, a Palestinian refugee from the Syrian Civil War, was sleeping alongside her son, but the bangs jolted her awake. Along with 127 other refugees, she had found a sort of home in the squat on Alkiviadou street. Now, as she watched crowds of policeman storm the first floor, her future was again in jeopardy. "You're being expelled," one of the cops told her.
"Why?" she asked in English. "To where?" He gave no answer. Instead, police loaded refugees and volunteers into buses, and took them to the Aliens Department of Athens. They were forbidden to take any possessions, not even a change of clothes.
Hospital Squat—an abandoned hospital owned by the Red Cross that in February had been occupied and converted into a living space for Syrian refugees—wasn't the only squatted building targeted by authorities. That same morning, police raided Villa Zografou, a much beloved anarchist social center and squat, and took seven residents into custody.
These raids, activists fear, are just part of a crackdown on the network of left-wing squats that provide shelter to both refugees and impoverished Greeks. But they also represent an attitude of anti-migrant feeling that has been percolating in Europe for years but is now manifesting in new policies that are hurting one of the most marginalized groups of people in the world.
The raid on Hospital Squat also showcases the seeming hypocrisy of some large NGOs working in Greece. The Red Cross has filed a lawsuit demanding the Syrians refugees' eviction, claiming it will lease the abandoned building to the International Organization for Migration (IOM), which will turn it into a center for unaccompanied minors. But IOM and the Hellenic Red Cross have each received over $30 million to care for refugees in Greece. Why couldn't they simply rent another building, rather than working to make more than 100 refugees homeless? (Red Cross has not responded to my repeated requests for comment.)
Once inside the massive brick box of the Aliens Department, refugees sat together in a huge room—37 kids, a pregnant woman, and five ill adults among them—while police separated those with papers from those without. Because of her English skills, a polite officer asked Somaia to serve as an interpreter.
"Why do you treat us with this cruelty?" Somaia demanded. "We are refugees. We have the right to know what has happened." The officer said he did not know. She would have to wait.
As she waited, news of the raids spread through Athens's tight-knit activist community. Demonstrators gathered outside the station, along with lawyers who the police forbade from entering. A green anarchist flag fluttered from the window of a detention cell on the top floor, held by a North African man who had been locked inside for nine months. Protesters marched in two separate rallies. Police shot tear gas. Fires burned, as they have so often in the city since 2008, when police killed teenager Alexandros Grigoropoulos—since long before that.
Somaia had been detained for 12 hours when she described her ordeal to me on WhatsApp. "Humiliation," she said. "At this moment I hate my life."
Watch a VICE News Tonight segment on proposed laws that would crack down on protests in America: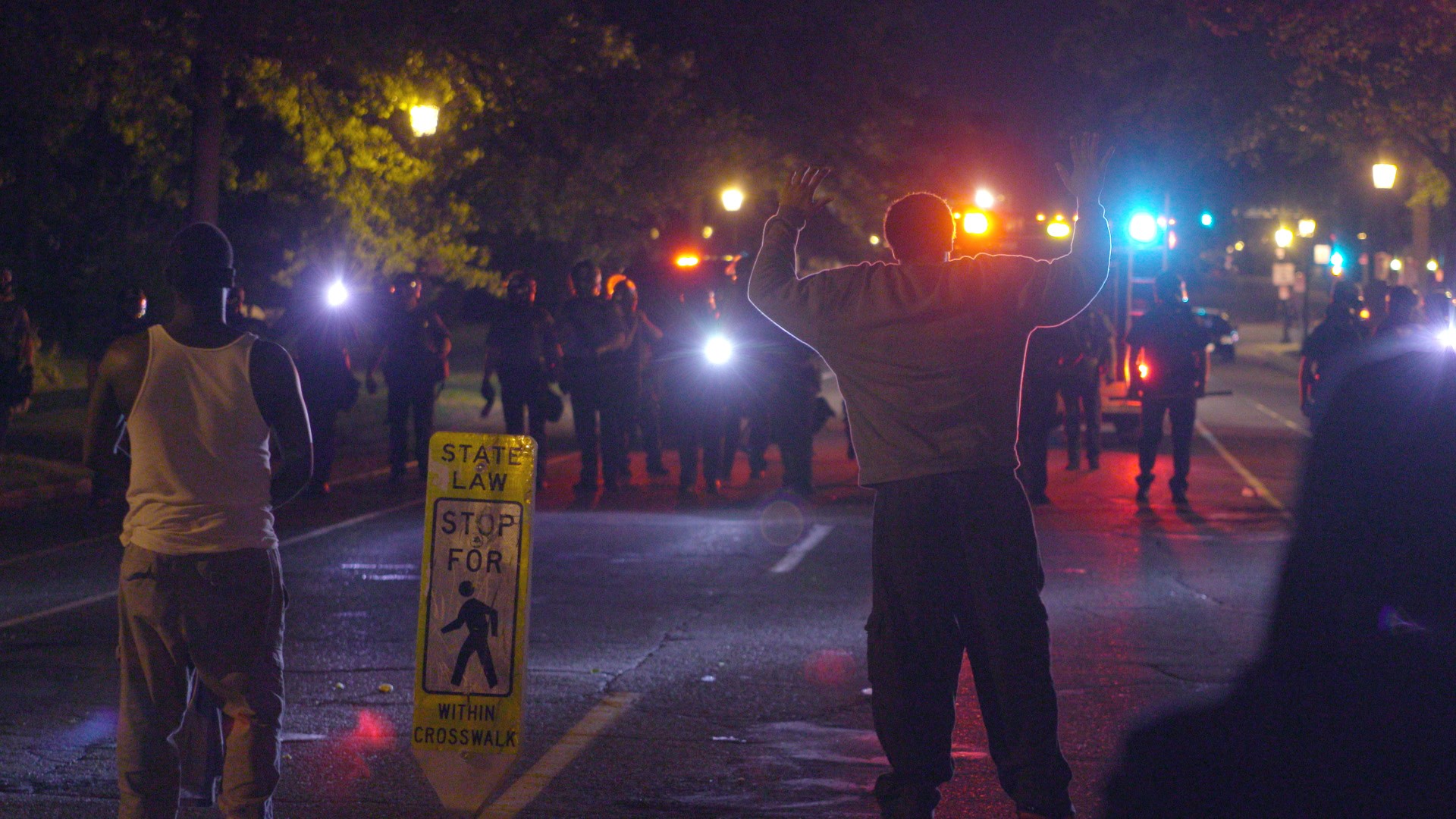 Since the financial crisis, approximately 30 percent of Athens housing stock, and 20 to 50 percent of its stores, have lain empty. Out of these abandoned buildings, leftists wove an archipelago of squats. These are homes, gathering places, community kitchens; some are decaying, others as sleekly artsy as any hipster bar. While most squats house Greeks, they are also an attractive option for refugees, thousands of whom now live in squatted buildings. When I visited refugee squats in October for my recent VICE feature, the reason was immediately obvious. Unlike the vast majority of camps, squats provide privacy, decent food, a home in the city center, and, most notably, autonomy, dignity, and respect. At City Plaza, a squatted hotel ten minutes from the recently raided Hospital Squat, I watched as an Afghan woman presided over a professional cafeteria that cooked delicious traditional food for other refugees, while men from Aleppo made Arab coffee at the hotel's own café.
Refugee squats are sometimes targeted by police—last September, Amnesty International demanded an investigation after five Syrian boys living at another squat alleged that police had beaten them and forced them to strip naked. At other times, they are begrudgingly tolerated.
Where squats have succeeded, official responses have failed. Most government camps are squalid, overcrowded horror shows. Their food is stale and sometimes infested by maggots, their shelter, in many places, still consists of flimsy tents. At least five refugees have died due to cold this winter (one was killed when their tent caught fire as they were desperately trying to keep warm in the snow), and thousands more are unprotected from the elements. In most camps, there are no schools, no decent medical care, no distractions, nothing to do except try to find a decent smuggler. Conditions are so brutal that according to a recent MSF report, refugees, including children, have been driven to attempt suicide.
The problem is not lack of funding. The Greek refugee crisis has brought in $803 million in aid dollars between 2015 and 2017, according to News Deeply's meticulously documented report about how the "most expensive humanitarian response in history" became a humanitarian nightmare. That report showed how political skullduggery, incompetence, and waste bedeviled both NGOs and Greece's government; seven out of ten euros were misspent. Not that government officials will admit it. On Tuesday, Athens Mayor Giorgos Kaminis praised the raids in comments made to the newspaper Kathimerini. "Hosting refugees should be undertaken exclusively by public services and authorized organizations, in order to truly protect refugees and their rights." In other words, Squats and solidarity groups are the bad guys. Our camps are doing great.
Public sympathy for these refugees has faded. No borders solidarity is out. Ethno-nationalism is in.
---
A year and a half has passed since the four-year-old Aylan al Kurdi drowned in the waters off of Bodrum, Turkey, a death captured in a photo that seemed to finally shake the West into realizing the stakes of the migrant crisis in the Mediterranean. In the fall of 2015, it seemed the whole world was descending on Lesbos to help the hundreds of Syrians, Afghans , and others who arrived each day on lifeboats. But since then, public sympathy for these refugees has faded. No borders solidarity is out. Ethno-nationalism is in.
Primetime news has moved on from refugees in Greece to Trump and the bleach-blonde crypto-fascists who back his worldview; meanwhile. European Union countries have turned on both refugees and the volunteers who helped them. In Hungary, MSF alleged, border guards beat and sicced their dogs on refugees trying to cross into the country, then stripped them naked and forced them to walk back to Serbia in the snow. France is prosecuting villagers who helped refugees cross from Italy. SYRIZA, Greece's dominant political party, which ran on the promise of closing Greece's notorious detention centers, announced last month that it would open new ones on the islands. They will be called, cheerfully, "pre-departure camps." An MSF report released this week found that in recent months the European Commission has pressured Greece to detain more refugees.
One turning point was the EU-Turkey deal, signed in March 2016 after Greece's Balkan neighbors closed their borders to refugees. It was supposed to work like this: Turkey would take back every refugee who arrived in Greece by boat. Until their deportation, these refugees would be confined to the camps on the islands. In exchange, the EU would resettle an equivalent number of refugees from Turkey, as well as give Turkey $6.8 billion in financial aid and potential visa-free travel for its citizens. That isn't how things turned out. Between 50,000 and 60,000 refugees remain trapped in Greece; only 9,000 have been resettled elsewhere in Europe, and many have been forcibly deported to Turkey. Confining refugees to island camps not only immiserated them further, but bred a new lucrative market for smugglers. Turkish foreign minister Mevlüt Çavuşoğlu announced on Wednesday that Turkey might cancel the deal.
"On March 20, it is one year since the deal, and they want to be proud that the deal is working," City Plaza organizer Nasim Lomani told me, the day after the raids. By making refugees visible, and allowing them to live in city centers, places like Hospital Squat just further highlight the EU Turkey deal's failure.
As for the refugees detained in the raids, after 17 hours in detention Somaia and 100 others—now homeless—were released onto the midnight streets. They were not allowed to retrieve their possessions or papers from Hospital Squat. At best, they could fish out what police had dumped in the trash. 27 refugees who did not have documents remain in detention.
In the aftermath of the raids, City Plaza* released this statement: "They are mistaken if they believe they can crush the squat movement with riot police and district attorneys. The struggle for solidarity and dignity will continue unabated. It is a Social need. It is a political choice."
*An earlier version of this story misattributed the City Plaza statement to the left-win group Khora.
Follow Molly Crabapple on Twitter.