Chicago may be the culinary epicenter of the midwest, but it is still totally possible to feast on a budget.
Want proof? Consider that some of the foods that city is best known for—Italian beef, hot dogs, and tacos—are all under the $10 mark. We did all the hard work and found all of the most delicious but still affordable spots in town. You can rest assured that you will get the most delicious bang for your hard-earned buck at all of these eateries.
Al's Beef: The Italian Beef is a very special sandwich here in the Windy City, and Al's is a great place to get one. There are a number of locations around the city and suburbs, but regardless of where you go, your best bet is the beef with gravy and both hot and sweet peppers.
Harold's Chicken Shack: Harold's is a South Side institution and it's not hard to see why. Unlike many other inferior fried chicken chains, Harold's cooks their chicken to order, meaning you don't have to worry about your wings drying out or your chicken skin losing its crisp before you ever even order. It's also a great place to snag some soul food classics like fried perch and catfish, chicken gizzards and giblets, and fried okra.
La Chaparrita: Ask any Chicago taco enthusiast about the best places to check out and there's a solid chance the first destination they'll point you toward will be La Chaparrita. While on the surface, the spot may seem similar to many of its other grocery store–adjacent brethren, La Chaparrita distinguishes itself by cooking with a charola, an circular pan with a raised center that allows meats and sauces to comingle. As many have noted, this is a place for deep flavors and unusual cuts of meat, so don't be surprised if you see sweetbreads and brains sharing space with carne asada and al pastor.
Oasis Cafe: Even though it's just a block away from Millennium Park, we could maybe forgive you if you went to the park and then missed Oasis Cafe, the place in the Loop that's really worth a visit, considering it's hidden in the back of a jewelry store. While both its host organism, the "Wabash Jewelers Mall," and the restaurant itself are a little frumpy, the menu is broad, the Mediterranean food is delicious (get the falafel), and the prices can't be beat.
Tank Noodle: Located Uptown on North Broadway, Tank Noodle serves a pretty gargantuan array of inexpensive Vietnamese dishes. While you can certainly order up a bowl of the crowd-pleasing pho, rice congee and vermicelli soup are also on the table, in addition to banh mi, rice dishes, and more.
Parson's Chicken and Fish: Between the patio seating, cheap drinks, and delicious, inexpensive food, Parsons has a hell of a lot going for it. Fried chicken and fish can run as low as $6 to $8 respectively, and the menu is a solid mix of Southern favorites, including hush puppies, hot chicken (in limited quantities), and pimento toast. The Negroni slushy is also on point, but given that all drink prices cap at $9, don't restrain yourself from doing some deep sampling of all they have to offer.
White Palace Grill: Open since 1939, this greasy spoon institution serves up classic American diner food 24 hours a day, seven days a week. It's a no-frills experience, and as they say on their website, "If you need a break from 'caramelized onions,' 'infused' sauces, and names of food you can't pronounce, then come over anytime."
Johnnie's Beef: People have very strong opinions about who has the best Italian beef in Chicago, and there's no doubt that Johnnie's is a strong contender for the title. Located in the nearby 'burb of Elmwood Park, the dipped beef, fries, and homemade Italian ice are legendary. Yes, the spot is a bit out of the way, but it's deeply worth the trip. Make friends with someone with a car, call up an Uber, or figure out some way to get yourself to Elmwood—you will never, ever regret it.
Billy Goat Tavern: Attracting everyone from tourists to lifelong Chicagoans to the very, very drunk, people file into the Billy Goat Tavern as much for the legacy as the cheezborgers, Pepsi, and chips. It truly is an institution, and it doesn't hurt that it's cheap and open late. Plus, who can say no to a good cheezborger?
Sun Wah BBQ: While Sun Wah BBQ's enormous menu has something for everyone, you'd be a fool not to go for the glorious roasted meats for which the restaurant is named. Various preparations of duck, chicken, and pork are all available, but the most remarkable offering has to be the Beijing Duck Feast. Order this dish at least a day in advance and you'll be treated to a tableside carving of a Beijing (aka Peking) duck with steamed bao, duck fried rice, and duck broth made from your just-carved carcass. It's a delicious and singular experience.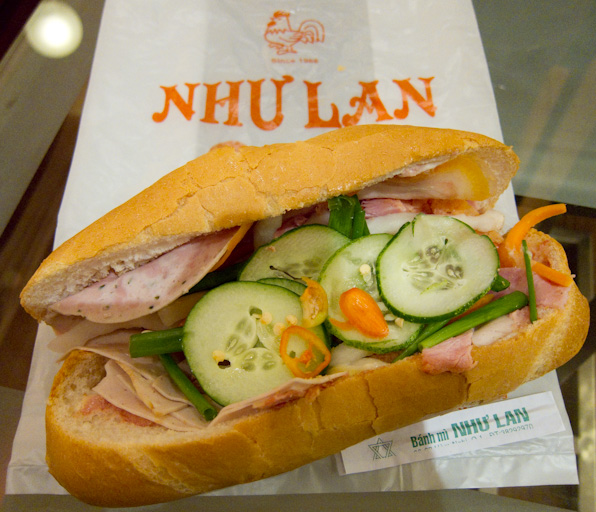 Nhu Lan Bakery: It's not hard to love this Vietnamese bakery, or the fresh banh mi it pumps out everyday. The BBQ pork is definitely the fan favorite, but there are also a variety of other fillings, including great roasted pork and vegetarian/vegan options for those who are meat-free. All but two sandwiches are priced between four to five bucks (the most expensive is only $6.25), and the amount of filling stuffed into each rice flour baguette is righteous.
For more places to eat, drink, and get weird in the Windy City, check out the rest of the MUNCHIES Guide to Chicago here, and while you're at it, watch the Chicago episode of our series The Pizza Show.
This first appeared on MUNCHIES in November 2016.