Even if the Oxford University Press hadn't named GIF the American word of the year, we'd still find an excuse to do this GIF roundup. But the list you have before you isn't just any old list you'd find on Buzzfeed—and as you'll see, it's not some low-res 'Year in GIFs' post as seen through current events… though we certainly are a fan of those posts too. These GIFs sum up the most beautiful, mind-numbing, and artistic versions of the file format we saw this year. No matter how you pronounce GIF, we hope you'll enjoy. Share your favorite GIFs in the comments below…
His head's in the clouds. GIF by Pierre Busschere.
Jewelry can give you wings too. [via]
SO stellar. GIF by Ignacio Torres.
A few months ago Reed + Rader made a whole series of Animal Crossing-inspired GIFs, and they're adorable. Check out the making-of here.
This semi-ominous GIF was made by Woody Jang in response to our post on Axel Shokk's indie game TRIP. Trippy indeed.
This one's kind of a given. [via]
Flashy sweatshirt bro. GIF by Alis Pelleschi for SuperSuper magazine in collaboration with badsmellingboy.
Rodarte S/S 2013. FASHGIF continuously brings the runway alive in quirky and beautiful ways, love it.
Bernhard Willhelm S/S 2013. GIFs made in collaboration with Geoffrey Lillemon, Petrovsky&Ramone, and Random Studio.
Babe'in out in Cassette Playa. GIF by Josh Greet.
Don't let these stereoscopic monsters invade your dreams. GIF by Dain Fagerholm.
Wolfman lookin' fierce. GIF by The Saline Project.
Re-imagining Marcel Duchamp as Rrose Sélavy. GIF source unknown.
Sassy Mona. [via]
Glitchy Nighthawks. GIF by Ibon Mainar.
BEST AUGMENTED ARCHITECTURE
Making a boxy building more beautiful. GIF by INSA.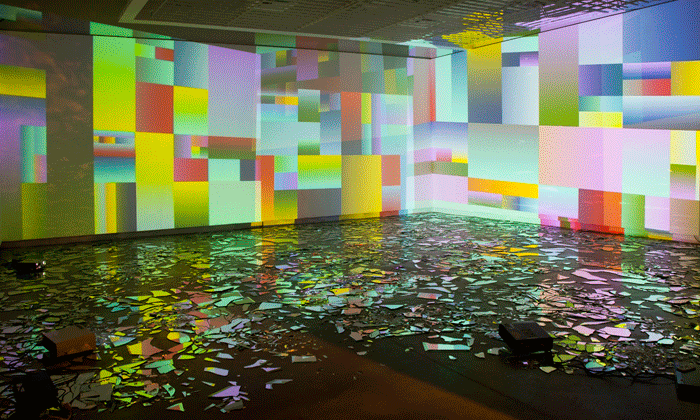 Into Time with mirrors at MIS São Paulo. GIF and installation by Rafaël Rozendaal. [via]
Feel the heat. GIF by Max Capacity.
Barking Banksy. GIF by ABVH.
Entangled membranes in Björk's "Mutual Core" music video directed by Andrew Huang. GIF by DVDP.
Pinwheel meets a chainsaw? GIF by mr. div.
Mr. Smiley Vomit Man. GIF by Yoshi Sodeoka.
This may seem pretty whatever at first glance, and we did find it in the Reddit Whoa Dude subthread, but stare at the middle dot for 45 seconds, look away, and your world will be m-e-l-t-i-n-g.