Lina Iris Viktor and Yaa Asantewaa (2016). Courtesy the artist and Mariane Ibrahim Gallery
In Lina Iris Viktor's work, Black women are queens—in one case, quite literally. In Yaa Asantewaa, the British-Liberian artist adopts the pose of the Ashanti warrior queen that the painting takes its name from. In her large-scale self-portraits, Viktor casts herself as goddess, painting herself with all the regal sangfroid of an empress or visiting deity in a limited palette of largely inky blues and black. Then she gilds every self-portrait in layers of 24-karat gold to underline her point.
Viktor was one of few Black girls at her school in the UK, but it was only when she moved to the US for college that she began to truly grapple with her identity. "I was met with the stark cultural reality of what it means to be Black in the US," she tells Broadly. "The African Americans I knew at college strongly embraced and explored their identity, and I was often told that I wasn't Black enough—but I didn't understand what that meant."
That may come as a surprise to fans of Viktor's showstopping work. When we speak, Viktor has just been named one of Artsy's 2018 Breakout Talents and is preparing to open her new show A Haven. A Hell. A Dream Deferred at the New Orleans Museum of Art as part of the city's tricentennial celebrations.
In college, Viktor began educating herself on African American history in an attempt to understand her own roots—only to discover that the history of her parents' country and her new home were "inextricably linked," as she puts it. In 1820, a group of free African Americans travelled to a plot of land on the coast of West Africa and founded the American colony of Liberia. Abolitionists envisaged it as a haven for free-born Americans who sought to escape the racism and segregation of the US. Liberia declared its independence in 1847; by 1867, over 13,000 Americans had moved there in search of a new life.
Today, Liberia is known as Africa's oldest modern republic and is better associated in the West with a long-running civil conflict that only ceased in 2003. The country's intertwining history with the US is scarcely discussed—and it is that past that Viktor aims to bring to light with her upcoming show.
"I want to achieve a re-awakening," she explains. "It's a moment to expose an under-documented and too often forgotten history central to the US and Liberia, but with global significance today."
In A Haven. A Hell. A Dream Deferred, Viktor casts herself in the role of a mythical figure, the Libyan Sibyl, who was adopted by the abolition movement as a potent symbol of emancipation. According to ancient Greek mythology, the Libyan Sibyl was blessed with the power of prophesy, foretelling the "coming of the day when that which is hidden shall be revealed."
"In the 18th century, abolitionists came to re-envision [the Libyan Sibyl] as the activist and freed slave Sojourner Truth, recasting her in artworks as the prophet of the transatlantic slave trade," explains Viktor. "The mercurial nature of the sibyl therefore became of increasing interest to me—she seemed to represent an artistic emblem for these interrelated, transcultural histories."
---
Watch: British Comedy's Rising Star Michaela Coel on Swapping God for Filthy Jokes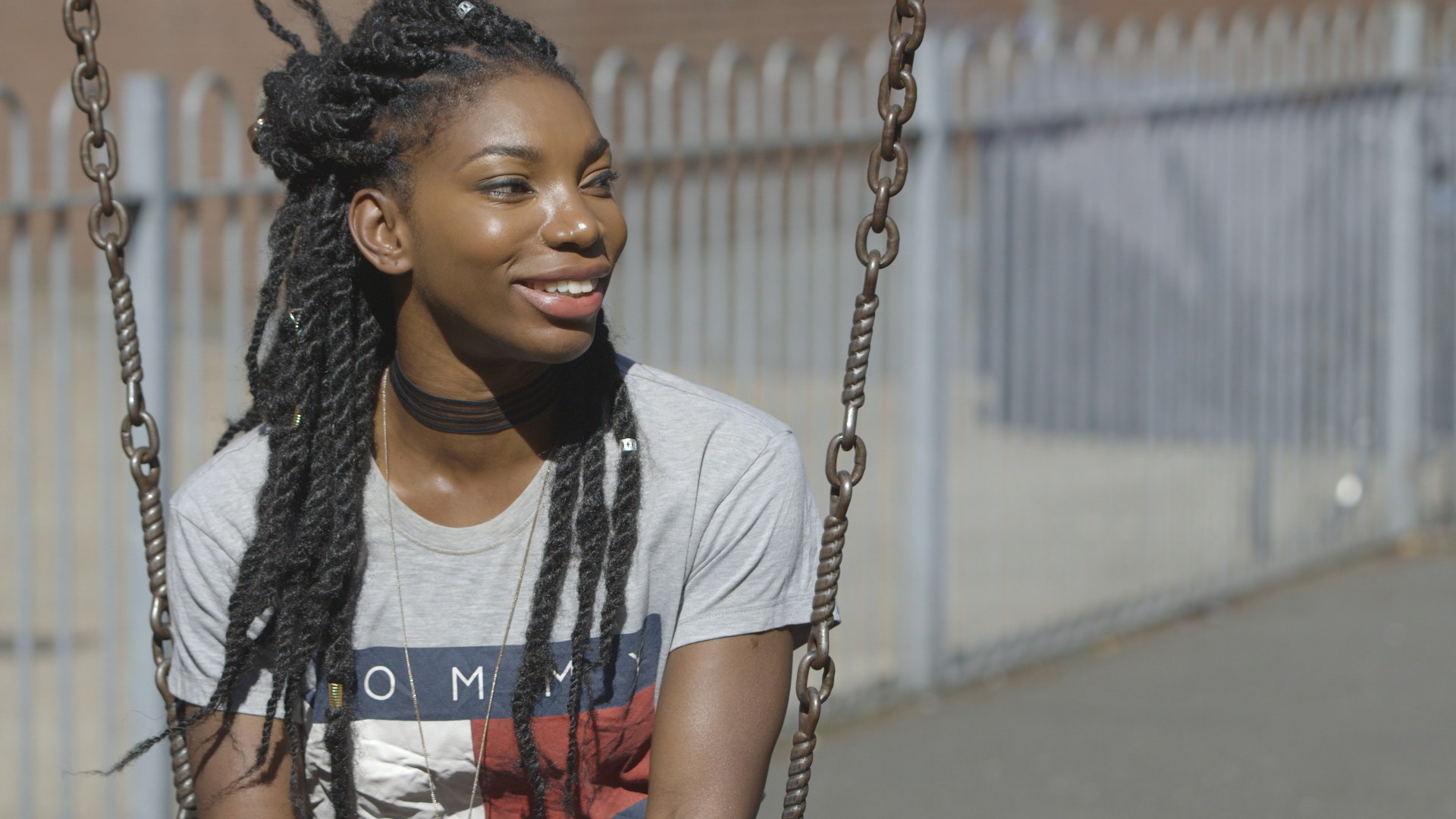 "The works in the show, and the figure of the Libyan Sibyl within them," Viktor adds, "is a warning to awaken our minds to these lost narratives, lest history should repeat itself."
Viktor's dazzling work has attracted admiration from all over the world—Wu-Tang Clan has commissioned her, and she's collaborated with many others on projects, including the South African artist Petite Noir and the United Nations Population Fund. Viktor's art is also at the center of an ongoing lawsuit against Kendrick Lamar and SZA over their "All the Stars" music video for Black Panther. Viktor alleges that she turned down multiple offers to use her art for the film, only to see it copied in the soundtrack music video anyway. (Both Lamar and SZA have denied the claims.)
"It's difficult for me to comment on this, as it's a case in process," Viktor says. "I would say more broadly that there is a general need for artists to work harder to protect their creative copyright these days—especially in our culture of 'hyper-sharing.' Recent cases beyond my own have suggested that appropriation of artists' work—particularly those created by younger Black females—appears to be rife, and it's time that we take a stand; no one else will speak for us."
"Personally," she adds, "I am lucky to have a good support network, and a strong following for my artistic practice—therefore, I think it's my duty to engage in such conversations, and to use my platform to speak out."
Viktor has plenty enough to deal with. The process of creating a single artwork is laborious, requiring months of historical research and poring over source materials before photographing herself for a printed work, which she then hand paints with dizzyingly intricate layers of gold.
It "took a while" before Viktor understood what drew her to the medium, she says. "Gold is made from the death of a star, like all metals or elements, but it's one of the last things to be created in that process—a grand finale, of sorts," she explains. "For gold to get to earth, astrophysicists believe it travels on meteors, and from there people mine the earth—literally sift through dirt—to acquire it for their own purposes. I find this process astounding; I think in my work that's what I'm trying to grasp—taking all these grandiose ideas and bringing it back down to earth. Exposing the oneness of it all."