Image via YouTube
Preparing to listen to Donald Trump speak for 90 minutes on the state of our union, when Politifact reports that 69 percent of his statements generally are either mostly or completely false and only 4 percent are completely true, took some suspension of disbelief.
He opened with overtures towards inclusion. He mentioned making American great "for all Americans" and spoke of the "optimism" that swept the nation over the last year. He mentioned his pride for the fact that unemployment rates for African Americans are at an all-time low, which is true , though there aren't any specific measures Trump has enacted to ensure this, and the trend of falling unemployment rates among African Americans began six years ago .
Faiz Shakir, national political director at the American Civil Liberties Union, issued the following statement after the address: "Tonight, President Trump said the word 'America' more than 80 times in his speech. Yet, after a divisive first year, we hear and feel how exclusionary that 'America' is, with policies that have harmed so many vulnerable American communities."
Trump touted the tax bill as a huge win for lower and middle class Americans. And while it is true that the $24,000 standard deduction enacted this year will apply to low and middle income families, some tax breaks have an expiration date. Those who will continue to see benefits past the ten year mark are the wealthiest Americans, large corporations and increases the deficit to the tune of $4.1 trillion.
By far the most specific plan he laid out related to immigration reform.
Trump kept the tone self-congratulatory as he touted a gutting of a crucial element of Obamacare – the individual mandate – as a way to give relief to low income Americans who didn't want to pay for health care. Without the individual mandate, universal healthcare is much less tenable.
---
Check out more videos from VICE: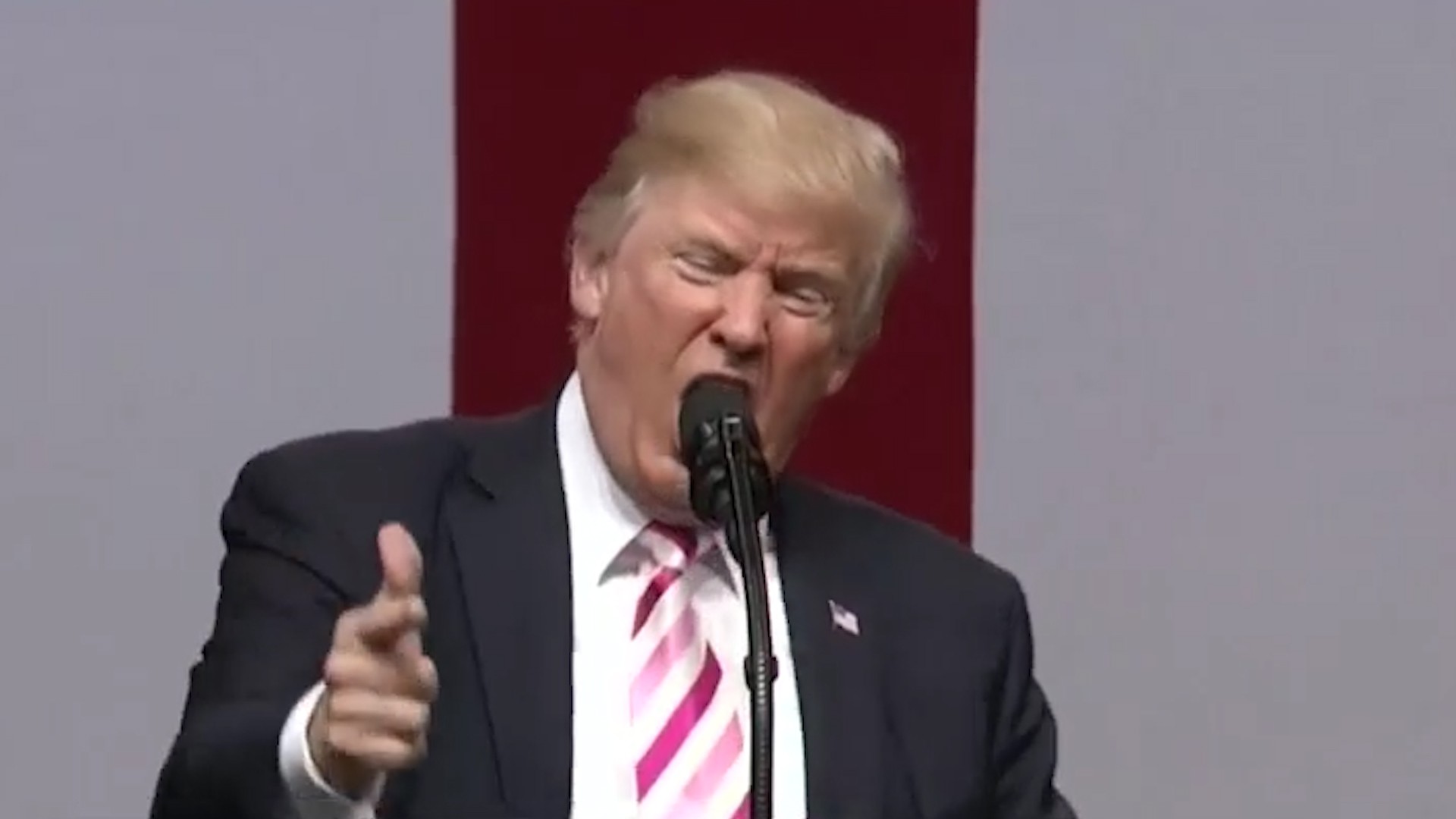 ---
Looking towards the future, Trump turned up the nationalistic nastiness and announced that he had just signed an order to re-examine the military detention policy and to keep the prison at Guantanamo open. He stood by his plans to make Jerusalem the capital of Israel. He vowed to "totally defend our second amendment rights and take historic actions to defend religious liberty", which is a thinly veiled effort to limit women's access to birth control and reproductive services.
"Government should not be a battering ram used to hold us back, deny our rights, and tear us down," said Cecile Richards, President of Planned Parenthood Federation of America, to a crowd of more than 500 supporters following the State of the Union. "Over the last year, we've beaten the odds to protect access to affordable health care for millions of Americans and ensure that Planned Parenthood's doors are open to the more than 8000 people who count on us every day."
Trump spoke of ending "the war on beautiful clean coal", and he asked Congress to move ahead with a $1.5 trillion plan for infrastructure investment. With a line about "standing for our national anthem", he attempted to shame the players who have followed the lead of Colin Kaepernick to exercise their right to peaceful protest. Trump then called on Congress "to empower every cabinet secretary with the authority to reward good workers - and to remove federal employees who undermine the public trust or fail the American people." This was seen by many as a shot at special counsel Robert Mueller.
"Government should not be a battering ram used to hold us back, deny our rights, and tear us down."
But by far the most specific plan he laid out related to immigration reform.
After a devastating depiction of two families crushed by the MS-13 gang on Long Island, he praised ICE officials for their work, saying they "sent thousands and thousands of MS 13 horrible people out of this country" and asking for reinforcements for ICE. There was no mention of ways ICE might make their process more precise, or of the horror stories of some young Latino families torn apart when their children were falsely suspected of being in MS-13 .
After that, Trump extended a large middle finger to Democrats dressed up as olive branch: a path to citizenship for 1.8 million people who were brought here at a young age. He pointed out that that was "three times more people than the previous administration had covered." These "dreamers" would be eligible for full citizenship over a twelve year period. The second pillar is a "great wall on our southern border". The third would end the visa lottery, otherwise known as the diversity lottery. And the fourth would end family-based migration, which the President refers to as "chain migration". Ending family-based migration would fundamentally change the way the American immigration system works and has always worked.
"I hope that the president is able to find compassion in his heart and move beyond the current proposed plan to one that honors the inherent empathy of our great nation."
"Traditionally, when you talk about immigration reform, it's three pillars," Kristian Ramos at Define American told VICE Impact after the address. "The border, the interior, and the 11 million undocumented. Family migration is so important because that has been the policy of the country since its founding. It's a radical shift in how this country views things."
Ryan Eller, Executive Director of Define American, had his own words for the proposed deal.
"None of us want to define America as a place where some of us are asked to trade off our own freedom for that of our family," he said. "I hope that the president is able to find compassion in his heart and move beyond the current proposed plan to one that honors the inherent empathy of our great nation."