Collage by Hunter French | Image via Getty
In 2013, after Debbie McDaniel left her Jehovah's Witness congregation in McAlester, Oklahoma, she went to police and told them members had been sitting outside her apartment, monitoring her every move. The Witnesses, she said, were trying to make the case that she was unfit to parent her son, on account of being in a relationship with a woman. But it was something else she told a detective that most alarmed the cops, she said: "You would think an organization that would allow me to be molested for years could now just let me go in peace."
Within weeks, cops had arrested Ronald Lawrence, whom McDaniel, 50, accused of molesting her when she was underage, as Reveal News reported. At least two other people came forward with similar allegations. According to the Tulsa-World, Lawrence told prosecutors he had been "disfellowshipped" (basically excommunicated) from the church over sexual abuse allegations, that he had admitted misconduct in the past in order to be reinstated, and that law enforcement had never previously been informed. He has also denied abusing any Jehovah's Witness children, including McDaniel. When brought before a judge in 2014, 19 charges of sexual abuse against him were deemed to have passed the statute of limitations, and he walked free.
Eventually, Witnesses stopped waiting outside McDaniel's home.
---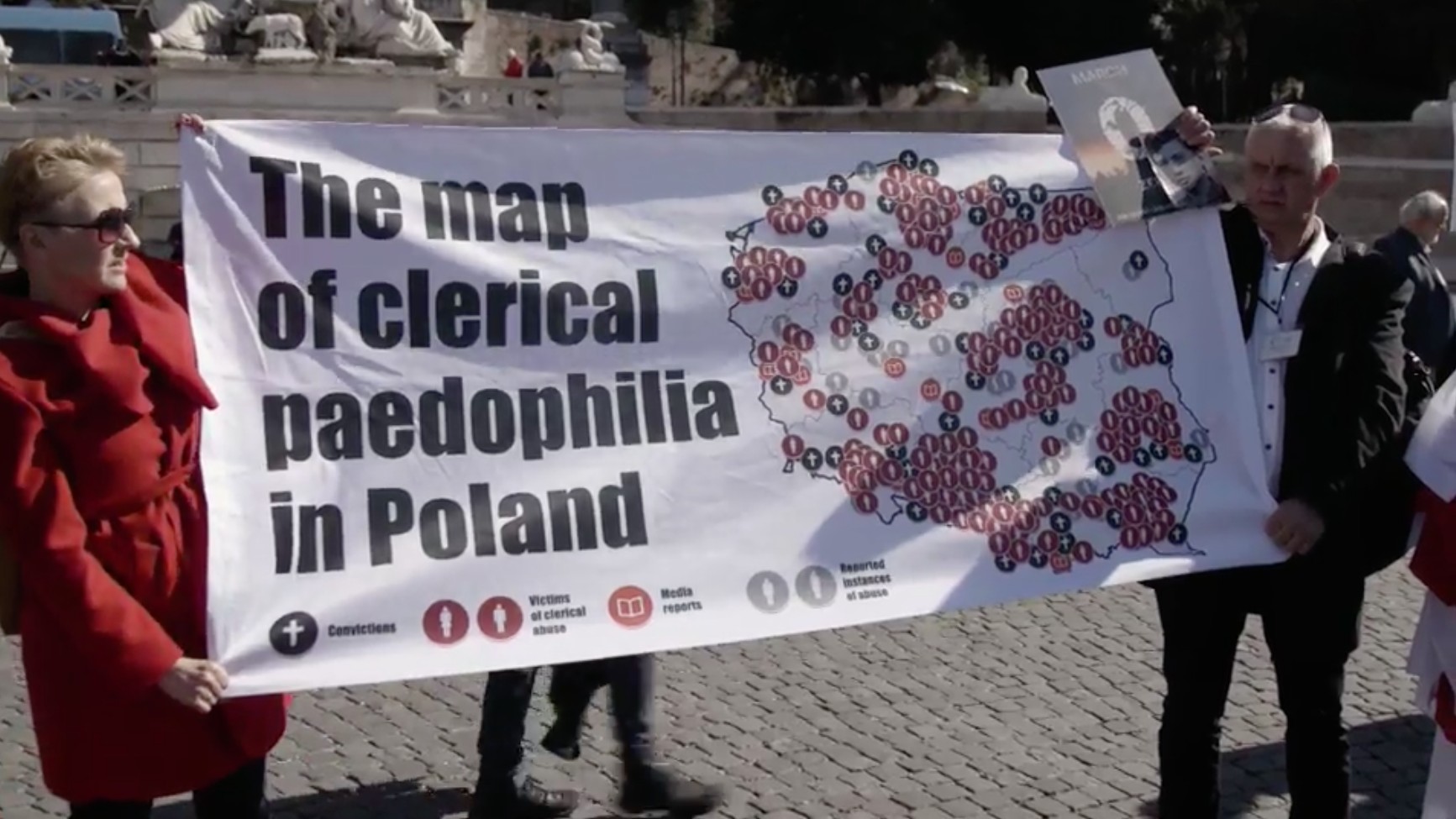 ---
During the alleged abuse, Lawrence was part of the Body of Elders, the group appointed to oversee various Jehovah's Witness congregations worldwide. Despite being ejected from the Witnesses twice over allegations of child abuse, Lawrence was reinstated both times, according to Reveal's reporting.
McDaniel wants to do something about that. And thanks to New York's Child Victims Act, a post-MeToo law that went into effect in August, survivors of crimes for which the statute of limitations expired have a one-year window to sue institutions accused of negligence in cases like hers. Attorneys working with McDaniel said they would be filing a lawsuit against the Watchtower Bible and Tract Society of New York, the non-profit in charge of the global Jehovah's Witness organization at the time of the alleged abuse, on behalf of her and two of Lawrence's other alleged victims, in the first few months of next year.
The new law could theoretically open up a floodgate of lawsuits against the Witnesses and their leadership. But because of what critics have described as the Witnesses' unique penchant for burying allegations of sexual misconduct, and their insular culture, many survivors may decline to pursue justice. Indeed, VICE spoke with seven former Jehovah's Witnesses who said they were sexually abused by members or elders of the organization, but six weren't planning to pursue lawsuits in part because they said they feared being socially ostracized and didn't believe they had enough evidence to proceed.
While there has been much focus on sexual abuse within the Catholic Church in recent years, and that institution's cover-ups, there hasn't been as much attention given to the Jehovah's Witnesses. Claiming more than 8.5 million members globally, the Witnesses comprise one of the most devout religious sects in the country, according to the Pew Research Center. Adherents abstain from celebrating holidays, voting, and accepting blood transfusions, and many believe Armageddon will one day come and destroy all "worldly" people, or non-Witnesses.
They are also known for going door-to-door and preaching to others about the organization.
James Alexander, a Jehovah's Witness elder who resigned and asked to use a pseudonym for fear of reprisal, said he had seen Witnesses interact with children even after child sex abuse allegations have been made against them.
"Jehovah's Witnesses look at things from a spiritual standpoint of sin, and they think a pedophile can repent and then go back out dealing with the public and knocking on people's doors," Alexander said. "I've seen it firsthand, where we know somebody's got issues and they're allowed to go out in the door-to-door ministry."
Like many other highly religious Christians, such as those in the Catholic Church, Jehovah's Witnesses tend to be socially conservative, according to Pew. And like with the Catholic Church, Jehovah's Witness leadership have a vested interest in protecting the reputation of the organization, according to Mathew Schmalz, a professor of religious studies at the College of the Holy Cross. "They understand themselves to be God's organization on earth, so they call themselves a theocracy," Schmalz said. "After all, if this is God's organization, they shouldn't be doing bad things."
Although McDaniel's alleged abuse occurred in Oklahoma, her attorneys said they would argue that Watchtower, which is based in New York, enabled the conduct by way of negligent policies. Neil Smith, an attorney working with McDaniel, said he expected the Witnesses to play the geography card against them.
"I expect that [Watchtower is] going to say, 'No, you should use the procedural rules for the state where the abuse happened," he said. "The courts will have to answer that."
McDaniel said she asked elders over the years why the police never did anything with her claims, which Reveal's reporting showed had been passed along to elders as early as the 1990s. After leaving the organization and going to the police herself, she said, she finally realized that her allegations were never reported to them by the elders in the first place. Prosecutor Danita Williams bolstered her account, indicating that Lawrence's alleged crimes hadn't been discovered sooner due to "concealment" by Jehovah's Witness leadership, as the McAlester News-Capital reported in 2014. (VICE reached out to the McAlester congregation for comment but had not received a response at the time of publication.)
When asked for general comment about whether the organization reports child sex abuse allegations to the police, and whether elders ever warn congregations about accused abusers, the Jehovah's Witness organization's national public information desk sent VICE Watchtower articles from May about child sex abuse. The articles state that elders are to comply with secular child abuse reporting laws and privately warn the parents of minors within the congregation when there's an accusation of child abuse made against a certain person.
But according to Alexander, the former elder, elders are trained to call Watchtower upon learning of an allegation of child sex abuse. Watchtower instructs them on whether or not the elder should report to the police, he said. In one case, Alexander continued, he called Watchtower about a man and fellow Jehovah's Witness last year who was accused of sexually abusing his children, and was instructed to keep quiet. Months later, after the children's mother had already spoken to police, Alexander called Watchtower back. He said they told him to destroy any notes he took regarding his initial call to Watchtower.
"At the time I was fully indoctrinated, so I did exactly what I was told to do, because I was a true believer," Alexander said. "It wasn't until a [few] months [later that] I woke up." (VICE reached out to the Jehovah's Witness public information desk for comment on the former elder's allegations, but had not received a response at the time of publication.)
A person reporting child abuse to a Jehovah's Witness elder would require a second witness in order for allegations to go forward within the organization's own judicial process (though not before reporting to the secular authorities, according to the Watchtower's articles). This presents an enormous hurdle for victims. "Child abuse doesn't happen out in the open," Schmalz said. "It happens in secret and so forth, so it's unlikely that you're going to have two witnesses."
Watchtower has also claimed in previous lawsuits that since elders serve as the organization's version of a clergy, child abuse accusations fall under clergy-penitent privilege and don't have to be reported to the police.
"You'll see them defend that they didn't have to report because the information was taken in under ecclesiastical privilege," said Tod Mercer, another attorney representing McDaniel. "Above that, they're arguing for the separation of church and state on a constitutional level."
Earlier this year, the Atlantic reported on a secret database of accused child molesters that the organization was said to keep hidden from police. In one case, involving the Palmer Congregation in Brimfield, Massachusetts, a man had allegedly abused his two daughters and another girl. Stolen Jehovah's Witnesses documents were entrusted to former Witnesses Mark O'Donnell and Jason Wynne; they worked with Ryan McKnight, founder of MormonLeaks, who then published the documents on FaithLeaks.org. The documents showed that the Palmer elders disapproved of the fact that one of the daughters eventually alerted the authorities. (The Palmer congregation never made any public comment about the alleged abuse, and didn't return that magazine's request for comment.)
It's not unique to the Witnesses that sexual abuse survivors might be reluctant to come forward and pursue legal action against a powerful institution. But insiders and experts said fear of being shunned by loved ones might be especially difficult to overcome in these circles.
"Don't feel like you're going to walk away unscathed," McDaniel said. "You're going to lose loved ones, you're going to lose your self-esteem, you're going to be scared to [learn] how to live your life. The best I can tell you is, run—don't walk—towards the new life."
Sign up for our newsletter to get the best of VICE delivered to your inbox daily.
Follow Summer Lin on Twitter.