The organist played The Tragically Hip's "Ahead By A Century" at my dad's funeral. Or at least he tried to. I'd requested the song a week before, printing out the sheet music after my mom and sister and I decided on this particular tune—one we perceived to be about the simple joy and comfort of being with someone you respect. "No dress rehearsal, this is our life," the song goes.
The performance was some twisted, sluggish, morphed version of the song botched by lazy sight-reading and, presumably, never having listened to the actual tune. The whole idea that we were even at my dad's funeral was whacked, and nothing, not even a decrepit Hip cover, could really ruin what was already happening. We slipped the organist $100 and quite literally laughed it off. My dad probably would've thought it was hilarious.
It made sense that we'd play his favorite band at the service—the same band that my parents would hike up to Canada from Buffalo to see, leaving my little sister and me with our grandparents for the night as they went off on their own adventures. They'd argue about who actually discovered The Tragically Hip first. Mom claims it was when she heard 1987's "Highway Girl" on the radio.
While it's one thing to lose a parent, like I did three years ago, it's a whole other thing to lose your parent's hero. With the news of singer Gord Downie's passing, I'm flooded with memories of not only my own youth, but my parents' youth. Gord leaving concludes the fairytale of my parents' story.
But memories live.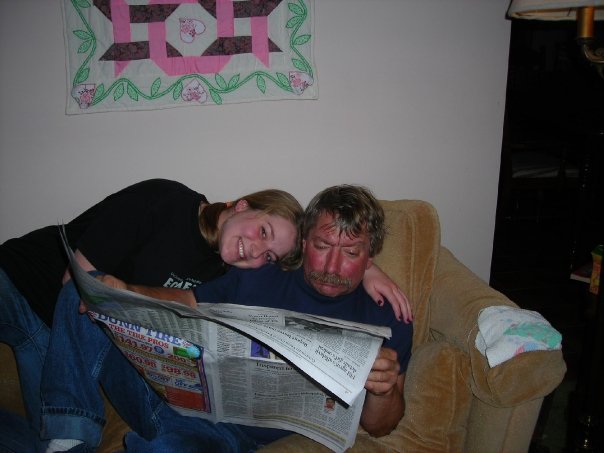 The first time my parents saw The Hip, they drove an hour to St. Bonaventure University (also my future alma mater) in Olean, N.Y., getting drunk on the way down. Before the show, my dad rode a friend's motorcycle around the town like some crazy kid who didn't have 7- and 8-year-olds at home. At the show, they got behind a big guy, who took them all the way to the front of the stage, where my mom shouted "Gordie!!" only to find out there were two Gord's in the band—Downie and Sinclair. That is, according to the stories my mom tells.
After their first concert, my parents became Hip pros, traveling everywhere to see them, entranced by Gord's ability to transcend himself onstage. It wasn't a concert; it was an experience. "He'd start rambling and start writing a new song, and then you'd hear it next time," my mom told me last year, when we first learned about Downie's brain cancer diagnosis.
My sister Aimee and I would whine when Mom or Dad would pop in another Hip album. "The Hip again?" My parents' CD collection lined the front of the living room, but no discs got more spins than Fully Completely, Trouble At The Henhouse, Day For Night, Road Apples and Up To Here. I remember laying on the carpet, snickering at the risque cover of Fully Completely, as my dad broke down the lyrics and music for me with beer breath.
He taught me to consume music carefully, to search for something different every time I listened — a tactic that I'd later take into my work in music journalism. He was obsessed with the erratic guitar line in "New Orleans" (who isn't?) and pointed out subtle licks, like the flick of guitar after the first line in "She Didn't Know." He almost exclusively listened to the backing vocals in "Fifty-Mission Cap," telling me how they enhanced the story of hockey player Bill Barilko by adding little details. When Gord sang, "The last goal he ever scored," my dad would always come through loudly with, "In overtime!"
My parents marveled at the stories Gord would weave—my mom actually appreciated him for not having many love songs. Instead, he wrote about gay cops ("Bobcaygeon"), wrongful imprisonment ("Wheat Kings"), Bobby Orr ("Fireworks"), sinking ships ("Nautical Disaster") and killer whales ("Killer Whale Tank"). None of these I understood when I was a kid. My parents probably didn't even fully understand what Gord was getting at, either, and to this day, Hip fans still debate the meanings of his lyrics.
There's the complexity of The Hip that drew fans in, sure. And then there was the culture. Growing up near the Canadian border, we'd listen to radio stations from Toronto that frequently funneled The Hip into our ears. (On Wednesday, Q107 played only Hip songs to mourn Downie.) The Hip was very much a Canadian band: Prime Minister Justin Trudeau broke down into tears when giving a statement about Downie's death. Hell, even infamous Canadian Justin Bieber covered "Wheat Kings" once. Living in western New York meant that The Hip were part of our fabric too. I still get tingles when I hear Gord frantically sing, "I remember Buffalo," on "The Hundredth Meridian." And any decent western New Yorker has been to an event where Strictly Hip, the crusty Hip cover band, has played.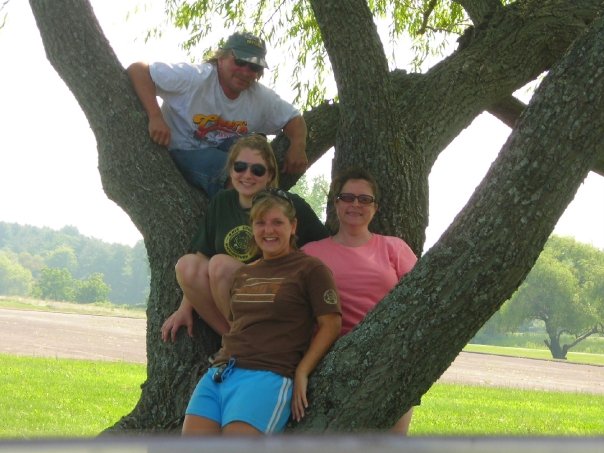 As we got older, my sister and I were less annoyed by our mom and dad's fandom, and we became fans too. Aimee was lucky enough to go to a Hip concert with them in 2012, and when The Hip televised their final gig last year, pulling in nearly 12 million viewers, my mom held a party with neighbors and friends. I wasn't there, but my sister told me it got emotional.
My parents love for the Hip was my portal to the rest of the sonic world – the lens through with I learned about music.While other critics might be able to go through and label The Hip's place in music history the band will never be anything but "The Hip" for me. It was how I grew up. It was how my parents grew up.
Like I said, it made sense that we'd try to play my dad out with The Tragically Hip—the band behind my parents' wild memories, like that time it rained so hard at a concert, the dye from my mom's top turned her white shorts blue. The same band later soundtracked bonfires, yard work, car rides, dinners, muted commercial breaks during hockey games (I swear we're not Canadian, but my mom always wanted to be), etc. The Tragically Hip were the band embedded in all our family memories. Just the four of us—the four people who knew each other better than anybody in the world. "First we'd climb a tree and maybe then we'd talk / Or sit silently and listen to our thoughts." We love like nobody else, my mom says. That was us.
Emilee Lindner enjoys pumpkins and being stubborn. She's on Twitter.